Born to a rich musical legacy turned tragic legend, PEI's Catherine MacLellan has struggled to find her own voice. Now there's no doubt she has emerged from beneath the snowy mantle.
I am sitting in a comfortable, theatre-style seat at Harmony House, a reconfigured church by the side of the road in the hamlet of Hunter River, PEI. Except for the bright orange exterior, it's the kind of church common in rural Atlantic Canada, looking lonely and bereft of congregant.
The owners, Kris and Melanie Taylor, have done a superb job of transforming the church—built in 1846. It's now a music box with raked seating and fine acoustics, and burnished beams offset by brick.
These days of course the building has congregants of another sort, and tonight there's a full house. About 140 people have come to experience a Songwriters' Circle, where some of the Island's finest artists share songs and stories on stage. It is a premiere event of Music PEI Week.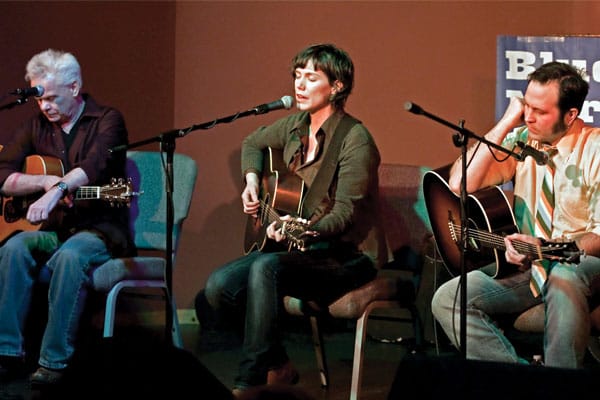 Catherine MacLellan is among the participants. She is much in demand these days. Two nights earlier she was in Halifax recording a concert for CBC Radio. In a couple of days she is bound for a date in Massachusetts. She will soon go to Ireland with three other performers from Atlantic Canada, including Ron Hynes. And in May or June her fourth CD, as yet unnamed, is being released.
I go back a ways with the MacLellan clan. Just over 40 years ago I heard "Snowbird" on a demo tape and as a result, connected its writer, who happened to be Catherine's father, Gene, to the CBC-TV program "Singalong Jubilee." Later, I became his manager as he achieved national and international recognition and many thousands of dollars in royalties for songs like "Snowbird," and the gospel-like "Put your Hand in the Hand."
His daughter Catherine is the reason I am in Hunter River tonight. I haven't seen her perform for a while, and I want to know what it is about her and her music that is attracting a growing legion of fans in countries such as the US, Ireland, Great Britain and Australia.
She takes her chair onstage between veteran performer Dean McTaggart, who has spiky hair and a visage somewhat reminiscent of the Irish actor Malcolm McDowell in the movie A Clockwork Orange, and a young man in yellow shirt and striped necktie named Dennis Ellsworth.
Catherine is the essence of cool: tall and slim, with a ballerina's graceful neck; her hair, a chesnut brown, curls at the neckline. She's demure in jeans and shirt, sans make-up.
My eyes are on her as Malcolm McDowell thumps away on his guitar. She is a portrait of casual, graceful repose; her eyes are half closed as she listens.
I have the overwhelming sense she is part of the scene onstage, yet removed from it as well, inhabiting a small island unto herself.
Then it is her turn.
She gives a message to her young daughter in the audience—"I'm not going to sing the song you wanted me to"—and then talks about a deep depression that gripped her this past autumn.
"This song is a remnant of that time," she says, and takes us into a wistful ballad of broken love.
All the songs but one on her new CD were composed by her. The exception is an unvarnished interpretation of "Snowbird," the song that made her father famous.
It is her first and only recording of one of Gene MacLellan's songs, sung at a tempo slower than the Anne Murray version, and without soaring strings or any other fancy orchestration. Instead, it is pure Catherine: unpretentious, thoughtful, honest and somewhat introspective.
Catherine MacLellan is now 30 years old, and the mother of five-year-old Isabel, born of a relationship and brief marriage with musician Al Tuck. They are divorced but remain amicable, sharing Isabel's parenting as they both try to make it in an uncertain business.
She has won many local, regional and national awards. One reviewer said that her bluesy "Hotel Stairs" and the spiritual "Something Gold," from the CD Water in the Ground, have the power to melt hearts. Another reached hard for imagery, describing her voice as being "like honey dusted in gold."
And Nic Oliver, writing in the UK-based musicOMH, put her in the company of such country icons as Emmylou Harris and Dolly Parton.
Unfailingly, the critics single out Catherine's emotional honesty as a singular characteristic of her lyrics. That being so, it is fair to note that she comes by her inner strength honestly.
It has been tested.
Catherine was 14 years old that sleety January afternoon when she came home from school and found her father, dead by his own final act of desperation brought on by the demons that haunted him throughout his life—and that were his creative muse as well. (He was diagnosed with bipolar disorder near the end of his life.)
"It took me a long time to come to terms with it," she says in an understated way, as we sit in the dining area she recently added to the little house by the side of the road she purchased in central PEI.
As it turned out, Gene's passing ushered her into her first attempts at songwriting.
"I started writing after Dad passed away as a way to express my feelings," she says. "They were all super depressive sad songs.
"Depression bothered me all through my early 20s, but I just thought everybody went through the same thing. Then Isabel came along. I still have my ups and downs, but I'm coming along."
She has an almost daily balancing act to sort out. Performers must perform, and that means they must tour and travel. Catherine begrudges the necessary time she has to spend away from her daughter.
She has been making a living from her music for half a dozen years now. After years of trying to overcome her shyness and paying the bills by working in a pet store, the shy youngster gradually discovered the personal satisfaction of entertaining others.
"There's something about performing that changed me," she says. "I learned how to be myself. I just want to make a living doing this.
"I love my job."
Veteran CBC music producer Glenn Meisner, in turn, loves the way she does her job. He has recorded her music several times, and has watched her growth as a performer first-hand.
"There was always something about her voice," he says. "There are those special voices that don't just sing the words. It's what they do with the words that catch me emotionally.
"That's what I heard from the beginning.
"There's nothing verbatim in her lyrics. I don't know what's behind them, nor do I want to know. A good song allows me to put myself in it and make it my own."
Bernie Finkelstein, the canny impresario at True North Records, in Burlington, Ont, who directed the fortunes of Bruce Cockburn and Murray McLauchlan, thought so too after he heard her second CD, Church Bell Blues.
That was back in 2007.
"I was looking for a new artist for the True North label," he says. "There's something classic about her songs. They have a timeless feel to me.
"She came to Toronto, I went to her concert and was totally blown away. Onstage she has a beautiful charisma."
Bernie signed her to a recording and publishing contract. True North rereleased Church Bell Blues along with Water In The Ground, and sent her on tour to open for Bruce Cockburn.
The company is releasing her latest effort.
True North's president, Geoff Kulawick, calls her "an incredibly talented singer and songwriter.
"From our perspective, it's really exciting and rewarding to be a part of seeing an artist come into her own, and with every album she releases we can see that happening."
Catherine herself is slightly more down to earth.
"Isabel was the biggest positive change in my life," she says. "She gives me my focus. All I want to do is continue what I'm doing."