From bartering to business, growing produce for home use to creating a community-based farm business, Newfoundland's Organic Farm has evolved naturally over time.
Truth be told, it was an accident—a completely unintentional move—from bartering to business. With an organic garden that produced far more than his family of five could eat, Mike Rabinowitz set up a trade (ie, cheese for vegetables) with Mary Jane's Specialty Foods, a former natural foods store in downtown St. John's, NL.
"I just got really good at it," says Mike. By "it," he means growing vegetables organically in a province not renowned for fertile soils or a long growing season. And today, 34 years after the first seed was planted to feed his family healthy food, The Organic Farm, of Portugal Cove, NL, has expanded into a respected business, and Mike has become one of the most knowledgeable organic farmers in the Atlantic region.
He is dressed in a red golf shirt, a ball cap shading his glasses, and is bent over, weeding salad greens—perhaps an unlikely place to find a guy who grew up in the Bronx, NY; a guy who moved to Newfoundland with his Tennessee-born and farm-savvy wife, Melba, in 1975, after having accepted a teaching position in psychology at Memorial University, and seeing Newfoundland as an ideal place to raise their children.
Straightening up and adjusting his cap, Mike gazes upon the upper field. "It's beautiful, the best it's ever been. Just look at those leeks and onions." A pale ginger cat disappears in a bed of feathery soft fennel. A striking patch of fireweed offsets rows of delicate asparagus. There's a hint of oregano in the air. The Organic Farm, nestled between trees and rolling hills overlooking Conception Bay, is unquestionably lush and welcoming.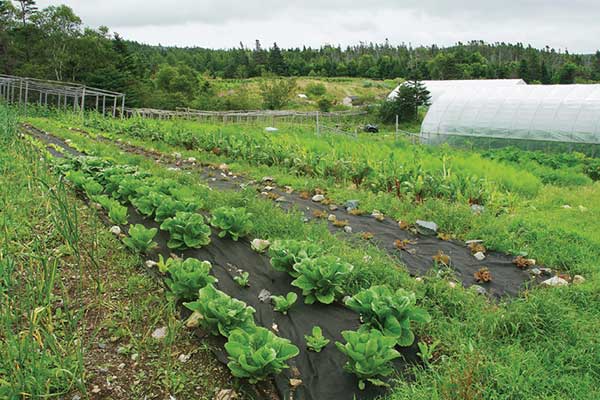 These days, a walk around the farm with Mike means you'll likely be sampling a new variety of chard, mint or tomatoes, or learning about innovative methods employed in the greenhouse, which are introduced to customers at the farm store.
Several events unfolded since that initial bartering arrangement that saw the farm evolve into the business it is today—four acres under production, three large greenhouses, a vegetable processing building, a farm store and a refrigerated storage room for produce awaiting to be shipped or to be stocked in the farm store (in winter it doubles as a sprouting room.)
First, the couple acquired two adjacent properties, increasing the original acre-plus garden to a 21-acre parcel. Second, they wanted to provide employment for local youth. "When our kids became teenagers their friends were hanging around," Mike recalls. "We provided employment. Some of them didn't even know what a cucumber or broccoli was."
Third: the birth of the Organic Veggie Co-op. "That started by accident too," says Mike. He was invited by university students to give a talk on organic growing; they complained about the lack of available fresh produce. Mike told them: get 20 people, get organized, and I'll guarantee a supply. Fifteen years later, the bulk buying co-op supplies 80 families ("the demand is huge, we could only take 20 new families this year") with fresh produce during a 14- to 18-week season.
Next, a chef encouraged Mike and his eldest son, Louis, to grow different things such as orach, Belgian endive, edible flowers and Asian salad greens. The idea appealed to them and they have since forged relationships with additional restaurants and independent retailers. Some summers they sell $40,000 worth of salad mix, now their biggest seller. And Louis has branched out, developing an indoor growing system to supply sprouts—including radish, sunflower and pea—year-round to local restaurants.
The farm has been less successful with supplying large retail chains, which have centralized their purchasing operations. "There's demand for local herbs, and we have a larger capacity than we can sell," Mike says, shaking his head. "But these stores fly them in from Vancouver, can you believe that!"
We're on a walkabout. "We've never picked it this early before," Mike says, pointing to several beds of fennel. "Everything has gone crazy, it blows my mind.
"I totally changed the regime this year; I'm using chicken manure in pellet form," he adds, revealing one of his key traits and a prime reason for the farm's success: constant experimentation. He has the soil analyzed every year with a view to getting it just right for the veggies and fruit he wants to grow.
He also tests a lot of varieties to determine what grows best in the climate. A recently added artichoke is his biggest surprise.
"Outside of coastal California, this has to be one of the best places in the world to grow artichokes," he says. And his seed testing has opened up another market: seedling transplants that are sold onsite, through the website and a few retailers.
"I'm selling what works," Mike says.
With a labour-intense operation—activities like weeding take a big bite out of the budget—the Rabinowitzs constantly work to reduce labour costs, and also Mike's input. As Melba puts it in her southern style, "Darlin' he needs to work quarter time not double time."
They have help from volunteers—perhaps wannabe organic farmers, looking for practical experience, or travellers wanting to experience Newfoundland on the cheap (there's limited accommodation, and places to pitch tents). There's also weeding to be done in veggie beds, where casual labour is gifted with whatever is plentiful, such as rhubarb, lettuce, tomatoes and gooseberries, or produce that isn't picture perfect—say an ugly turnip, or two-legged carrots.
In addition to Mike, who envisions most of the farm projects, and Melba, who manages the hiring, the bookkeeping and engages the larger community on local food issues (she regularly gives farm tours to school kids), the farm has six seasonal employees including Louis, the on-the-ground guy, and younger son, Oz, Mr. über-personality. As extroverted as his older brother is creative and contemplative, Oz is the self-described face of the farm, going to the weekly St. John's Farmer's Market.
"The difficult part is giving up my Friday nights," says Oz, grinning, then adds on a more business-like note: "The market is not huge in income, but it gets the brand out. It lets people see our produce."
Mike admits that the full-time jobs both he and Melba have or have had—Melba retired a few years ago and Mike has one more year teaching at Memorial—support the farm, which has required huge investments and has yet to break even. But then for the Rabinowitzs, profit has always taken a back seat to "promoting the importance of and contributing to making Newfoundland self-sufficient in vegetable production."
"I didn't do it to make money. I did it as a demonstration and educational project," says Mike.
The couple has gone from accident to intention, and there are plans to continue finessing the farm's operations; they are exploring the possibility of installing a windmill to heat the greenhouses and extend the tomato season.
Now, as they look toward retirement, they envision a legacy of a profitable business for their children, and a productive farm for the community.
What's growin'?
Though Newfoundland is affectionately dubbed The Rock by many, the Rabinowitzs prove that by building up the soil, testing seed varieties, and experimenting with organic methods, just about anything can grow—and even flourish—in Newfoundland's climate. The Organic Farm grows hundreds of varieties of vegetables, from artichokes to zucchini, including 30 varieties of squash; 20 varieties each of peppers, tomatoes, and lettuce; 10 varieties of onions; eight varieties each of cabbage and kale; four chards, three turnips and two leeks, to name just a few, as well as many varieties of berries and herbs.