What is a genealogy column, anyway?
It's good for readers to know where a columnist is coming from and, likewise, good for a columnist to know where readers are coming from. I get a lot of feedback from Saltscapes readers, some of whom are pleased with what they read, and some of whom say that I'm being "too technical" or "not genealogical enough."
All of that brings me to the first of several questions I often wonder about when I write this genealogy column: What do I, as a genealogy columnist in a general-interest magazine, hope to achieve?
And what is genealogy anyway?
Genealogy comes from two Greek words—genea (lineage or family) and logia (science or theory): it is the science and art of tracing lineage or family. When the results of such research are presented as a chart, it can resemble a spreading tree, so people like to say that they are tracing their family tree. (Incidentally, they sometimes may be inadvertently pruning that tree!)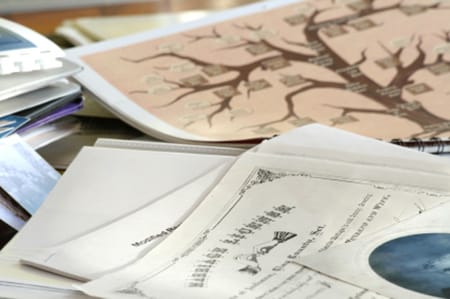 The basic building blocks of a genealogy are names, dates and places. A guidebook to tracing ancestry can help us find out where to look in our search for these necessities. Several good web sites offer help for the novice as well as for those who have been at it awhile. There are specialized sites and volumes for those interested in specific regions, certain ethnic groups, or particular sorts of documents.
People who want such specific assistance generally turn to those helpful guides; they do not—and should not—expect that of a genealogy column in a generalist magazine. It can take years of effort and a fair investment of cash to assemble your family history and related pictures.
So, what is the purpose of this column as I see it? It is an opportunity for me, a genealogist, to bring my breadth of experience to discussions of a broader context; to follow byways; and to offer advice. There are limits, however, on how much information can be conveyed in the space allotted, and I try to bear in mind that some readers of Saltscapes may have little interest in genealogy per se, but will be more likely to read this column to the extent that it illuminates the region's history and culture—or who we are.
If you are reading this for insights and tips for researching your family's history, you should ask yourself this: Who do I want to read my family history? The answer will determine what you write and how you write it.
If the item will be copied for a few of your relatives, you may be more forthcoming with family stories, and you may even—dare I say it?—reveal a skeleton of two in the closet.
If you are aiming to create a book that a wider audience will buy, you'll want more stories and fewer names and dates, and you'll need to do what some authors do: hitch the family story to a historical event such as the early days of Lunenburg, the Loyalist experience, or the Expulsion of the Acadians.
You and I will both try to reach our audience in a way that fulfills our intention in writing—and at the same time in a way that coincides with the wants and needs of our readership.
And that, in essence, is the genealogy of this genealogy column.