The VanDines come from generations of family farmers, but they are the last of the line. Still, their children are never far from the farm in spirit
Carolyn VanDine has lived all her 67 years in Carleton County, NB. She's a lifelong farmer who has seen the way of life she loves become a way of the past—even as more people become interested in food security and local agriculture.
Carolyn and her husband, Allan, have become known in the region for growing and selling dry beans, including the heritage variety Soldier. After Allan lost nearly a third of his lung capacity to illness in 1973, he found work off the farm, but tended the crops on evenings and weekends while Carolyn took care of the house and the business. Now nearing retirement, they are still in the bean business—grading, packaging, and selling—but no longer grow their own. Instead, they are supplied by a third-generation family farm in Nova Scotia's Annapolis Valley.
Both Carolyn and Allan come from a long line of Loyalists. They have three children, but none will be taking over the farm—and although Carolyn doesn't blame them, she laments the passing of the family farm: "Allan and I both come from generations of family farmers," she says.
I grew up on a beef and potato farm in Jacksontown, five miles from where I live now.
My oldest sibling was a brother, and I always referred to myself as Dad's second boy because I liked the outdoors, I drove tractors and I worked outside with Dad. I just thought it was a wonderful life on the farm.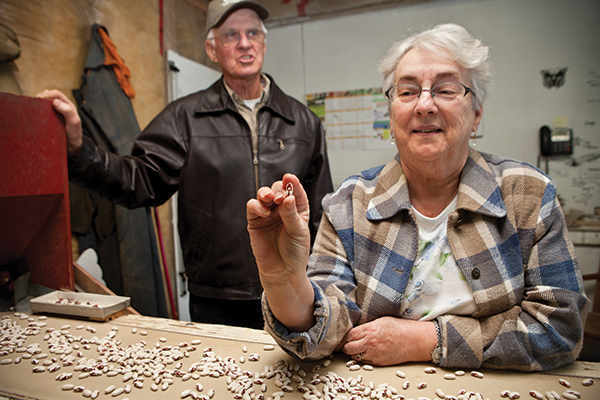 Any labour was done by whoever was there to do it. It was all hands on deck, and it didn't matter—on our farm anyway—if you were a boy or a girl. The boys maybe got taken more seriously, in that they were going out and doing the work because it might become their life. My family knew I was good with my hands and liked the outdoors, but I don't think it was ever their view that I'd become a farmer someday.
I remember my dad asking me if I was going to go to college, and I said no. I thought the boys would inherit the farm, and my goal was to marry a farmer. That's how I would keep my connection to farm life.
Allan was 26 and I was 20 when we got married, in 1968. I was working as a stenographer in the school board office, and I met him when he came in to find out about getting more education. He was an only child raised by grandparents—his mum died when he was born—and I'd had such a great family experience.
You learn to care for people and things when you grow crops and raise animals. We wanted to bring kids up with those values.
So we both wanted a family. We had three children in three and a half years. Life was very busy in those early days.
When I met him, Allan had a mixed farm: he had cattle, sheep, and a few pigs, and he grew hay and vegetables. But he had farmer's lung [a respiratory disease caused by inhaling mouldy spores] in 1973 and he couldn't be around hay, so we got into growing and selling edible dry beans, and marketing them directly ourselves.
At one time we grew over 70 acres, but later we settled into 20-25 acres. Allan took care of the production, and I managed the crew, ordered supplies, did all the banking, paid all the bills. If he needed money he talked to me—and, if we needed to, I talked to the banker.
When daylight came, you got up with the children. I always took them to the barn with me. We had a woodland, and we'd take them out when we cut wood. You'd put them in a corner playing, and do what you had to do. I always took the children with me to the market too, and when they were really little, I'd have them in those babysitter chairs under the table. They grew up making change and serving people. That was part of our life, going to the market. The way some people go to church on Sunday, we'd go to the market on Friday or Saturday.
We were one of the founding vendors at the Woodstock Farm Market—we've been involved with them for 40 years now, and I'm the treasurer.
During our early years in the business, it was easier to go into stores as a producer, but eventually it just got harder and harder to deal with the larger grocery stores. They had so many rules and expenses, and you weren't getting your cost of production back from them. So we did better with the farm market and roadside stands.
In the generation before Allan and I, there were two or three older men in the region who grew over 100 acres of beans each. We had all these little grocery stores all over the countryside; the full-time farmers had relationships with those stores and produce managers, and they ran a good business. But the market isn't there now. We used to have families who would have beans every Saturday night, and they would be feeding a family of six or eight or 10. They were a staple, and people knew how to cook them.
I think a lot of people have forgotten how to cook from scratch, but to me, beans are so easy to cook. You put them on, soften them up, and add your ingredients. We use the rich molasses recipe here.
It's a whole other world to sell your product directly to the person who's going to eat it. It's like growing something for your own family. You want that product to be very good and high quality, and you get feedback from the person who's buying it. There's that whole relationship with your customer. So that kind of motivates you, as much as it motivates them to come back and buy local.
We ship beans out of province to people who want them. Just yesterday, I shipped a case of beans to Whitehorse. There's a local woman living up there, and her sister called to say her supply was getting low and she wasn't going to have enough to last through to the summer when she comes home. Customers are often attached to having their New Brunswick beans.
There's been a change in the value of food in my lifetime. Subsistence farming is a term people don't like anymore, but that's what we grew up with. Growing food for our family. We still live on Allan's family farm, and we still have the ability to grow our own food, store it, and provide for our children and grandchildren. So that sustainability has always been there for us.
There used to be at least 30 small farmers in our area. Some were dairy farmers, some were beef farmers, some were dry bean farmers, some were potato farmers. Now all that's left are three large potato farms, and they are growing potatoes on every piece of land—down to three or four acres—they can find within 50 miles. These guys aren't growing potatoes for locals. They're mostly growing them for French fries or chips.
Allan's family ran a general store. VanDine's General Store. The building is still sitting here in the dooryard, right across my driveway. Allan grew up in that little country store setting, where everyone brought eggs, and butter, potatoes, grain, you name it.
The railroad track—it's a snowmobile trail now—ran just behind the building, and Grampy would store products from the community until they had a truckload or a boxcar load, and they would be shipped out, usually to Saint John, I think.
I laughingly said to the grandchildren that it was the local mall of the day. The whole community was centred around this store that sits in our dooryard.
Allan and I ran the store for two or three years. Remember I said we were having all those children? You get a diaper halfway onto one of them and then have to go sell some cigarettes or put gas in someone's car. That's not easy. And then the big stores were coming in, so it wasn't financially viable anymore.
We were having this discussion over whether to move the building, or turn it into a historical centre for the community. It's probably the last building standing that represents the old generations. The local churches, the schools are all gone.
I used to be involved with a farm women's group, and we lobbied the government and told them that in New Brunswick our main problem was the cost of production. Farm families were not making a living. We said we would lose our children from the farm – and we did. They have a far more expensive world to live in, and their families have far more demands on what they want for quality of life, so they're not staying. The whole family farm system is being replaced by industrial agriculture.
The way I would put it is that our core value is a real sense of connection to the land and food. That was a core value I had growing up on the farm. My dad was one of those people for whom it was God, family and community. I guess it was a very secure and valuable feeling for me to want that for my future life. And I guess my husband and I have stuck to that. We raised our kids that way. But it's a different world we're living in today.
Allan would have loved to have a young farmer to mentor, but there just isn't the income in it. Our oldest left a year or two after he finished high school, and he works on a large, corporate farm in Ontario. We have a daughter who works with autistic children at Leo Hayes High School in Fredericton, and a son who has been a trucker his whole working life, and who lives here on the farm with his family, in their own home.
Andrew, my son in Ontario, says his employers used to ask him, "Do you have any more farm boys from New Brunswick to send up here?" He was taught to do your job well, work long, hard hours and care for the machinery and the farm like it's your own. Those are the ethics of the farm family.
Our kids grew up with maybe a little too much work ethic. If they have any problem in their lives, it's people telling them they need to learn how to play.