Off-the-grid boat builder Harry Bryan believes slowing down is the only way to survive
IN THE QUIET of his boat's hull, somewhere in the South Pacific, between the Panama Canal and Tasmania, Harry Bryan could hear the clicks and whistles of dolphins well before they could be spotted.
Although his wife Martha, and two children, Warren and Sadie, were topside, it was odd being so far from civilization, with only a compass and sextant. Dolphins were a welcome sign. Their frolicking communicated joy.
Dolphins have long been regarded good luck omens. This goes back to the Greek myth of Arion, whose crew attempted to kill him for his money, and was saved by dolphins after jumping ship. Bryan wasn't aware of the folklore during that voyage from 1988 to 1991, but Bryan has a way of reading things, seeing the blueprint behind it all. It's what makes him such an adept boat builder.
Bryan, 69, with a big white beard that belies his lean face, has operated Bryan Boatbuilding from his 40-acre home in L'Etete, NB, on the eastern shores of Passamaquoddy Bay, since 1976. He has built well more than 100 boats, creating most of the designs himself. His 750-square-foot workshop, is delightfully idiosyncratic and impeccably engineered, from the trap doors to his Edison-meets-The Professor tools. Like on a boat, everything has a purpose and nothing is wasted.
Bryan Boatbuidling specializes in "Powering Boats Responsibly," meaning Bryan builds efficiently to minimize fossil fuel usage—he normally won't build anything with more than 25 horsepower.
Bryan is also renown for his expertise of hand tools. He's a frequent contributor at WoodenBoat magazine, which published his reference book, Making Hand Tools in 2009.
His wall of tools features extensive modifications, personal designs and inventions. Picking up a small hammer, Bryan can detail the subtleties of design that make it valuable. Hand tools, he writes, "allow a more intimate connection between the brain, the tool, and the wood itself."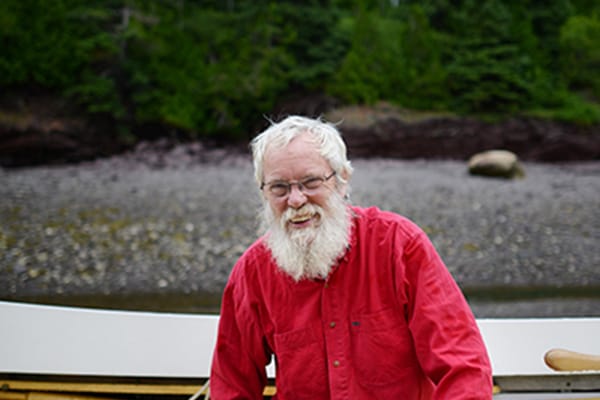 It's this desire for intimate connection that ties together Bryan's love of hand tools, boat building and a personal philosophy that supports "a way of life," he feels, "leads to a better world."
Love on the water
Bryan's family boathouse is on the mouth of the Westport River in Westport, Mass., along the state's southern coast, near Rhode Island. The Westport River is small, but impeccably clean and alive with fish.
Raised in Massachusetts, Bryan was never more than a 30-minute drive from the ocean. He came to sailing via his mother. His father, a doctor, was from Vermont, but his maternal uncles were sailors. One uncle even built boats.
Bryan built his first boat when he was about 10 years old, using hardwood flooring scraps. It didn't float very well, but he wasn't deterred. At 14, he built an eight-foot, plywood hydroplane in his bedroom, using magazine schematics. Fitted with a 5.5-horsepower Johnson motor, it went shockingly fast, with only Bryan's slight frame to weigh it down.
"I was free to do what I wanted," says Bryan, the New England drawl still lingering on his accent. "Whether I was getting quahogs or two miles offshore skindiving by myself, nobody knew that."
Open water harboured a freedom that didn't exist in school. He graduated months late and last in his class. Bryan attempted college, but dropped out in 1966. Facing conscription into Vietnam, he volunteered for the U.S. Coast Guard. For two years, he was based out of New Zealand, working on an ice-breaker travelling back forth to Antarctica.
The second half of his service was working gate security back in New England. Close to home, he began building a 25-foot sailboat in Westport.
His service complete, Bryan made a second go at college. He enrolled at University of Vermont, running into Martha Frothingham, whom he'd first met in Grade 9. Bryan didn't graduate, but he did marry Martha.
"She was the first person in my life to say if that's what I want to do, then that's what I should do," says Bryan. Martha, a substitute teacher, would take care of the books and start a canvas bag business, while Bryan turned his pastime into a profession.
Building boats; building a home
It took Bryan and Martha five years to build their stone home on the shore of MacNichol Cove in L'Etete, but Bryan's boat shop was finished in just two. The couple moved north to Canada, in 1972, fleeing American urbanization. Although the property had a 19th-century home, it had been vacant for 40 years. The plan was to build their own house right away, but when reality caught up with naivety, they moved into the exisiting home.
The old house didn't have heat upstairs, and it was too dangerous to turn on the power, so they lived off-grid. They loved the adventure of the experience, even when the water froze at night, so when their new house was finished, they kept it off-grid too. They had their own cow, Bunty, for milk and cheese, and chickens and a pony.
Bryan found traditional boat builders in nearby Back Bay. Between locals Elmer Leslie and Kirby McVicar, and books, Bryan learned enough to open his own shop. His first commission in 1976 was a 21-footer of his own design, fitted for a steam engine for a friend of his father. It took a winter, working with another ex-pat from Back Bay, Reid Zabski, with whom he would work for about five years.
Business was never booming, but it was steady. He'd build from October to June, either one 25- to 30-foot sailboat, or a few smaller crafts, such as canoes and dinghies.
He's employed various people over the years, including Wyatt Lawrence, who now has his own operation. When Bryan started, a dinghy averaged about $3,000, but now ranges $6,000. A kayak might go for $2,000-$3,000. A high-end, 25-to-30-footer has doubled in price over time to about $100,000.
Bryan's clientele varies, having grown by word of mouth and from those who've read his writing. Most of the boats end up in the States, where Bryan has the most connections, winding up with a marine engineer, doctor or a New York broker to name just a few. In New Brunswick, he's sold boats to the Irving family and Colin B. Mackay, former president of University of New Brunswick.
Although Bryan says the price and design of his boats are appealing, buyers also appreciate his environmental focus and that he only works with natural wood.
More recently, Bryan's found a niche among those looking for a powerboat that won't guzzle gas. He's one of the few builders specializing in non-planing powerboats that require little horsepower.
In addition to boat building, teaching and writing, Bryan has also found steady income selling his designs. Search wooden boat forums, and you'll find hundreds of posts by amateur boatbuilders trying their hand with a design by Bryan. His pedal boat inspired by fish fins is particularly popular.
In summers, when attention shifts to the garden and sailing, the shop is used for ongoing renovations. It's a pace Bryan maintains. He's a firm believer in sustainability in all aspects. "In order to survive," he says, "we all have to slow down."
Patience is a virtue
The loudest sound from Bryan's shop is the low rumble of the diesel engine that powers the band saw and planer. He's never owned an electric sander, or an electric hand plane or router, but has made his own alternatives—a bicycle-powered jigsaw made with an old sewing machine; a treadle-powered band saw, a solar-powered metal lathe.
Between 1988 and 1991, on that trip with his family—his children aged 12 and 13—Bryan sailed the Pacific Ocean on a 36-foot boat he built especially for the voyage. They cruised islands from Australia to San Francisco. He named the boat, after his mother, Patience.
"We went, 32,000 miles at four miles an hour—that sums up the pressure involved," says Bryan. "We had an inordinate amount of time, say two or three weeks at a time, to read books and talk. It was much more time than most people ever have."
Bryan believes there's an argument to be made for slowing down, and it can be found in the inviting surface of a hand-sanded hull, "a new surface made by human hands." Figuratively and literally, slowing down keeps you afloat.