How signing up for a pottery class as a young mother led to a life's work
Bonnie Leyton and her husband, Elliott—often cited as the world's leading expert on serial killers—moved frequently in the early years of their marriage, but settled in Newfoundland in 1968, when he took a position at Memorial University. In the early 1970s, Leyton and two partners opened The Saltbox—the province's first craft gallery. It became so well known it was even lampooned by the classic sketch comedy troupe Codco. After selling The Saltbox, she started the Leyton Gallery of Fine Art, making it her mission to champion emerging artists. The Leytons now live in Paradise, just outside St. John's.
Growing in Vancouver, I did art in high school—as we all did—but nobody took it very seriously. I just loved making things, but I didn't even think about it as art. I was just playing around.
I got married very young and had my first child at 19. The second one was born when I was maybe 22. Elliott and I moved to London in 1963, and I thought, my kids are in kindergarten and Grade 1, and my gosh, I'm going to take an art course. So I did a pottery course at the Putney School of Art, in London, and that sort of got me started. I'm left-handed, and I had an Italian teacher at Putney who didn't speak much English. He couldn't figure out that I was left-handed, so I had to learn how to throw pots right-handed, which I still do. Maybe that's why they have their own character.
I thought I'd just do the course for fun. You know, I come from an old-style family where you stay home and take care of the kids, and the guy goes out and supports you. So it never occurred to me in a million years to think of pottery as becoming a career.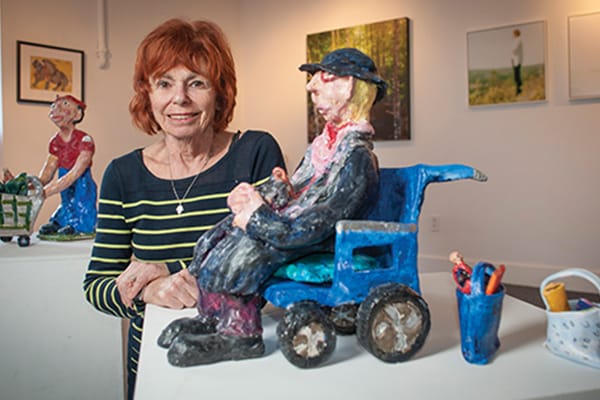 After finishing his PhD, Elliott applied for a job in Uganda, and when that didn't come through, he chose Memorial. We had never been to Newfoundland before, but we had a very romantic idea about it. We thought it would be for a couple of years— and we're still here nearly 50 years later.
After we moved here in 1968, I studied pottery with the great Don Wright, and later I did an apprenticeship with Peter Thomas, who was a master potter. It was a one-year apprenticeship with nine of us, and it ran five days a week. There was no art school in Newfoundland, so it was done through Memorial University Extension, and there was no credit.
My work at that time was pretty conventional. I was doing all the things you're supposed to do as a production potter: learning how to repeat and repeat and repeat. I never got very good at that, actually. I never liked the idea of every single mug being exactly the same size.
Not big business
At the end of the apprenticeship year, Peter Thomas and his girlfriend put on the first Christmas craft fair in St. John's, and our class had to produce enough work to present for sale—which had never, ever occurred to us. We had talked a bit about the merchandising of art, but I don't think any of us were thinking, "Oh my God, we can now let our husbands retire and we'll take care of the family with our wonderful income."
It was very exciting, but there wasn't a big market. There was no market, really! There were no retail shops that carried crafts except a little co-op where everyone started out. Then three of us—the others were Margo Meyer and Don Beaubier— started the very first craft gallery, called The Saltbox. And it was a tremendous success. We were boggled by it. I mean, even Codco used it in their jokes. I don't know if I can repeat the one I remember best: "We sell everything! Right down to tie-dyed tampons! Crafts!"
In the beginning, people balked at our prices. They would say, "Oh my gosh, I can get mugs at Woolworth's way cheaper," and you'd sort of have to explain that these were handmade and unique. I don't know what we were charging then—maybe $5 or $8, and that seemed like a lot. But you don't hear that much anymore. People have accepted that it is a kind of art form, and they want to collect it, and they're willing to pay for it. It's an accepted part of the economy now.
By the time we sold The Saltbox in the late 70s, there was a lot more competition. I don't know if we helped to create the market, or if we just happened to come along at the right time. I think it's a bit of both. There were craft fairs happening every year, the Craft Council opened up Devon House—a beautiful shop down the street—and just after that a bunch of craftspeople opened shops downtown and did really well. It just expanded amazingly.
An exciting time
At the time, the arts were just bursting here: the music industry, literary work—and film too, of course. It just all started happening.
Everyone was using everyone else's mediums and learning from everybody else, and it was very exciting. Even I made a little 10-minute film. It was about the nature of clothing, and how we use clothing to change our perception depending on how we want to be seen. The Eastern Edge [an artist-run gallery] lost my last tape, so I don't even have a copy of it—I can say how wonderful it was, and nobody can prove me wrong.
It was a very exciting time, but as with all things, you know, we at The Saltbox all wanted to move on and do other things. I wanted to go take more art courses to learn a lot more about art, and working with clay, and working on paper and canvas. I wanted to diversify.
Gradually, during the 1980s, more commercial galleries started to open. I'm primarily a sculptor, but I'd been taking painting courses for a couple of years, so I started producing some paintings too. Eventually I was represented by a brilliant young gallery director, but at some point I think he must have owed a lot of money, because we all had to get in and get our work out of the gallery before the creditors arrived. It was the middle of winter, and we were so sad because we loved the guy so much.
I opened my own gallery, God help me, in 2003. I just didn't know where to go next. I just decided on the spur of the moment. I thought that if I ran The Saltbox, I could do this. In many ways it's been a lot easier with this gallery, because I'm the only owner—so we don't have a committee to confer with. If something goes wrong it's my fault. If it goes right, it's my doing.
My main emphasis, which I'm really, really proud of, is to take on emerging artists. Because I'd been a student for so long, and I'd been active in a lot of art associations, I knew all these young artists, and I thought I would take them on. And so many of them have just done so well. I'm really proud of that.
The environment for artists coming of age in Newfoundland today is very different. We have a provincial gallery that supports young artists and gives them studio time, and there are some really good residencies available. It's a very exciting world and it's very competitive, but there is a lot of mutual support also. There really is. I think newspapers and CBC pay attention to us in a way that you wouldn't get in Toronto.
When Elliott and I first came here, we gave ourselves a year to find a piece of property on the water. The year was nearly up, and we hadn't found anything we liked. We were just wandering around in Torbay one day, feeling a little bit morose and looking out to the sea and thinking how exquisitely beautiful it was. Then this guy came up to us and introduced himself. He said, "Hi, I'm Austin Kinsella. Who are you?" We told him that we were feeling really sad because we wanted to build out of town and we couldn't find a piece of property. Austin said, "Well, the property you're standing on is mine, and I'll sell it to you." It was the most gorgeous property, right on the ocean—almost an acre. Can I tell you how little he sold it to us for? Six hundred dollars. Absolutely amazing.
We became really good friends with the Kinsellas, who had eight kids. They were a wonderful family—we're still in touch with them—and they nurtured us through our beginnings in Newfoundland.
It was a wonderful beginning to life in a wonderful place.