As the pulpwood industry downsizes, our woodlands no longer need to be just commercial tree farms
On a sunny Saturday in April this year, just before 10am, about 50 people filed into the Masonic Hall in Caledonia, N.S. Their purpose: to discuss plans for Atlantic Canada's first community forest.
It's a project with ambition: the organizers see it as a new model for Crown land development, one that puts community benefits ahead of naked industrial and corporate interests, while still producing a profit and creating much-needed rural jobs.
The Medway Community Forest Co-operative is a three-year pilot project involving 37,000 acres of provincial Crown land. The goal is to conduct responsible forestry, while also drawing revenue from other forms of development, such as recreation businesses.
In development since 2012, the co-operative had been run (up until the Caledonia meeting) by an interim board of directors, comprised of forestry workers, private woodlot owners, environmentalists, a mill owner, and other interested citizens.
The point of the Caledonia meeting was to finally hand the planning—and sense of responsibility—from the interim board to the larger community. "Now's the time for a transition," said Jane Barker, an early organizer, interim board member, and local woodlot owner.
But as the gathering quickly revealed, there are plenty of unanswered questions, each with the potential to create tension and reveal competing interests. "We're expecting clashes," Barker admitted.
The key would be to listen to each other carefully and patiently. "Try to give a little," Barker told the group. "We all have our own agendas."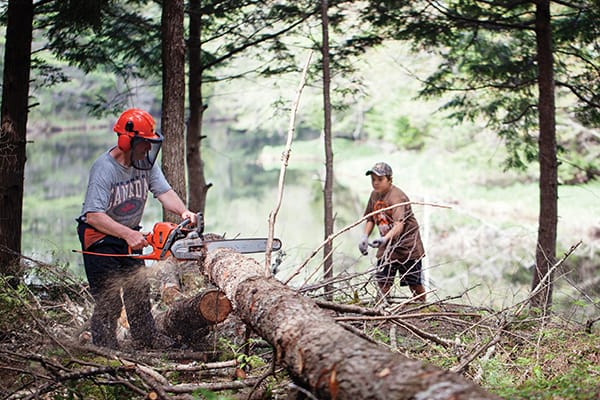 A little history
The Medway Community Forest is comprised of blocks of Crown land in Nova Scotia's Annapolis county. The land shares borders with Kejimkujik National Park, the 256,000-acre Tobeatic Wilderness Area, and the new Medway Lakes Wilderness Area.
"The Community Forest links together a national park and two large wilderness areas and a whole system of lakes and rivers," says Will Martin, a forestry consultant and one of the group's founders.
The land is Acadian Forest that, for more than 60 years, was managed for harvesting pulpwood. Much of it has been clear-cut in the recent past. As a result, more than 65 per cent of the trees are younger than 40 years, though there are stands of hemlock more than a century old. The dominant species are red spruce, pine and hemlock, with some mixed patches of yellow birch, red oak, and sugar maple.
The Community Forest land was long owned by the Bowater Mersey mill near Liverpool. When the mill closed in 2012, a public "Buy Back the Mersey" campaign was launched, its goal to convince the province to buy back the 550,000 acres of Bowater land, and turn some of it over for a community forest.
"Bowater was a huge player. All of a sudden you yanked that player out of the mix and it exposed that our forestry system is actually not very resilient anymore," Martin says. "We're very vulnerable, and rather than waiting for the next mill to collapse, let's start piloting some alternatives today."
The province eventually agreed and issued a request for community forest proposals. The Medway group was the successful bidder and finally secured its Crown lease in January.
There was one hitch, however. The group projected that 150,000 acres would be needed to make the project financially feasible. The province offered just under 40,000 acres.
To make up for the lack of land, the province included a grant of $274,000, to be distributed over three years. The goal, for Martin, is to prove the pilot project a success, and then secure more land from the province. (The two sides have agreed on 52 points for measuring the project's success).
"I have huge visions for this. I've never thought of it as a three-year pilot project," Martin says. "This is really about the community saying 'what is our future?'"
The co-op plans to harvest 20,000 tons of wood each year, which is expected to generate $300,000 in annual stumpage royalties for the province. The co-op will sell its wood through an open bidding system, ensuring small players have an equal footing with big mills.
But harvesting wood from 40,000 acres won't be enough to make the co-op sustainable.
"If we were just to do status quo forestry, we would go bankrupt," Martin says. "It's actually really helpful to know that on day one. It means we need to be innovative and creative and think about different revenue models.
"Just cutting timber is not enough."
The group is hoping to draw revenue from the sale of licences, covering activities spanning from maple syrup production to wild mushroom foraging and moss collection, as well as recreation activities such as backcountry guiding, canoe outfitting, and possibly a mountain bike park.
According to Martin, drawing value from the forest beyond timber is one of four principles associated with community forestry. The others include: keeping economic benefits local; ensuring a high level of environmental stewardship; and, most importantly, providing "community-driven" governance.
In the case of the Medway Community Forest, a dozen or so board members will answer to the group's shareholders—each of whom gets only one vote, regardless of how many $25 shares they own. The Community Forest is registered as a for-profit co-operative, and any profits will flow to a local investment fund.
"This is a new model where, yes, we're still supplying timber to existing mills," Martin says, "but the management of the land is in the direct control of the community."
The project has also generated interest from groups looking to explore similar options in Newfoundland and Labrador and Cape Breton. Added Martin: "It's early days, but we are attracting attention."
Some players
Jim Crooker steps off a gravel road and into the woods that surround his house in South Brookfield, a short drive from the Community Forest.
The last of the late winter snow crunches under his boots as he points to a few small Norwegian spruce he recently transplanted. He then motions to a pair of dead oaks. "If it doesn't rain this afternoon I'll cut those down; get a little firewood," he says.
Crooker owns 850 acres in the immediate area around his house. A retired schoolteacher, he represents the fifth generation of his family to live on this land.
He cuts some wood, mainly pine, for local sawmills, and sells some firewood. "I call it my occupation now. I suppose it's a hobby," says Crooker, 70. "I don't get up at 5am every morning and go in the woods. I just do it when the mood hits me."
Crooker is also a founding board member of the Community Forest. The co-operative, he believes, will greatly benefit private woodlot owners like him. He wants private woodlot owners to pool their supplies of timber with the Community Forest and sell as a bloc. Crooker says they'd secure a better price by coming to the table with a larger volume.
"Otherwise you're just a price taker," he says. "If I get a truckload of logs, they don't ask me how much I want for it. They tell me how much they're going to pay for it. And I'll either take it or go home."
Eventually, Crooker would like to see the co-op own its own small sawmill, which would allow the group to add value to its wood, instead of just selling logs.
"I think that would be the way to go, but how would you ever manage something like that?" he says. "Right now we're just starting out with one forester."
That forester is Mary Jane Rodger, a 25-year-old who holds a masters degree in forest conservation from the University of Toronto. Rodger was hired in February to serve as the co-op's general manager. At the Caledonia meeting, she gave the group a glimpse of what the Community Forest could become. She profiled similar efforts that have blossomed in other areas of Canada, including the Haliburton Forest in Ontario, where she conducted research.
Located north of Toronto, the 80,000-acre Haliburton Forest boasts a slew of wilderness adventure activities, including a wolf centre, a boardwalk in the tree canopy, snowmobile trails, dog sledding, fishing, and camping. The majority of the Haliburton Forest's revenue is generated from recreation activities, Rodger noted.
A more achievable model is likely the Harrop-Procter Community Forest in Harrop, British Columbia. The co-operative manages 28,000 acres of Crown land, practises ecosystem-based forestry, and runs a small sawmill, from which it sells lumber products.
"Hopefully after three years we will be a successful company and sustainable," Rodger told the group. She later added, "Conflicts will arise, but conflicts are an essential part of developing strategies for effective planning."
Shortly after, some of those early potential conflicts emerged.
The crowd broke into small groups to discuss their individual visions, ideas and concerns, perhaps the biggest of which was the question of access: Who will be able to access the land and how? Will users have to pay? (One attendee said the land was, for years, restricted to the use of Bowater mill managers, their friends, and anyone lucky enough to get a key to the logging road gates.)
Other questions included the potential use of clear-cutting, and the difficulty in pulling revenue from recreational activities in just three years, with no guarantee the land will be available after that period. One attendee called the three-year deal with the province a "licence to fail."
There was concern about the impact of logging on songbirds. Could logging be restricted during key times of the year?
The mood was hopeful and energetic, but the meeting revealed there is plenty to be worked out. "Hopefully this doesn't end up in long-term planning hell," lamented another attendee.
Royce Ford isn't sure how such issues will be resolved; but he hopes they are, and that they'll be resolved quickly. The communities around the Community Forest are in desperate need of an economic boost.
Ford's house is on the side of Highway 8, just down from the entrance to Kejimkujik. This was his grandmother's house, and his father still lives across the road.
Ford started using a power saw at age 12 and, as a teen, cut pulpwood and Christmas trees for local growers. He attended ranger school in Fredericton and eventually moved back to the family homestead. He worked for Christmas tree companies and at a local sawmill. "I've done every job in the woods," he says sitting at his kitchen table, clad in a Bowater hat and blue sweater.
Ford describes the current forestry system as unsustainable: too much young wood being cut to supply hungry mills. "Mills aren't long-term. They want wood for today," he says.
As an independent forest technician, Ford draws up management and harvesting plans for mills and private woodlot owners. He still often works for the big players, but he's no longer a direct mill employee. And he's happy about that.
"Every day you're trying to find wood. That's all it ever was," he says. "It's about feeding the beast everyday."
At 50, Ford is eyeing semi-retirement. He's hoping to scale back his business and spend more time working his own land: 950 acres, much of it within a few kilometres of his house, and some of it bordering directly on the Community Forest. Ford grows Christmas trees, harvests his own firewood, and sells some wood to local mills.
The land is part of his family's past and, Ford says, hopefully part of its future. "It's something I can pass down to my young feller," he says of his 11-year-old son, Jason.
There's space (and wood) to build a house, and plenty of forest for hunting, fishing, four-wheeling and snowmobiling. For extra cash, Jason can sell a few saw logs.
"You're almost self-sufficient," Ford says. "That's my goal with it. It's not so much for me. It's for him down the road."
But not every local kid is as fortunate. "There's not a lot happening in this area," Ford admits. The Community Forest could change that.
In addition to selective harvesting, Ford envisions yurts on lakes and rivers for people wanting to hunt and fish in the forest. Ford is traveling to Labrador this summer for a fishing trip. "Why couldn't we have a little lodge set up, and bring people … here for trout fishing?" he says. He's also keen on developing trails for snowmobiles and four-wheelers.
It's unclear how much money can be made from issuing licences for such activities, and how many jobs and spinoff dollars will emerge as a result.
At the Caledonia meeting, the attendees split into small groups for a second time. Huddled around maps of the forest, they pinpointed specific spots for development, be it maple syrup or a potential mountain bike trail.
The gathering concluded with the group's first annual general meeting, and the election of a permanent board. (Ford, Crooker, Martin and Barker were all kept on from the interim board).
"It's a huge achievement," Martin told them. "We're working together to start this and build it as a community.
"If this feel clumsy, it's because it is," he added. "We'll work our way through it."