For young readers, a fable of the Christmas tree
The Little Tree by the Sea: From Halifax to Boston with Love
by John DeMont with illustrations by Bella DeMont
(MacIntyre Purcell Publishing, 17.95 hardcover)
A significant piece of the story of the Halifax Explosion came in its aftermath. One of the first communities to respond to the disaster with almost immediate (by 1917 terms) assistance was the city of Boston, Massachusetts. There had long been a close connection between the two cities, both being seaports with much trade in goods and people moving back and forth. Following word of the disaster, Boston arranged representatives from relief agencies, medical professionals, as well as generous donations of food and other supplies to come to the assistance of the people of Halifax.
As the shattered city began to heal, its people were grateful for all the aid they had received from other communities, and especially from Boston. In December of 1918, the people of Nova Scotia sent a huge Christmas tree to Boston, which was raised in Boston Common. In 1971, the Christmas tree growers of Lunenburg County decided to send a tree to Boston for Christmas in memory of the friendship between the two cities; the provincial government took over the duty in 1976, and the tradition has continued for the past 40 years.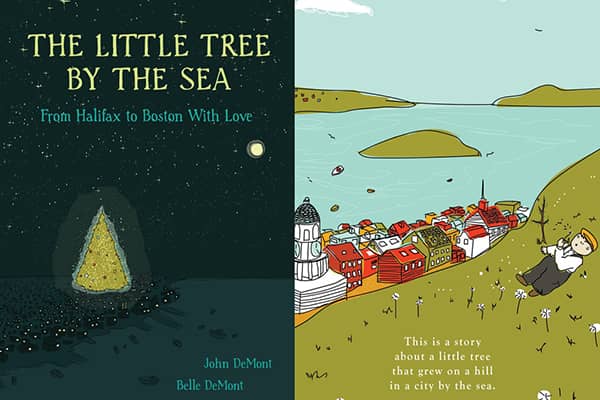 This feel-good aspect of an otherwise terrible story comes to light for very young readers in The Little Tree by the Sea, a bit of a fairy tale about how the Christmas tree first went to Boston. Told whimsically by John DeMont and illustrated in equally whimsical drawings by his daughter, NSCAD graduate Belle DeMont, it portrays a little evergreen tree growing on the side of a hill in Halifax. It watches the explosion damage its city and injure and kill so many, and it yells into the wind for someone to help. Help comes, the city heals and grows, and the tree grows too—until it is chosen—perhaps by its own wishes—to be the tree sent to Boston as a thank you.
At the end of this story, there is a more factual section, filling in something of the details behind the selection, transportation, and reception in Boston of the annual gifted tree. There are specific guidelines to be followed for selection of the tree—it has to be white or red spruce or balsam fir, between 40-50 feet tall (12-16 metres) straight, healthy and attractive. Once cut, it travels 1,200 km (750 miles) over land and by ferry to the city of Boston, where it is the first tree to be lit on Boston Common, to an appreciative crowd in the thousands—including a local town crier, and of course, Santa Claus!