For young readers, a fable of the Christmas tree
Hope and Survival: A story of the Halifax Explosion
by Laurie Swim
(Art Quilt Publishing Corporation, 24.95 hardcover)
Subscribers and readers of Saltscapes will recognize the title of the book and its author from our October/November issue of the magazine. The story by Quentin Casey about fibre artist Laurie Swim made mention of the book she created to go as a companion with her quilt commemorating the Halifax Explosion. Swim, a Portia White Prize winning artist based in Lunenburg, took a number of years to create the meticulous Hope and Survival quilt that has been on display at the Maritime Museum of the Atlantic since mid 2017. Now readers can pick up a copy of the book for themselves when they view the quilt, or order it online from the author's website.
Swim's companion book tells the story of 11-year-old Jess, who lives in Halifax and whose life is changed forever by the Explosion and its aftermath. Jess is a fictional character based loosely on Barbara Orr, a young girl who lost her immediate family in the disaster, and who was blown a quarter of a mile uphill from where she was standing by the force of the blast. Jess's story, illustrated with images from the memorial quilt, is somewhat happier than Barbara's, but the story nevertheless portrays vividly the terror and pain—and ultimately some bittersweet happiness—that must have been felt by so many in the wake of the disaster.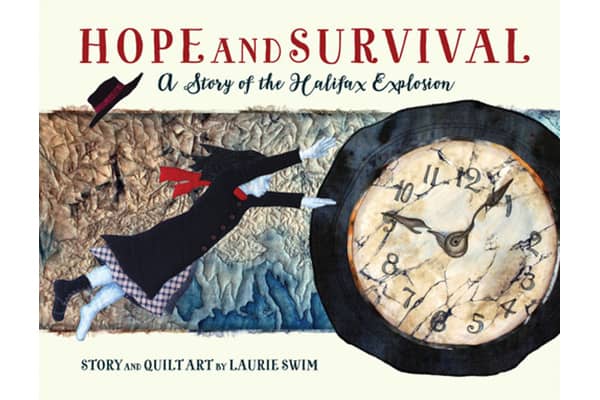 In the afterward to the book, the author writes a little about how the quilt and its companion book came to be. The quilt and its images have indigo blue as a dominant colour—an intentional tribute by Swim to the survivors of the explosion, many of them who were left with blue-tinged scars in the aftermath of the blast and the subsequent raining down of gunpowder- and oil-imbued rain over their injured bodies.
It may sound like a grim story, but it is, ultimately a tale of hope and survival. Although the book itself is available through many independent bookstores as well as Chapters/Indigo and the Maritime Museum (and Laurie Swim's Lunenburg studio), the artist's website also offers a teacher's guide; combined with the storybook, it will help children to learn of this life-changing event in the history of Halifax.