Getting to know Abbie Michalik
Abbie Michalik worked 34 years in Cape Breton's coal mines. For the past 24 years, visitors to the Miners Museum in Glace Bay have listened to his stories of the hard work and hard times he and countless other miners endured in what he calls the world's most dangerous occupation. Saltscapes spoke with Abbie Michalik about working under the ocean, surviving deadly accidents and getting what he wanted.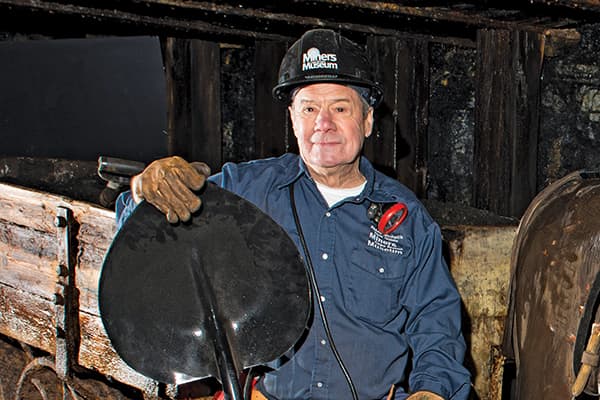 Q Describe your childhood home.
A We had an upstairs with curtains for doors, no gyprock and no insulation. There was eight in my family. We all slept in one bed. In the morning snow would be on the floor. We had an old stove where Ma baked bread. We used to come and put our feet in the oven.
Q What about school?
A I had a grade 8 education. Most of the miners had no education because you didn't have a chance to go to school. You worked all your life. All you needed was a weak mind and a strong body.
Q Do you remember your first day at work?
A Absolutely. I was scared to death. Oh, it was dark, damp and cold down there with a little light on your hat. There's one way in and one way out.

There were 2,700 people [working hundreds of feet deep] under the floor of the ocean. The place was full of methane gas, the roof coming in, but you had to keep your mouth shut [about the dangers] or you and your whole family was fired onto the street.
Q Did anything happen to your family in the mines?
A I lost my uncle. The whole roof came down. I lost my first cousin at 22 years old. My dad lost his arm. He couldn't load coal with a hook, but he still had to go underground. Compensation? He got $10 a month from the government.
Q Did you experience any accidents?
A In number 26 colliery in 1979 we had a buildup of methane gas. The shearer hit a piece of sandstone. A spark ignited the fuel. Killed everybody on the wall face. What saved our lives was stone dust, a white powder that diluted the coal dust. The ball of fire stopped where we left off with the stone dust. Twelve men died. I went in to retrieve the bodies.
Q Were there other accidents?
A In '84 was the big fire. We got out to the pit bottom to the cage to take us up. The fire was burning behind us. We got 25 men at a time out of that mine and there were 200 men. The draeger crew went down later to get one fellow, but couldn't. He's down there yet, waiting for someone to come and get him.
Q You paid a heavy price for a job.
A My father died of black lung. I have 10 per cent of the black lung. They're still dying here today of it. When I come 65, they gave us a little pension. When the government shut the coalmines, they took it away from me. I had nothing.
Q When did you retire?
A That was May 2, 1993. I didn't want to, but my wife forced me. I didn't miss the work. I missed the men. June 8, I was down at the museum, and I'm still there.
Q In the end, what did coal mining give you?
A My goal was to get the kids an education, put food on the table, put clothes on their backs. But things that happened—the explosion and the fire—my wife said, you won't have your third chance. I don't care what happens now. I done what I wanted to do.