Getting to know Deborah Lyons
New Brunswick native Deborah Lyons is Canada's ambassador to Israel. Previously, she held the same position in Afghanistan, where she was the only female ambassador at the time. In recognition of her work with Afghani women and children, Freedom House awarded her the prestigious 2016 Mark Palmer Prize "for her courageous work on empowering women and promoting gender equality." This summer, she was honoured with the Order of New Brunswick during a ceremony in her native Miramichi region. Saltscapes spoke with Deborah about people skills, Cherry Blossoms and the happiest place in the world.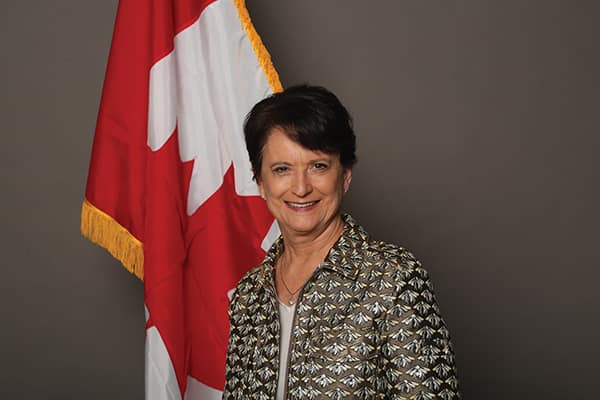 Q What was it like growing up in Chatham?
A There were 12 brothers and sisters in my father's family, and we were a family of nine. We benefited from that wonderful community feeling of everyone looking out for one another but even more so by being on the Miramichi, with that sense of belonging to the river and to these good people struggling to build a better life for their kids.
Q How did the Miramichi River itself influence you?
A The river ran through our physical environment, but it also ran through our personalities, our childhood, our psyche. It formed who we were as people. When I was a child, we had ocean-going vessels coming into the Miramichi for lumber. It was our playground.
Q What do you remember about the people in your community?
A We had a lot of very positive influences from the generation before us. People were very gentle and dignified. I remember Mr. Irving, who had a rural convenience store where we used to buy our Coke and Cherry Blossoms. He played classical violin. You'd be walking on this country road as a little kid and hear this beautiful violin. People did a lot of reading and recited poetry. Singing and entertaining were very important. We still get together every summer for family singsongs.
Q What did you learn from them that helped you in diplomacy?
A We grew up understanding how to communicate well, to engage with people, to embrace people. That helped me be a diplomat because, on the Miramichi, we learned the importance of people-to-people relations and had an absolutely fundamental respect for human beings. We relied so much on one another.
Q Is it true that you still call people "dear"?
A My staff teases me about that. I don't think it hurts. People respond to warmth, authenticity and affection. Maritimers accept people for who they are. We're genuine in our humanness. I have taken that into the diplomatic field, and it has served me incredibly well.
Q How has your perspective as a woman influenced your career?
A I learned the importance of social issues and human rights. I saw how people were disadvantaged. I also saw how women were limited. My time in Afghanistan recalled for me the fact that there is still much to do—not just for women but for all members of society. I think I did that work because of my own experiences growing up with very strong, capable, empowered women on the Miramichi who did great work in their communities.
Q How do you stay connected to your family back home?
A With social media and the good ol' phone call. I go home every summer—for the past 40 years—to be nourished by the river because I need it. I am happiest when I'm on a boat on the river.
Q Do you think you'll return to New Brunswick someday?
A When I retire, I will go back for part of the year and live there. I have a cottage on the river, just below my parents. That's my happy place, so I spend a lot of time there when I'm home. There's nothing quite like the Maritimes. I think it's the happiest place in the world.