A tall woman in a pretty print dress strides purposefully across Kevin Neil's front lawn and onto his porch. She's an antique collector touring Nova Scotia's scenic Fundy Shore. She's arrived on Neil's sun-drenched porch because his small antique shop was recommended by a friendly guide at the Lawrence House Museum, a kilometre down Highway 215 at the opposite end of Maitland.
To call it a shop may be a bit of an overstatement. For the past four years, Kevin Neil, a 45-year-old high school shop teacher, and his wife Nancy have operated a small antique business from what might otherwise have been the living room of their rambling two-storey heritage home.
Built in 1878 by his great grandfather, the 4,500 square-foot house features 10-foot-high ceilings, modified Gothic architecture and plenty of Victorian charm. The first home for Captain Thomas Roy, the youngest captain to ever sail out of former ship building hub, it is one of 50 century-old buildings that helped the community become the first heritage conservation district in the province. The antique business grew out of the couple's interest in history more than a desire to establish a commercial enterprise, but the affable Neil readily admits the revenue helps pay some bills.
The woman spots six oil lamps on a top shelf, but is obviously unimpressed. They're in good condition, but pretty ordinary for a collector's taste. She lets her eye wander over an eclectic collection of old cameras, mismatched pieces of china and big, brightly coloured Christmas tree ornaments. She nods politely and turns to leave, but stops as she approaches a display by the front door. A felt-covered table is filled with various sized pieces of ivory, each one etched with an intricate nautical design. "Now this is interesting," she says as Neil approaches from the polite distance he has maintained. "But what is it?"
He's answered the question a thousand times over the past 15 years, but if he's tired of providing the answer, it's not evident in his voice. In fact, his voice bubbles with enthusiasm as he launches into an explanation of his artistic passion, scrimshaw.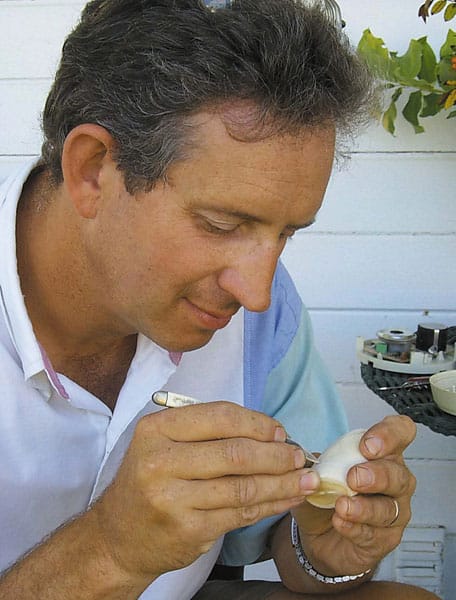 Developed on New England whaling ships during the 1820s, scrimshaw is the art of engraving on ivory, whalebone, whale teeth or walrus tusks. It was the common pastime of many a sailor looking for a way to kill the time between catches at sea. Historically, a design or "graphic" was created by cutting or pricking the surface with a jackknife or sail needle. The holes were connected with delicate scratches, the whole piece was rubbed with ink and polished with whale oil or tobacco juice. The finished works varied in size and were used to adorn a host of objects-boxes, toys, and kitchen utensils, even corset stays.
Offering to demonstrate, Neil pushes his glasses up into his salt and pepper locks, pulls out a three-inch pocketknife and grabs a section of an old piano key now destined to become the centerpiece of a necklace. Hands steady and eyes fixed, he begins a design with a series of tiny but precise cuts.
"It's an intense, time consuming process. There can be hundreds of cuts per square centimetre," he says almost completely absorbed in the work. "I can put a full-rigged ship on the head of a pin, but I shouldn't say that. That's just showing off."
A thumbnail-size necklace piece requires two to three hours of work and retails for $30 to $50. Whale's teeth take between 200 and 600 hours to complete and sell for hundreds of dollars. His largest project, a set of three tusks with engravings depicting the history of Maitland, took more 1,000 hours of his time and sold for $9,000. But those investments of time will look tiny if he proceeds with the naval battle scene image that's been taking shape in his mind lately. It will include an armada of ships engraved on a 2.5-metre narwhal tusk he has stored in a closet around the corner. Progress on that item will be measured in years, not hours or months, he says.
After a long silence, during which Neil uses crisscross strokes to create a wave that will be darker than the one beside it, he muses that the way the art is done hasn't changed significantly in the last 180 years. "I think that's why I stick with the nautical theme, except when I'm doing commission work. It is the whaler's art. It's always been associated with the sea…I can't imagine doing a Bart Simpson design on a whale tooth."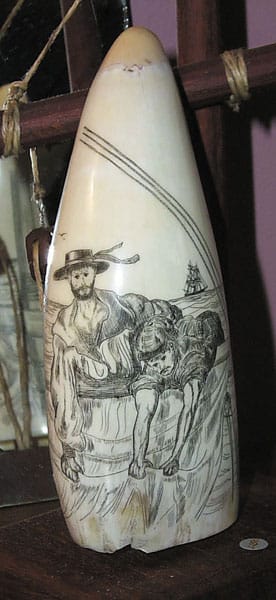 Scrimshaw never really caught on in Canadian whaling circles. That may explain why so few Canadians are involved in the craft. There are always a few people around who do it for their own pleasure or to give as gifts to friends, but to Neil's knowledge there are only a handful of Canadians who, like him, have worked at it professionally over a number of years. A few early American masters and a couple of modern-day artists are recognized for their labours, but Neil says you never know who the public will embrace as the next artist of choice. "In the beginning it was the same as whittling on the back porch. No one was trying to be an artist. It was purely folk art and an interesting way to pass the day."
Scrimshaw might have disappeared entirely with the collapse of whaling if it hadn't been for John F. Kennedy.  The American president was crazy about scrimshaw and maintained a significant collection of early American work. His passion was so profound that, when he was laid to rest, a whale's tooth with the presidential seal was placed in the coffin with him. Elevated to the stature of collectable art by Kennedy, scrimshaw has maintained its respectability as an art form and is actively sought by a small but dedicated group of collectors.
"The earliest stuff goes for tens of thousands of dollars if it can be verified as original," says Neil, retiring to his front porch after selling the woman one of his pieces for a decidedly more modest sum. "One 14-piece set from the 1820s was bought by a museum for $25,000 when it last went up for auction. If it ever comes up again buyers will be paying out $100,000 easily."
Neil's love affair with the whaler's craft began in 1985, just as a personal interest in history began to blossom. He and Nancy were on vacation in Maine and he spotted a couple of pieces in a gift shop. He bought them without looking at the price tags.
"I was really intrigued. It was something I'd never seen before, but knew intuitively it was something I might be good at. I was a cabinetmaker at the time so I knew I could draw and carve and work with my hands."
After returning to Maitland, he began experimenting with different tools and carving materials. His first effort was on a deer antler. He was satisfied at the time, but now finds most animal horn too hard or too porous for the delicate scratch work involved. When his father-in-law offered him bits of ivory and a set of walrus tusks collected in Canada's north, the material was perfectly suited to the task. It is his medium of choice for the past 15 years.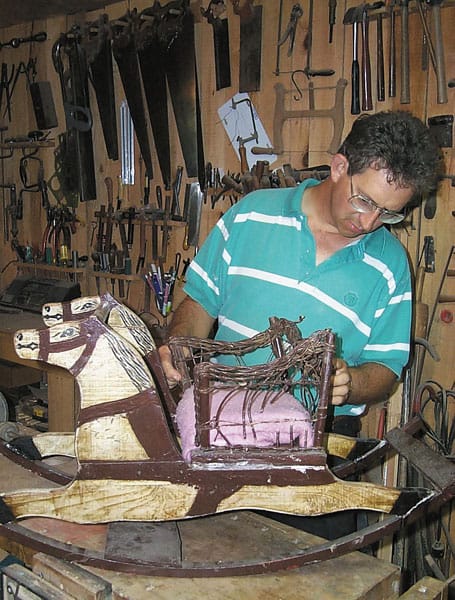 But Neil isn't prepared to use just any ivory. He's sensitive to people's fears about the black-market ivory trade and its impact on endangered species. More than once he's had potential buyers turn up their noses at his work, not because of what it is, but because of what it is on. "I'm no more in favour of hunting elephants or whales than anyone else," he says with a gesture approaching resignation. "I'm mostly a recycler. I use old piano keys; I've made a pendant from an old ivory die; I've even used an old ivory cue ball to make a globe as a present for a couple that travelled a lot. There's a lot of it around. It's just a matter of finding it." He doesn't limit himself to ivory. One of the items on his display table by the front door is a 40,000-year-old mastodon tusk dug up in a Yukon gold mine. In the closet, the narwhal tusk sits ready when inspiration hits.
As shadows lengthen on the porch, Neil retreats to a warmly lit den. He falls into a comfortable couch positioned below towering handcrafted stained pine bookcases. An Oriental rug adorns the floor and a guitar rests against a rocking chair an arm reach away. He picks up the whale tooth he began earlier and begins making more delicate cuts. It looks like tedious work and he concedes it is, "but it's something you get wrapped up in."
"It's a great stress release. It's very satisfying. With furniture making it was all about what the customer wanted, not what you wanted. Now I make it and if someone likes it they buy it."
Susan Hanrahan, executive director with the Nova Scotia Designer Crafts Council, says Neil's work is highly prized. "His work is so fine, you hear people at our shows talking about it all the time. It's so unique when Kevin wanted to join our organization we had to create a whole new category for him. No one else was doing scrimshaw, or anything like it. To this day no one else is creating the delicate, intricate pictures on bone that Kevin is famous for."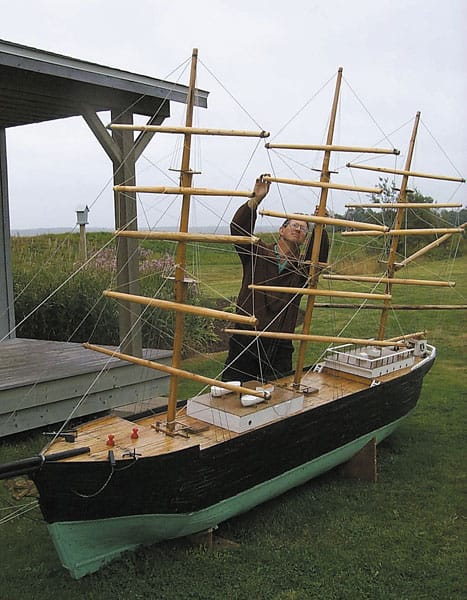 Back in his den, Neil flips through the worn pages of a nautical history he's pulled from the bookcase's lowest shelf. Even though he grew up on the Noel Shore, just a few kilometres away, he says he never gave much thought to local community history or things nautical. He was vaguely aware of the community's claim to having built the largest wooden-hulled ship in Canada, the W.D. Lawrence, but until 1984, it didn't mean very much. That's when the first round of Tall Ships paraded into Halifax Harbour. Closing his eyes to recall the scene, he says he was mesmerized by all the sail, rope and fine lines of the many ships. He made six "pilgrimages" to the waterfront and spent hours studying the ships, wondering what they must have been like to build and sail.
With his passion aflame, he delved into local history and found strong family connections to both local shipyards and the construction of many of the houses in the community. He joined the Maitland Historical Society and quickly became its president. He was involved in the founding years of Maitland Launch Day, a fall celebration of local shipbuilding history that includes a huge parade with residents marching through the community in 1850s garb. Neil can usually be spotted in a top hat or fancy cape riding along on a Pennyfarthing bicycle.
In the mid-1990s when the historical society needed a replica of the W.D. Lawrence to use for a re-enactment, the community turned to Neil. It took a couple of years but in 1998, the 250th anniversary of the original ship's launch, an outstanding fully rigged five-metre replica was christened.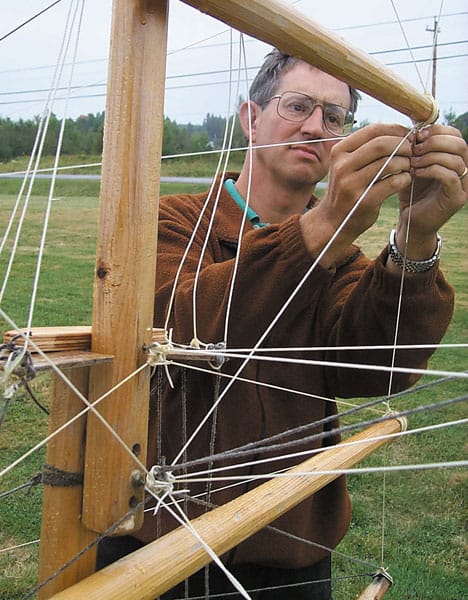 Setting aside the book and heading outside to the tool-filled workshop where he still putters with cabinet making, Neil says he's proud of the work he's done on the ship and in the community. He's also proud of his work as a teacher and a woodworker, but concedes it's his scrimshaw that continues to earn him the greatest recognition.
"I think it's because it's so unique," he says sorting through a box of twisted bits of wood that may become stands for the tooth under construction in the den.
"It's amazing really, because there's never been a piece I've been totally pleased with...Then again maybe that's a good sign. If I were ever totally satisfied, I'd probably have to stop."