We aren't the first generation to misrepresent our age-intentionally or otherwise.
Anyone who frequents the shoreline knows that beaches constantly change. Sandy bits become gravel and vice versa. Streams change course. People don't construct large buildings on sand because it shifts. Genealogists wanting precise details encounter the same thing when they begin compiling what they find about individual ancestors.
I have selected three related people to illustrate my point in detail. The couple here raised three daughters, but there are no living descendants, assuring that no privacy is violated. The three are John Musgrave, his wife, Bridget Quirk, and her nephew, William Mason.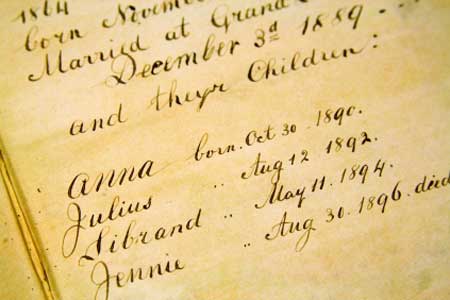 For genealogists, the most significant dates concerning any one person are birth, marriage (if any) and death. William is the least complicated, given no marriage or burial record was found. However, the government birth record states William was born July 16, 1872 in Halifax, son of William E. Mason, master mariner, and his wife, Catherine Quirk. The 1901 census says William was born on June 15, 1874 and was 27 years old. Ten years later the census reports his birth date as July 1873 and his age as 38. These records give you a choice of three years and two months for his birth.
A researcher looking at only one of the census returns (indexed online at automatedgenealogy.com) might take that record as the right answer and proceed accordingly. Seeking corroboration of any record by looking at another is prudent. I was aware of three records, so I looked at them all-and you see what turned up.
I opt for the registration of birth in 1872 as the most accurate record-a baby had been born to that couple and the birth was registered in 1872, so it is the earliest source of information concerning William's date of birth and parentage. You can verify this at novascotiagenealogy.com, following the links from there.
John Musgrave, son of John and Isabel Musgrave of Sydney, married Bridget in Halifax on July 24, 1875, when he was 23, which tells he was born in 1851 or 1852. I found him in the 1901 census, born September 7, 1857. He died shortly after the census, on April 15, 1901, age 49. (gov.ns.ca/nsarm/vitalstats/death/Halifax) and was buried 18 April 1901, age 49 (ccchalifaxcemintern/search.cfm). Since John was there in 1875 to give his age but was not available for comment posthumously, we can take the marriage record as our guide in his case, but not in Bridget's case.
The daughter of Matthew and Bridget Quirk, Bridget married in July 1875 at the age of 25, making her year of birth 1849 or 1850. Being married agreed with her so well that by the 1901 census, Bridget was only 45, born October 5, 1855. Widowhood aged her, so by the 1911 census she was 62, and born in May 1849. If her age as stated at her marriage was correct, the census of 1911 might seem to have been correct as well. Alas, both census returns and the marriage record give her age incorrectly.
The government register of deaths records her demise in Halifax on January 16, 1935, age 88 years, 11 months, giving us a birth date of between late January and early February 1846. The burial register entered her burial January 18, 1935 at the age of 89, so again 1846 was the stated birth year. However, the earliest record is the baptism register of St. Mary's Basilica, revealing the christening record of Bridget, daughter of Matthew and Bridget (Flemming) Quirk, on February 2, 1846, at the age of four days: she had been born on or about January 29, 1846.
Bridget was nearly six years older than John, and may have pruned four years off her age. By 1911, after John's death, her age more closely reflected the truth, and after her own death, her daughter reported an age in line with her baptism record nine decades before. It remains a puzzle as to why a woman born at the end of January would report being born in October (1901 census) or May (1911 census). Perhaps her birthday, like Easter and Passover, was a movable feast; after all, if you take liberties with years, why not do so with mere months? On the other hand, it could have been a clerical error.
In any case-by design, accident or carelessness-genealogists must sift the sands of evidence carefully, for they may have been shifted. As someone once wisely observed, the devil is in the details.