One Nova Scotia writer discovered that when it comes to family travel, Atlantic Canada offers plenty of fun adventures.
A whale of a time "One more time, big whale, one more time," our excited two-year-old exclaimed, echoing the feeling of all those aboard the Quoddy Link, a 47-passenger ocean catamaran near The Wolves, a cluster of islands several hours off the coast of New Brunswick. We were crammed to the side of the boat, hanging off the rails, cameras snapping to capture the image of the huge whale—which, to our delight, swam and dove underwater, showing his body from top to bottom, before surfacing on the other side of the boat.
Our hosts at Quoddy Link Marine from St. Andrews-by-the-Sea, N.B., had wanted us to see humpback whales. We weren't disappointed. My husband was like a kid again, talking about the basking shark we had seen (it's the world's second-largest shark and rare to spot). The basking shark has no blow hole, so sailors need a calm day to spot its large dorsal fin. Even more rare, the crew spotted a whale in full breach. The captain had just turned on the engines to steam back to port when he sounded the alert. The boat was a madhouse, with passengers running from side to side. "Where's four o'clock, where's four o'clock?" someone cried.
Quoddy Link Marine (877-688-2600) is one of several whale-watching excursions from St. Andrews-by-the-Sea, a seaside resort town a half-hour drive from the Maine border. For families, it's a leisurely half-day trip. I had been nervous to take a baby and a toddler onboard, but the day was clear and the boat felt safe, stable and roomy with its life jackets, cushioned seats, sliding windows and an enclosed area near the centre where kids could colour and play. The captain spends at least two, and as much as four, hours on the water, while guides answer questions, provide commentary and serve salmon mousse, crackers and hot chocolate (you also can bring your own cooler of food).
If you can, bed down at the castle-like Fairmont Algonquin (506-529-8823), an enchanting turn-of-the-century chateau and St. Andrews-by-the-Sea landmark. Arriving under the noon sun, we lunched on the wide terrace, the sunlight streaming in through lush hanging plants that framed the view of an outdoor pool and manicured grounds. Urns in the lobby dispensing lemonade and iced tea were a big hit with our family, as was the check-in process. Our toddler climbed the white stairs to the front-desk counter, where she was given a colouring book, crayons and a schedule of children's activities.
The Algonquin may be grand—a tuxedo-clad maestro twinkled the ivories in the reception area, and there's a spa and golf too—but its definitely family friendly. The newer Prince of Wales suites have kitchenettes, and onsite restaurants offer casual to elegant fare. We felt like a million bucks after enjoying breakfast on the Passamaquoddy verandah and a delicious dinner at The Right Whale Pub, where children under the age of five can eat for free.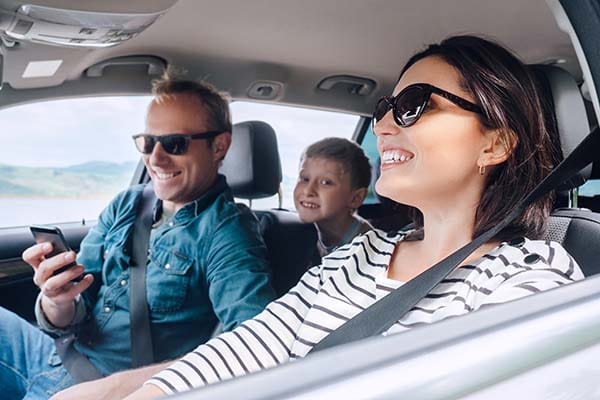 Kingsbrae Garden (866-566-8687), a horticultural masterpiece, is just a five-minute walk away from the Algonquin. It covers 11 hectares (27 acres) and two estates and has something for everyone, including a children's fantasy garden, which has playhouses, a grass chair, teapot trees, a Loch Ness monster and daily kids' activities in July and August. A beach called Katy's Cove is also a short jaunt away. Then there's St. Andrews Creative Playground, which was designed by renowned architect Robert S. Leathers and is located in the schoolyard of Vincent Massey Elementary School.
Downtown, there are curio and candy shops, fine dining and art galleries on Water Street. We supped one night on the deck of Gables Restaurant and Waterfront Patio, overlooking Passamaquoddy Bay, before capping the evening with a family stroll along the wharf, where the sun bathed the water in blues, purples and golds.
Jungle fever A lion's head on the hotel-room door greeted us when we arrived, and the sign said "Jungle Room." We turned the key with anticipation, because we had been waiting to see the room ever since we had made our reservation at the Holiday Inn Express in Saint John, N.B. (506-642-2622). Stuffed monkeys, elephants and zebras scampered around bamboo and potted palms. A green mosquito-netting canopy hung over the king-size bed. Birds rested on the lamp, while a giraffe climbed the full-length mirror. Our kids had their own bedroom, which had leopard-print bedspreads on the bunk beds and a TV/VCR combo with a Sony Playstation. While it was a little tight for space, we all gave it the thumbs-up. Next time we'll try the bug suite.
Have you ever been to sea?
"Want to steer the boat, bud? Try not to hit any whales," Captain Oral Hamilton joked with the group of children and their parents gathered at the helm of the Princess of Acadia (888-249-7245). "Do you want to see the radar?" For an adventure and to cut travel time—three hours sailing versus six hours of driving—our family had chosen the Bay Ferries crossing from Saint John, N.B., to Digby, N.S. Onboard there are plenty of children's activities in the Discovery Zone, which is located on the starboard side in the upper lounge. The recreation director produced Lego, modelling clay, colouring books and crafts. Then she announced that the children and their parents would get to meet the captain.
Nature resort caters to all
"Thank you, God, for this family day," I sighed into my daughter's blonde hair as we snuggled after a day of laughing and playing at Liscombe Lodge (800-665-6343), a riverside resort in Liscomb Mills on Nova Scotia's quiet eastern shore. We had come with a teen, toddler and infant to check out Liscombe's family program. Visions of my daughters in jammies at PJ and Popcorn night and my husband and stepson paddling kayaks played in my head as we drove from Antigonish, N.S., down a secondary highway that skirted a lake and an evergreen forest to our weekend nature retreat.
In 1960 retired naval commander George Wadds—a Sean Connery lookalike, from his picture in the conference centre—opened a lodge and 10 riverside chalets on a site formerly known as Lone Cloud's Field, after a Mi'kmaq Indian chief. Wadds loved hunting and fishing and thought rural Liscomb Mills was ideal for what he was planning.
Now one of three Nova Scotia Signature Resorts, owned by the province, it features 17 chalets, five cottages and 30 river-view lodge rooms. "Families need a getaway and to spend time together," says recreation manager Lynda Holleman. "A number of families stay here, and we wanted to offer them something more to enhance their experience." When you arrive, check for daily activities such as a scavenger hunt, craft session or fireside storytime. The resort takes full advantage of its natural setting; kayaks, canoes and paddleboats are docked at the marina. Guests can bike, fish, go for morning power walks and explore four hiking trails. There is also an indoor pool, fitness centre, playground, recreation centre and tennis.
Parents can take a break when children aged five to 10 sign up for an evening of supervised crafts, games and a movie. Our family took an hour-long pontoon tour of the harbour. The 120-seat Riverside dining room has a mesmerizing view of the river, with strategically positioned bird feeders in front of the windows. Try the house specialty: planked salmon. For less adventurous palates, kids can order perfectly cut-up hot dogs.
Come play on the Island
When I was eight years old and couldn't sleep, my parents would tell me to think of something nice, so I dreamed about Prince Edward Island. We would be playing on the beaches, making sandcastles and swimming. We would be awed by Anne of Green Gables the Musical, play on paddles boats and tour Ripley's Believe It or Not.
P.E.I. has a wide range of cottage-vacation options and a great accommodations search engine on the provincial website (888-734-7529). Shaw's Hotel (902-672-2022) in Brackley Beach is family friendly. Opened in 1860 as an inn on a pioneer farm, the 25 cottages that are there today surround the red-and-white main hotel. Kids can run around the grounds, stroll down a lane to the beach, enjoy the playground and take part in an entertainment program several nights a week.
Shaw's is only about 15 minutes from the capital city of Charlottetown, where you and your family can stroll the waterfront, attend the theatrical Charlottetown Festival or rent some bikes and cycle to the Farmers' Market for breakfast. It's also close to Cavendish, Green Gables and the famed New Glasgow lobster suppers. In the evening, crowd into the car to catch a movie under the stars at the Brackley Drive-In Theatre (902-672-3333).
Newfoundland cityscapes I can never get enough of the crooked jellybean-coloured rowhouses of St. John's and the city's wit and warmth. Now there's another reason to visit: one-of-a-kind family adventures. Visitors at the Fluvarium (709-754-3474) can see the bottom of a natural river; a section of a stream has been diverted to flow past underwater-viewing windows. The Johnson Geo Centre on Signal Hill (866-868-7625), which tells the Earth's stories, is located almost entirely underground. The Rooms (709-757-8000), with its panoramic city and harbour views, presents the history, heritage and art of the province. Kids will discover that learning doesn't have to be boring.
Outdoors beckons too, with hiking on the East Coast Trail (709-738-4453) and the Grand Concourse (709-737-1077). Bowring Park (709-576-6134) has a duck pond, walking trails, playground, swimming pool and bronze statues on which youngsters can climb.