Erine Termine steps out of the Cape Island fishing boat and heads up the gangplank at the Wedgeport wharf. A mile-wide grin graces her face. Termine has just returned from the Tusket Islands, and she can barely contain the thrill of it all. "Paradise does exist," she says.  "The sun shone, everybody was happy, there were little fishing shacks… Nova Scotia at its best!"
Termine was part of an afternoon outing that included about 35 people-tourists, locals, friends and family. Her husband, Etienne Blouin, and their two children accompanied her. "The kids had a wonderful time. We learned about history, funny stories, and legends. It was great. I'd recommend this trip for everybody," Blouin says.
Captain Arthur LeBlanc hears comments like this all the time. He's plied these waters since he was old enough to crawl into a Cape Island fishing boat.  He loves to tell stories about the lifestyle in Wedgeport and how the community relies on the sea for its living. 

The Tusket Islands are a group of islands off the southwest coast of Nova Scotia. Some say there are 365-one for every day of the year. Many have intriguing names like Murder Island and Owl's Head. In the old days, local fishermen built shanties on the islands and moved there for months at a time in order to be closer to the rich fishing grounds. Some islands had lobster canneries, cobblers-even barbers! One of the many stories associated with the Tusket Islands centres on Outer Bald Island.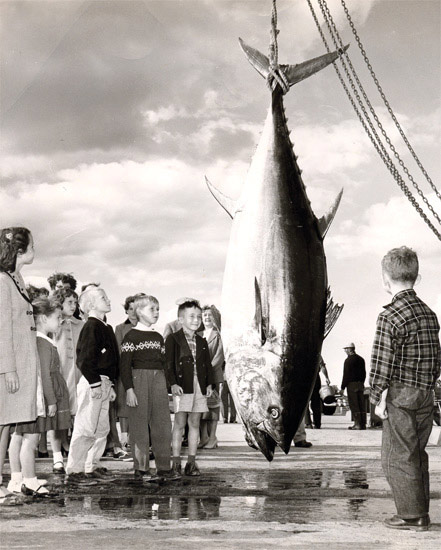 In 1949, Russell Arundel, a lawyer and wealthy businessman from Washington D.C. bought Outer Bald. A year later, Arundel and his cronies cooked up a plan to turn the island into a separate nation-the Principality of Outer Baldonia. Its mani-festo stated in part that fishermen were a special race and they had certain rights. These included the right to lie and be believed; the right of freedom from questions, nagging, shaving, interruption, women, taxes, politics and war; the right to swear, lie, drink and gamble-to name just a few. There is much more to this tale, including how Russia denounced the new "nation."

Donnie Jacquard, teacher and life-long resident of Wedgeport, says: "The magic of the Tusket Islands is that it is a culture in its own. It's very much a part of our history and these stories should be kept alive for future generations to hear."

Captain LeBlanc is doing just that by taking people to the Tusket Islands. Tours are arranged at the Wedgeport Sport Tuna Fishing Museum and Interpretive Centre. http://tuna.mindseed.ca
 
A tasty experience
After the tour, no doubt you will have worked up an appetite-especially for lobsters! The place to visit is Stanley Lobster Co. on the Overton Road in Yarmouth where you'll meet Ernie and Brian Williams. They'll let you choose your own lobster-which they will then steam to perfection. They'll also give you a fascinating insider's view of the lobster industry in general and life of a lobster in particular. 

You'll see lobster tanks that can hold upwards of 70,000 pounds of lobsters in 100 pound crates. You'll hear some of the lingo that's part of the trade like "chicks," "quarters," "culls," and "select." They will tell you what to look for when buying lobsters and how to identify the sex of a lobster. If you like, try your hand at banding a lobster like the fishers do to keep the claws closed. 

Before you know it your lobster will be cooked.  Strawberry shortcake and corn on the cob are part of the deal. Bonus: slip around the side of the pound and discover "Neptune's Throne"-a gigantic chair resting on the crest of some multi-hued beach rocks. The vista's magnificent. And should you be inclined to stay for the sunset, there's a fire pit just a few feet away. Lingering is encouraged. www.stanleylobster.com

Bead and Breakfast
World-renowned lampworking artist, Susan Hood, creates unique beads and turns them into pendants, necklaces, brooches, and bracelets from the Glass Harp Studio in Yarmouth. She also gives year-round beginner and advanced glass beadmaking and assembly classes. "Working with molten glass is both fascinating and extremely satisfying. I love sharing my passion for glass with others," Susan says. But the first thing she tells her participants at the start of a Bead and Breakfast session is this:  "Lampworking is the crack cocaine of beadmaking. You have been warned." www.glassharpgallery.com

Wilderness paddling excursions
Goodbye computers and cell phones.  Farewell traffic. Hello quiet-and welcome to wilderness canoeing at its best. Paddling through the Tobeatic Wilderness, the most noise you'll hear is the rhythmic dip of your paddle in the water or the soulful call of a loon. Whether you're a novice canoeing enthusiast or an old trail hand, there's always something to learn with Hinterland Adventures & Gear. Hantford Lewis, owner and head guide, provides a variety of options from one-day junkets up to three weeks. He also leads "wow" ocean-going kayak excursions in the Bay of Fundy. www.kayakingnovascotia.com

For the birds
Gary Hartlen offers personalized bird watching tours in his van for up to four people-including lunch! (Diver Adventure Birding 902/354-7250)  Destination? Cape Sable Island, one of the best birdwatching places in Eastern Canada. By the way, in case you're wondering, the "Northern Diver" referred to in his company's name, is a British term for the Common Loon, of which Hartlen is especially fond. Cape Sable Island is a designated Important Bird Area and is a migratory route for shorebirds, warblers and rare species. It's the only site in Canada where you can feast your eyes on the American Oyster Catcher.

Architectural tours
Elizabeth Rhuland is a historic building junky and she loves sharing her passion for built wooden homes and public meeting houses with visitors. (902/ 875-3800) Her guided tours include everything from the first registered streetscapes of Nova Scotia (in Lockport), to the historic Loyalist district in Shelburne where approximately 30 wooden houses date back to the late 1700s. All these homes have "good bones." Some even have ghosts. So it's really a walk on the wild side. If time allows, Elizabeth will take you into Barrington where you'll learn all about Puritan homes and meeting houses.