Food and water go well together—there's nothing like a hot meal or a snack while spending time on our beautiful bays, lakes and rivers or in our coves, inlets and harbours.
In the March/April issue of Saltscapes, soon in homes and on newsstands, we reveal a few simple tips for preparing a floating smorgasbord when you're boating this summer.
Beyond finger foods and one-pot meals, here's a list of basic cooking utensils that will stand you in good stead as well.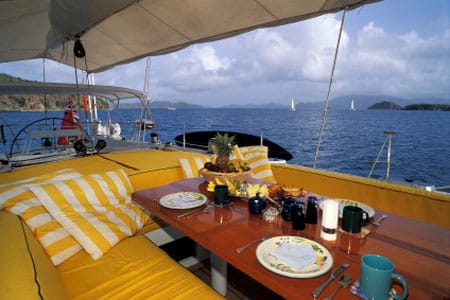 A small skillet will accommodate everything from bacon and eggs to steaks and wieners.
One deep large pot serves well for boiled corn on the cob, steamed clams, mussels and lobster.
One small pot with a lid can be used for everything from tea, porridge, soups or stews to vegetables.
A heavy glove or potholder will help you get a grip on hot pan handles.
A spatula for flipping things like pancakes, eggs, and fish makes life easier.
If you are barbecuing, include tongs, aluminum foil or a grill basket, and an extra plate for raw meat.
Include one large sharp knife, a paring knife, and a cutting board.
Don't forget personal eating utensils: a knife, fork and spoon for the captain and each crew member; also include extra utensils for serving.
Pack a plate, bowl, mug and glass per person.
If you are in the habit of rafting up with other boaters, bring a few extra provisions in order to share your appetizers and snacks.