Regional variations abound for this classic, comforting casserole.
Shepherd's pie dates back many years. When potatoes were introduced to the UK from Spain, they were not well received; it wasn't until the 18th century that people realized potatoes were a good way to use leftovers.
The shepherd's pie that many of us know today is a layered casserole made with ground beef, vegetables and mashed potatoes, which is actually cottage pie—true shepherd's pie is made with ground or minced lamb.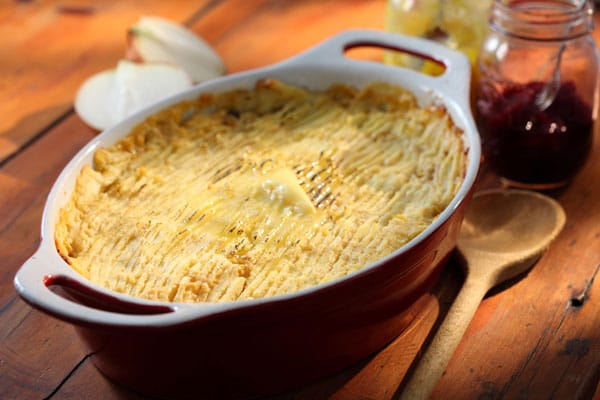 >Many cultures have a version of shepherd's or cottage pie. I grew up eating pâté Chinois, which was ground beef fried with onions, topped with creamed corn and buttered, mashed potatoes. (In other homes it was topped with rice, which might account for the Chinese reference in the name.) An important step was running fork tines across the top to create the look of a fancy dish; this process also helps the potatoes to brown.
In Greek restaurants you often see moussaka on the menu—this could be considered a version of shepherd's pie as well. It consists most often of lamb, eggplant, a béchamel sauce and sometimes, but not always, potatoes.
Regardless of name or origin, this casserole has three basic components. The bottom layer is almost always meat, although you can use tofu for a vegetarian version. The meat is commonly ground, whether it's beef, chicken, pork or lamb. However, last night's roast beef cut into bite-size pieces also works well. Whatever meat you do use should be cooked, rather than added to the dish raw.
The next layer is vegetables; they can be frozen, fresh or, for convenience, canned vegetables work nicely as well-they just need to be drained. Frozen vegetables should be precooked or at least thawed, otherwise they will make your dish watery. Some fresh vegetables, such as carrots, should be precooked, or they'll be hard and crunchy.
The top is most commonly mashed potatoes. Just about any type of potatoes will do—it's entirely up to the cook. Some tasty variations include garlic mashed potatoes, sweet potatoes or even a cauliflower mash, for the calorie conscious.
To achieve a beautiful garlic mashed potato, cut the top off a whole head of garlic, exposing the cloves. Rub a little olive oil all over, wrap the head in tinfoil and put into a 350°F oven for 30 minutes. The garlic will turn soft and golden brown. Simply squeeze it into boiled potatoes, along with milk or cream and a dollop of butter, and blend together.
For a mashed cauliflower topping, cut a head of cauliflower into equal size florets and steam for 15 to 20 minutes. (They should be tender but not soggy.) Transfer to a blender and process until smooth. Blend in a little milk or low-fat sour cream, if desired.
The only thing left to determine is the seasoning, which depends on the type of meat you use. Some meats, such as ground turkey, need a bit more help from spices-consider using summer savory, sage or rosemary. Lamb and beef, on the other hand, have more natural flavour, so subtle seasoning is called for. Lamb loves cumin, cardamom and turmeric; beef marries well with oregano, thyme and parsley.
Recipes featured in this article: