I'll be the first to admit that I have a hard time saying "no thank you" to a fully loaded slice of pizza. There is something comforting about all that meat and gooey cheese-but now that warmer weather is approaching, I'm ready to lighten things up a bit.
Gourmet pizza isn't a new concept, it has been around for quite some time, and what I like best about it is the often-thin crusts and unique toppings. And while gourmet pizza can be a bit pricey, it's very easy to recreate at home using fresh local ingredients.
There are a number of options to the traditional dough pizza base. I tend to lean towards flatbreads and have even used naan bread, traditional Indian bread readily found in most grocery stores. While I don't discourage the use of pizza dough, I find that the time needed to fully cook it can damage more delicate toppings of lighter pizzas such as fresh herbs and delicate cheeses.
There are also alternatives to the types of sauces available for your personalized pizzas. Many favour conventional tomato sauce, of course, but the sauces too can be lightened up for summer cooking. Consider using olive oil and basil, pesto or tzatziki.
When I'm preparing summer pizzas I like to keep my meats minimal-a bit of grilled chicken, some prosciutto or even smoked salmon.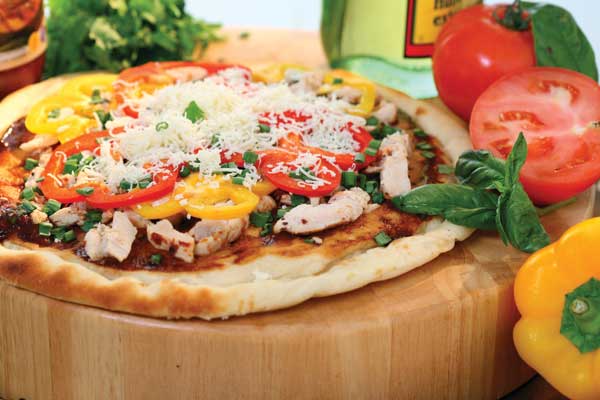 The abundance of fresh produce in the spring and summer offers endless possibilities for toppings: your imagination is your only limit. A good rule of thumb is that if "grows together it goes together". Asparagus to artichokes, spinach to sweet basil-take advantage of everything this short season offers. And who says that mozzarella is the "official" pizza cheese? Goat cheese, feta and gorgonzola all add amazing flavour combinations.
And when it's just too hot to cook indoors, you can turn your barbeque into a pizza oven. Roll your dough to ¼ inch and try to keep it even. Make sure your grill is well oiled (I recommend oil with a high smoke point, such as olive oil). Grill your dough on one side, remove, add toppings and return to the grill. At this point you'll want to reduce the heat; you want to get the toppings heated and the cheese melted without burning the crust. Heavier toppings such as meats or thick cut vegetables can be preheated to speed up cooking time.
On the barbeque the flatbreads will work best for you. (The grilling gets a bit tricky with dough.) Spread both sides with oil, top the pizza and add to a medium heat grill. Because the flatbread is thinner, the crust and toppings should heat nicely together.
Quick Tips: Brushing your pizza pan with a little olive oil and sprinkle with a little cornmeal so the pizza doesn't stick. The crust will also pick up some of the olive oil flavor.
Make sure that your oven is hot, at least 425 degrees F. The crust has to bake and brown very quickly. A slow oven will not force the moisture out of the crust, and the toppings will make the crust soggy.
Recipes featured in this article: