My most memorable summertime dining experiences have all been "al fresco". The mood created by a candlelit dining table surrounded with friends, great food and fantastic wine, outdoors on a warm summer's evening is unparalleled: it allows you to make dinner more of an event and really entertain.
Bring the barbecue a little closer and cook tableside, even put on a little chef show if you want. The food can be served hot off the grill and, more importantly, you can enjoy the evening with your guests rather than hidden away in the kitchen.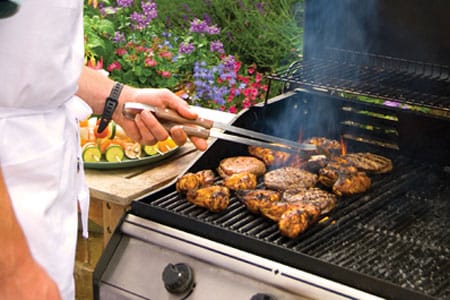 Grilling is such a versatile cooking method. Almost anything can be barbecued. Even though it is associated with thick cuts of beef and hamburgers, cooking on the grill can be as "light" as you like. There is little to no fat added to foods that hit the grill (and the fats that are present drip away after they have finished basting that beautiful steak or sweet shrimp).
Another great way to cut out the fat and sodium from your summer barbecue cooking without sacrificing the flavour is to incorporate spices, herbs and flavourful marinades or sauces into your recipes. The Gaucho Spice Rub, Smokin' Chipotle Marinade, Mint Chimichurri and Mango Salsa recipes below will be perfect with anything you grill this summer.
Grilling is an art form unto its self with many different techniques and methods that take years of practice to perfect-for instance:
Planking-It's no secret that wood, fire and food love each other. Cooking on wood planks adds incredible colour, aroma and flavour to foods through the wood and its smoke. It also makes for a great presentation.
Smoking-In the world of the barbecue, the smell of smoke is sweet. Smoking is an easy way to infuse foods with special aroma and flavours and impress your guests.
Indirect Heat Cooking-Transforming your barbecue into an oven that produces tender ribs, moist roast and golden brown equally moist birds is easier than you think. All the benefits of a slow roast with the flavour and aroma of barbecue: does it get any better?
Pouching and Wrapping-Preparing ahead food pouches filled with fresh ingredients ready to be tossed on the grill, this is "en papillote" for your barbecue. It steams and roasts side dishes that perhaps are a little too delicate or fidgety to go right on the grill. Nicely cut vegetables, corn on the cob, potatoes, onions, seafood and even a complete meal, can be perfectly prepared in a nice and tidy foil pouch.
Recipes featured in this article: