"I still remember my childhood experience in my hometown," says Bee Choo Char, the Malaysian-born chef who helms the kitchens at Halifax's Prince George Hotel. "I remember my mom used to go to the market every day to pick up fresh vegetables, fish and meat. I would wait anxiously for her to return so I could help prep meals with her in the kitchen."
Char says that, in Chinese culture, if a young girl did not know how to cook, the belief was that no one would want to marry her. She can remember working next to her mother at the stove at the age of eight. "I was standing beside her, watching her work magic with a big wok. The smells that came from her instilled a love of food and an appreciation of great flavours. My mom's home cooking was hard to beat."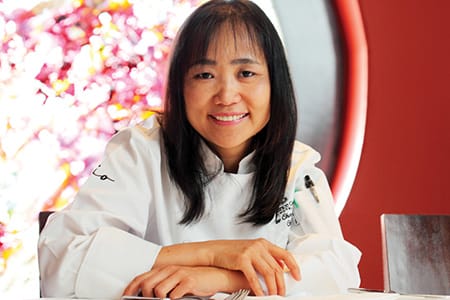 When she was in her mid-20s, Char moved to Penticton, BC, where she lived with a favourite aunt and worked at a local Chinese restaurant as a prep cook and server. She married, and soon her firefighter husband (she has since divorced) was posted to Halifax. Shortly after they arrived, Char enrolled in the culinary arts program at the Nova Scotia Community College.
After graduating, she was hired as a prep cook at the Prince George Hotel, where she immediately began to make a name for herself. She discovered a passion for fine dining and was given an opportunity to work under the tutelage of Stephen Huston, Ray Bear and Ted Grant, three highly respected chefs. Her mentors helped her develop the personal style that she is known for today, now as executive chef at Prince George—melding the flavours of east, west, and everything in between, adding spice to the city's offerings.

Q Who do you look up to?
A My mother, Kong Moy Yan, because she was the one who inspired me the most. I also look up to my first chef, Ray Bear, who inspires me to do my best in all my culinary endeavours.
Q What accomplishment are you most proud of?
A I'm most proud of assuming the position of head chef at the Prince George Hotel—the result of 12 years of hard work.
Q What are your favourite ingredients?
A I can't live without garlic! All of my cooking has garlic; I like the powerful effect that it has on the flavour of different dishes. I also love using local chanterelle and oyster mushrooms, and local seafood.
Q What kitchen tools can you not live without?
A My chef knife and a good set of tongs.
Q What is your favourite style of cooking?
A My style is fusion cuisine. One of my strong points is my ability to draw from many different Asian cuisines—I come from a multicultural country with the influence of Chinese, Malay, Thai and Indian. I am able to incorporate all of these distinct flavours into the dishes I create.
Q Do you have cooking tips to share?
A I have a few: cook purple beans in the microwave to keep them from changing colour; to ripen avocado quicker, store it in a brown paper bag; to make it easier to peel boiled eggs, add vinegar to the water.
Q Are you a fan of the Food Network?
A Yes; I like to watch Iron Chef, because I love competition. I've been in more than 20 competitions; I like the unique twists the competitors use and their overall approaches to the secret ingredient. I also like to see the range of cooking styles and techniques based on the chefs' specialties.
Q What foods do you eat in secret?
A I like Korean instant noodles with a poached egg—it's my comfort food on my day off.
Q What do you like to do when you're not in the kitchen?
A I like to paint, go for walks, and I enjoy reading. I also enjoy spending time with my boyfriend, and cooking for him. (He loves cheeseburgers!)
Q If you could cook for any three people who would they be?
A My three former chefs—Ray Bear, Ted Grant and Stephen Huston—because they have been my mentors. I have great respect for their culinary knowledge, and I would love to show them what I've learned.