There's no way around it: Roland Glauser is a chef of distinction. He is co-owner of Charlotte Lane, in Shelburne, NS, which won a Restaurant of the Year award from industry association Taste of Nova Scotia last November. Other accolades include first prize at the Taste of Nova Scotia Cutting Edge Culinary Competition last year—he was one of 10 chefs who faced off on the food stage at the Saltscapes Expo.
Glauser, born in Switzerland, says he knew by age eight that he wanted to be a chef. Perhaps it stemmed from watching his grandfather, who was also a chef, at work. In 1978, when he was 16, he started a three-year apprenticeship at the Victoria-Jungfrau Grand Hotel in Interlaken, Switzerland. Working at a fantastic French classical grand hotel, learning all aspects of cooking under 25 top chefs, was a great opportunity. He then spent another three years working in several Swiss resorts, expanding his skills and knowledge. In 1982 he completed the mandatory four-month Swiss military training, and shortly after left home for Canada, where he worked for two seasons at Jasper Park Lodge, Alta, as pastry chef.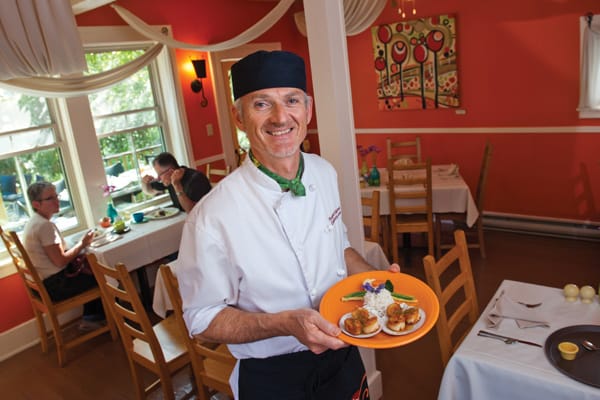 In 1985 he immigrated to Halifax because his wife had family in the city. He worked at the new Halifax Sheraton Hotel, first as sous chef and then as executive chef, staying on for about three and a half years.
All of this took place by age 25. Upon leaving the Sheraton, Glauser went on to work at Inn on the Lake, in Fall River, NS, and as part of a Nova Scotia culinary team, he competed at many events.
In 1995 he and his wife, Kathleen, opened the Charlotte Lane restaurant they are still operating after 17 years of success.
Q Where are you from?
A I was born in Thun, Switzerland, a town of 44,000 people; it is the 11th largest city in Switzerland.
Q Who do you look up to?
A I'm too tall to have to look up…. Just kidding. Ferran Adrià from elBulli in Spain (I ate there in '96.) I admire his imagination and drive for perfection, but yet he still seems to be a down-to-earth kind of guy.
QWhat is your favourite ingredient?
A Halibut cheeks. They are so tasty, juicy and local. I buy them from a fish plant in Sandy Point. One of the ways I like to prepare them is I make a breading mixture of ground red lentils, cornmeal, ground flax seeds, cumin, paprika, salt and pepper. (I marinate the cheeks first in fresh lemon juice and Worcestershire sauce.) I bread the cheeks and then fry them very quickly. They are crisp outside and moist inside.
Q What kitchen tool can you not live without?
A Metal tongs are extensions of my hands.
Q What is your favourite style of cooking?
A Mediterranean, with lots of fresh herbs and garlic. It is influenced by growing up in Switzerland (there is an Italian area of Switzerland called Ticino). Also one of my apprenticeship chefs, Renato Mazzocut, was Italian.
Q What do you see as the upcoming trends in food?
A The use of more secondary local foods, like sea urchins, pollock, and secondary meat cuts; the cheap stuff nobody knows what to do with. Sea urchin is harvested in our area, and it's all sent to Japan. People have never eaten it nor would they ever try to eat it, unless you can slip it in somewhere unexpected—and people will like it. When we did a wine dinner with Luckett Vineyards [Gaspereau Valley, NS] one of the courses was mussel and sea urchin chowder with smoked bacon and turnip. It was probably the favourite course, and when I asked people if they liked the urchin they all said they did.
Q Do you have any cooking tips to share?
A When using radicchio or Belgian endive for a salad, soak both in very warm water for a few minutes, then soak in cold water. This will get rid of some of the bitterness.
Q Are you a fan of the Food Network?
A I used to be a big fan, but now I find most shows are about drama and disasters instead of information. People are in love with reality shows.
Q What do you like to do when not in the kitchen?
A Soccer is my passion, playing and watching; skiing, sailing and travelling. I also love anything to do with wine-making and drinking.
Q If you could cook for any three people, who would they be?
A Luiz Ronaldo—my soccer hero; Carlos Santana—my music hero; and Ferran Adrià—my culinary hero.
Q What is the most embarrassing thing that has happened to you in the kitchen?
A At the Victoria-Jungfrau Grand Hotel, where I did my apprenticeship, we always bought moist salt. Most salt is still pretty high in moisture when harvested and then it gets heat-dried for the regular consumer. We had to oven-dry it and then grind it as fine as we wanted it.
The first time, my chef told me to wash it first and then to bake it. Of course if you try to wash salt it dissolves—and it disappeared down the drain. My chef was very serious when telling me to wash it, and I totally believed him.