Future looks smashing for this sweet spud
Sweet potatoes have long been considered a tradition on dining room tables during the holidays. We see them at Thanksgiving, and then again at Christmas dinner, but we hardly ever consider them when we're menu planning during for the roughly 363 other dinners we prepare. Except maybe for the Miramichi region of New Brunswick where champ (a mixture of white and sweet potato) has long been a staple.
Two farmers in Lakeville, NS, father and son duo Charles and Philip Keddy, have their sights set on changing that!
Growing sweet potatoes in Nova Scotia is no small feat; the plant is sub-tropical in nature and the only micro-climate in Atlantic Canada that supports its growth reasonably well is in the Annapolis Valley.
Until recently the Carolinas were the closest region growing this crop and because our climate—and therefore our soil—is a bit cooler, the Keddys had to make some adaptations to the way they farm. Rows and rows of black plastic are laid out in the fields to draw in the heat of the sun and raise the soil temperature. In all likelihood this region won't produce the large two-pound sweet potatoes we often see in the stores, but this is not a bad thing. A sweet potato that comes in at just under a pound will be, as the name suggests, very sweet.
The sweet potato market is growing in leaps and bounds, due in part to the popularity of sweet potato fries, now a regular item on most menus. This growth has been reflected in production on the Keddy farm; Philip's wife Katie Keddy says they harvested 130,000 pounds of sweet potatoes in their first commercial year, compared to this year's forecasted yield of a million pounds to be harvested.
Every potato brought in from the field is harvested by hand, due to their delicate skin fresh out of the ground. This labour-intensive practise ensures a quality product for consumers. Presently, the Keddys are supplying much of Atlantic Canada but the demand for this product is high, so Katie believes there is still even more room to grow.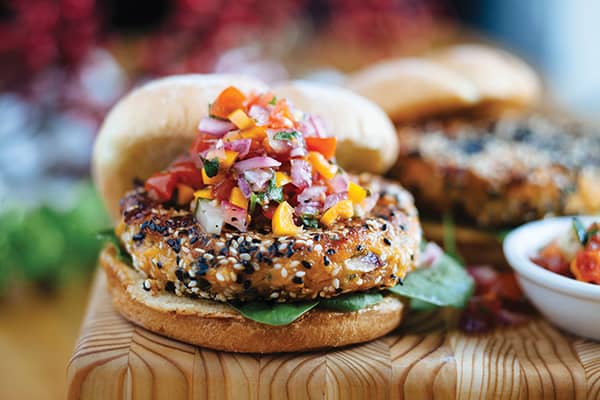 Easy-peasy prep
Cooking sweet potatoes doesn't have to be labour intensive; preparing them in the microwave is quick and easy and, if you're a real sweet potato fan like I am, you may find yourself not only preparing them for dinner but popping the occasional one in there for a late night snack as well!
Take a washed sweet potato and prick it all over using the tines of a fork, to prevent a very messy explosion from occurring during the cooking process. A ¾-pound potato should cook in 12 to 18 minutes, depending on the wattage of your microwave; to test it, poke it with a fork to see if it's nice and soft all over. Once removed from the oven, let it rest for a bit as it will be too hot to handle. When cooled, cut the potato in half and scoop the flesh into a bowl. Now is the time to get creative, you can add a little butter and a sweetener, such as brown sugar, but I personally prefer maple syrup. A little cinnamon is a nice touch as well.
What you pair with sweet potato with is entirely up to you but I haven't found a combination that I love more than sweet potato and salmon. Sweet potatoes have so many versatile uses; they make a wonderfully velvety soup or a non-traditional topping to shepherd's pie. Katie Keddy suggests using them to make delightful soft sweet rolls. And I've used sweet potato slices as the base for a healthier version of nachos.
It's time we stopped thinking of this amazing, healthy, flavourful vegetable as a treat to be trotted out twice a year and high time that we added it to our regular repertoire. I think you'll be sweetly surprised at how well it's received!
Recipes