With spring comes one of my favourite warm weather experiences—dining alfresco. Whether you have a sprawling patio, a cozy veranda or a tiny stoop, eating outdoors makes everything taste better. And after a winter of heavy meals, light and simple salads are a welcome change.
At one time, people thought of salads as appetizers or accompaniments at best—and while they still fill that role, salads have become widely accepted as healthy full meal options.
Protein is the key ingredient that can take a salad from starter to meal, and on this front, you're really only limited by your imagination. Many salads work well with just about any kind of protein—chicken, beef, pork, salmon, tuna, tofu, cheese or beans.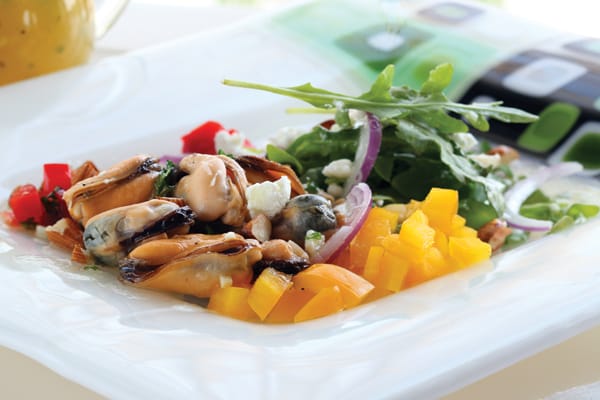 One of my favourite salad toppers is flank steak added to an Asian-inspired salad, but any salad can be made heartier with a few easy additions: potato salad is wonderful with smoked salmon and fresh dill added, and a pasta salad is the perfect vehicle for slices of pepperoni or salami.
If you're still not sure what might make a satisfying salad, follow the simple rules that I use at home: start with greens (feel free to mix this up—add arugula to spring mix to give it a peppery edge); add a fruit-and-protein combination—think salmon and blackberries, chicken and peaches or scallops and blueberries; add a nut for extra protein—almonds, pecans and walnuts all work well; finally, add some cheese­—goat cheese and feta are both superb salad additions. With this formula, anyone can put together a salad that will taste terrific.
For the final touch, whip up a homemade dressing­—this may be much easier than you expect. Start with three parts oil to one part vinegar. Add mustard, maple or citrus, depending on what flavours in the salad you want to enhance. Place in a mason jar and shake vigorously or use an immersion blender for a creamier dressing.
Add a bit of salt and pepper and some fresh herbs, and you may never go back to a bottled dressing again!
Recipes featured in this article: