Get out of the kitchen and join the party
Has this ever happened to you? It's New Year's Eve. The house is decorated to the nines, music is playing in the background, the drinks are flowing and the laughter is ringing out. You look around and feel so accomplished and…oh, wait, you can't see any of this because you're in the kitchen, tied to the stove, hoping things are going well in the other room but not really knowing. We've all been there—but why do we put ourselves through that? There is a better way!
Picture the same scene but this time you're also dressed to the nines, exuding a waft of expensive perfume (instead of the lingering scent of cooking oils) as you walk—no, glide—to the door to greet your friends, all of whom are bringing dishes of wonderful foods. You give a slight tilt of your head indicating that they should drop their dish on the beautifully decorated buffet.
Now that's a holiday party that I can get behind! How about you?
Potlucks have long been recognized as a brilliant way to execute a wonderful dinner without one person having to do all the work. However, there's a bit more involved than simply calling a group of people and telling them to bring their favourite dish. You could potentially end with five dishes of stuffing and one jellied cranberry mould. Not so glamourous now, is it? Fear not, we've included some suggestions to ensure that your New Year's potluck celebration fulfills the vision dancing in your head.
Setting a specific theme can create problems if your attendees aren't comfortable cooking Thai food, for example. However, feel free to offer guidelines so that the food theme is cohesive. If a turkey or ham dinner is what you have in mind, then consider doing the main item yourself and have your guests bring supporting dishes.
Ask your guests what type of food they are comfortable preparing and give them a choice between two options, perhaps a salad or a dessert. Keep a list so that there is a balance of all food types. Also be sensitive to the fact that not everyone enjoys cooking, and have a few options such as bakery-bought rolls to offer. Telling attendees how many people will be present ensures that you won't run out of food, and guests always appreciate not having to guess about just how much they should bring.
Also ask your guests if they will be bringing their dishes hot or if they are expecting their dishes to be heated when they arrive; this will allow you to organize oven times and temperatures.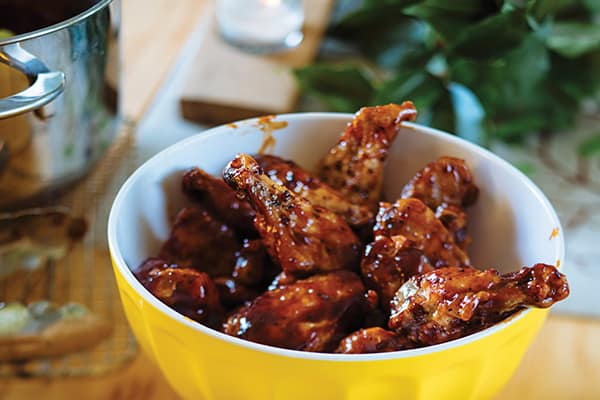 Ensure that you have enough refrigerator space cleared to store cold items until they are ready to be set out.
Serving utensils sometimes get overlooked and guests can't be counted on to bring them so make sure you have all that you will need on hand.
Consider putting place cards on the buffet so that guests aren't left wondering exactly what it is that they are eating. The card can simply say "Chestnut Stuffing" or if you wish, you can personalise it to give credit to the guest who brought it.
You might also consider contacting your community college, church youth group, or a high school club to inquire if there are teens in your area who might be interested in earning a few dollars. They can help organize in the kitchen, clear the table and do dishes while you play host to your guests at your fabulously-organized event.
A gesture that is always appreciated is providing take-away containers so that your guests can also enjoy left overs the next day.
All of this can lead to that wonderful dream of a well-organized party coming to fruition, so relax and go practice your glide. You've got this!
Recipe