Celebrate the holidays with food, family, friends—and this delicious toffee treat.
When I was 10, the water pipes on my street froze and broke, leaving us without water on Christmas Day. My father took this in stride, boiled snow and pulled off an incredible turkey dinner. 
I lived in Japan for almost eight years, and I sometimes didn't make it home for the holidays. One year, my British friend, Mark, and I wandered down to an English pub and had fish and chips (washed down with British beer) for our Christmas dinner. We decided to make this our holiday tradition. Four years later, our group of two had grown into 40, and we packed the tiny pub with holiday revellers.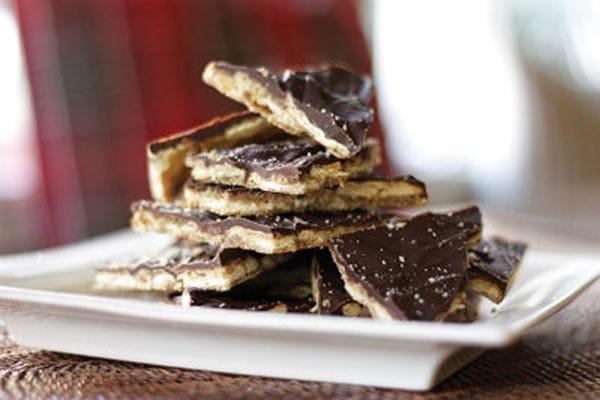 My sisters and I laugh about how we would break into the deep freeze and nibble at baked goods. I can't remember what we ate, but I do recall standing guard as my younger sister used a butter knife to pry frozen squares out of a pan. 
Food brings us together, and being together is what the holidays are about.
Recipes featured in this article:
Do you have a recipe to recommend to Alain, or is there a food topic you'd like to see covered in Saltscapes? Send an e-mail to This email address is being protected from spambots. You need JavaScript enabled to view it..