In conversation with Roary MacPherson, Sheraton Hotel Newfoundland, St. John's.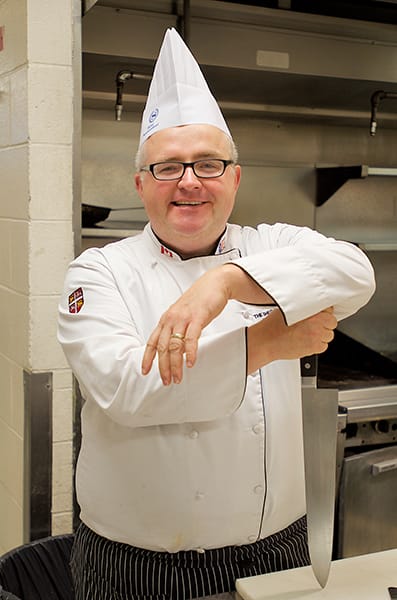 Chef Roary MacPherson was born in the coastal community of Highlands, in western Newfoundland. The youngest of 14 children, he has a twin brother and grew up in the way many in rural villages and towns on the island did, where wood was the fuel for both cooking and for heating. One of his fondest memories is the bread his mom made. "She always had seven loaves of bread cooling when we woke up, and the crust on that bread was terrific," he says. The family grew their own vegetables, raised their own meat and foraged and fished. They even made their own butter from milk provided by their cows. They were doing local, sustainable and organic before it was cool and trendy—they were just living life.
There was a lot of hustle and bustle in the MacPherson household, and Roary found his quiet place in the kitchen. "I guess it was a bit of protection at times from my brothers. I was always interested in cooking even at a young age; making tea biscuits and other baked goods; scrambled eggs were my first attempt at the stove.
My mom and dad were great cooks, they could put flavour on everything using very simple ingredients."
That love of cooking stayed with Roary and after graduating from high school he attended the College of the North Atlantic, where he obtained his Red Seal in commercial cooking in 1992. He apprenticed at the Hotel Newfoundland, where he worked from 1988 to 1994, before he went on to get his Chef de Cuisine certification at SAIT Polytechnic in Calgary, Alta., and a Certified Food and Beverage Executive designation through an online program with the American Hotel & Lodging Educational Institute, before returning to the Hotel Newfoundland in 2003.
In 2008 chef Roary competed in the International Exhibition of Culinary Art or "culinary Olympics" in Erfurt, Germany. His list of other wins and awards is long and varied—a testament to his talent and skills. Presently, Roary is the executive chef at Sheraton Hotel Newfoundland.
Q Who inspires you?
A I look up to my parents, John and Molly MacPherson. They dealt with a lot in their day but always provided a warm loving home for us. We may not have had what we thought we wanted, but we always had what we needed. On a professional note, David Garcelon, the Director of Culinary at the Waldorf Astoria in New York, is a great chef and taught me so much when I worked with him. I learned that you are not limited by where you are from, but what you think you can't attain. If you want it, then do it.
Q What accomplishment are you most proud of?
A My son Luke and of being a father, and a husband to my wife Kathy. Luke is the apple of my eye. He has made, and continues to make, me want to be a better person every day. I waited before thinking of having a family, I wanted to be set in my career and I must say that it was worth the wait. I tell him all the time if I had all the children in the world lined up do you know who I would pick? He says, "Who Daddy?" And I say, "You, big guy."
Q What is your favourite ingredient to work with?
A It's pork. It transcends cultures, it can be used for anything, and those of us who eat it, love it.
Q What kitchen tools can you not live without?
A My French knife. It is an essential multipurpose tool used by most chefs, and is at the heart of most of the great dishes.
Q What is your favourite style of cooking?
A I love Thai/Asian cuisine; I love the explosion of flavours, the heat and the sweetness. To me it is a great comfort food—a nice cold day with a bowl of noodles, fantastic.
Q What are the upcoming food trends?
A I see more ethnic cuisine being blended (in), such as Korean, Argentinean and Thai, etc., as well as more concentration of foraged products. Here in Newfoundland we have seen an increasing number of people picking and selling foraged items—the largest lately is mushrooms.
We will see more upscale casual dining, we see it on Food Network shows like Eat Street, people going with diner\deli style food and really putting an upscale twist to it and keeping the price reasonable. Also there is more concentration on healthy alternatives due to our ever-aging population and the explosion of allergies and intolerances. You will not find many restaurants that do not have several gluten-free options on their menus.
Q Do you have any cooking tips to share?
A 1. Always have a sharp knife in the kitchen.
2. Place a damp cloth underneath a cutting board to keep it from moving.
3. Cook a dish until you are pleased with it; at the end of the day cooking for someone is the hardest thing you will do as we all have our own tastes. If you like it, you hope they will as well.
Q If you could cook for any three people who would they be and why?
A Julia Child. She was a pioneer in the culinary world and set the bar for chefs to say to themselves "If I want to do it then I will." She did not let the fact that she was a women in a then male-dominated profession stop her from achieving her goals.
Bobby Orr. He was the best hockey player, arguably ever. He was true gentleman and a Boston Bruin. He was, and is, a role model for all young players in the game today and for people that just love it.
Marcel Kretz. Canadian culinary innovator, he led the charge about regional cuisine. He was the first chef inducted into the Order of Canada. He is an inspiration. I have cooked for him before but I would like to do it again, he is a true gentleman.
Q What is the most embarrassing thing that as ever happened to you in the kitchen?
A The first function I did on my own, I was hired by my culinary instructor to cook a roast beef dinner for 300 people and he gave me enough beef for about 450. The dinner was going great until I ran out of beef with 75 people to go, not the greatest way to start a job with your instructor. But I learned from that event and never ran out of food at a function again.
Q What do you not like foodwise?
A I'm not a huge fan of fish with pin bones like arctic char; it really turns me off when I find one in a dish that I am eating. And I do not like improperly made sushi, when made properly it is fantastic, but if not I really find it unappetizing.
Q What do you refuse to cook?
A I would not refuse to cook anything. I have cooked snake, alligator and kangaroo. But I choose not to cook prairie oysters. It is just the whole butchery process and cleaning them, I do not find that pleasant at all.
Do you have a recipe to recommend to Alain, or is there a food topic you'd like to see covered in Saltscapes? Send an e-mail to This email address is being protected from spambots. You need JavaScript enabled to view it..