Halifax's Ratinaud French Cuisine
CHARCUTERIE IS a delightfully decadent word that simply means cured meat. If we are being true to the word's origins we would be mainly speaking of cured pork, but today's charcuterie boards include much more.
Charcuterie boards have been popping up in restaurants for a few years now. One of my favourites is served at Gio, located in the Prince George Hotel in Halifax. Their offering has everything I look for in a well-rounded charcuterie board: cured meats, a paté of some sort, some pickled bits, a compote or "jam" and good quality bread. Another great charcuterie spot in Halifax is Brooklyn Warehouse. Some other restaurants with exceptional handmade charcuterie include Terre Rouge in Charlottetown, or Chinched Bistro in St. John's, NL, to name just a couple.
Although many believe charcuterie originated in France, history shows the Romans also cured foods as a method of preservation. In both cases curing was an ideal method to give "shelf life" to meat (and other foods) that would otherwise spoil quickly in an era that hadn't yet developed methods of refrigeration.
In French culture, a person who prepares charcuterie is a charcutier, which loosely translated into English means "pork butcher"—leading to the popular misconception that only cured pork can be used in the making of charcuterie. Yet beef, game, poultry, wild fowl, veal and seafoods can all be found on today's charcuterie boards.
The meats are prepared in a variety of ways, including forcemeat, sausage, paté and terrine. Forcemeat combines lean, ground meat with fat—usually pork fatback for its neutral flavour—made either coarse or smooth. Smooth, in my opinion, is the most desirable; it melts on the tongue like butter.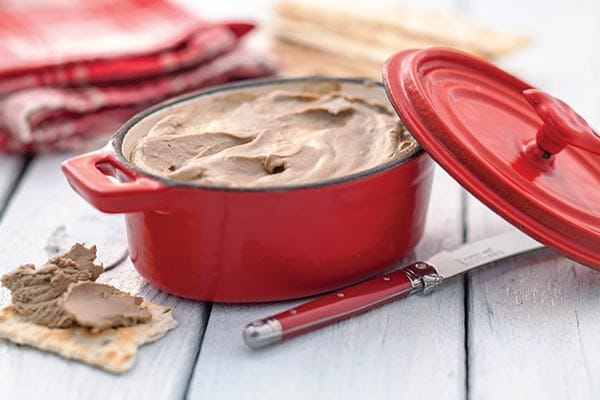 Downtown Halifax is very fortunate to have a shop dedicated to the art of charcuterie. Ratinaud French Cuisine, located at 2082 Gottingen St., serves a variety of charcuterie prepared by chef Frederic Tandy. Tandy began his business at farm markets in 2008, first in Dartmouth and later at the Halifax markets. At that time he was only selling a small selection of paté and quiches, some smoked salmon and duck confit, as he was also working at a restaurant full time.
After a couple of years Tandy decided it was time to extend his product selection and establish his own shop. At the time, his main challenge was to educate people about charcuterie. "Charcuterie is very popular in Europe in general, this is almost part of a daily diet," he says.
Ratinaud's top selling products are saucisson sec (a dry cured pork sausage, with garlic and black peppercorn) and duck prosciutto.
In addition, chef Tandy hosts a hugely popular dining experience known as "The Kitchen Table" every Friday and Saturday night, offering a five-course meal for up to 10 guests. With his background in restaurants—everything from high-end restaurants to smaller family-style places—Tandy says The Kitchen Table feels like going back to his roots.
"I love creating new dishes and plating them. Food is a simple pleasure. I really enjoy seeing people sitting around the same table (in a lot of cases they don't know each other) having dinner, talking about the food and enjoying it. This is a very special moment."
Charcuterie is an art and preparing it at home is no small feat, but it is possible. Here, then, is a selection of recipes suitable for home cooks as an excellent starting point.
Recipes