Sébastien Roy first became interested in alcohol production when he was just 14 years old. He'd found a book that said mixing water, sugar and yeast could produce alcohol, and secretly, without the consent of his parents, he set up a lab in the corner of his bedroom.
From those humble beginnings to winning gold recently—not for the first time—at the renowned San Francisco World Spirits Competition for his Fils du Roy Thuya Gin, it's fair to say Sébastien Roy has a passion for making alcohol.
Sébastien began Distillerie Fils du Roy in 2001 in Petit-Paquetville, NB.When asked about the name, Sébastien said he was looking for a name similar to what a distillery might have been called 100 years ago. "Most of the distilleries were named with the last name of the owner et Fils (and Son). That would be Distillerie Roy et Fils. I found this was not a contemporary name. So I inverted the last name and Fils and called it Distillerie Fils du Roy (my last name Roy means "king" in French) so the translation is Son of the King."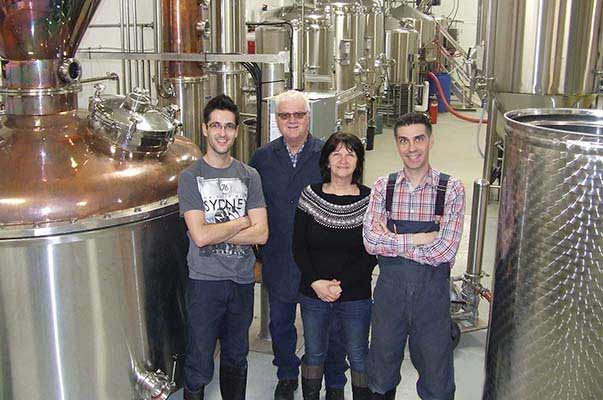 Fils du Roy has been hugely successful and Sébastien is very humble about his success: "To my eyes there is only one professional success, to be able to spend your life doing something you like to do, and so far I am very successful."
The distillery produces many types of spirits, the two best known being Gin Thuya and Grande Bagosse vodka. In addition, they have produced several beers: l'Aboiteau; Caraquet Flyer Eisbock; Stella Maris; La Messe Blanche and North Shore Regiment, an homage to an infantry battalion based in northern New Brunswick with roots in the area going back to 1870.
The distillery also produces an absinthe aptly named Courailleuse, a French term for someone looking for an adventure in love. This absinthe is made with the authentic ingredients and techniques used in the 1850s.
All these products, and more, can be found at the distillery itself, located at 599 Chemin Principal, Petit-Paquetville, NB. Open Monday to Saturday from 10am to 5pm (tours available), at liquor stores in New Brunswick, and at Bishop's Cellar in Halifax, NS.