Malini MacDonald shares a taste of her island home
Malini MacDonald still remembers the shock of arriving in Halifax from Mauritius, a small island in the Indian Ocean, east of Madagascar. It was January 1993 and summertime back on her tropical island home, famed for its miles-long beaches and blue lagoons. Enrolled as a graphic design student at the Nova Scotia College of Art and Design, Malini stepped off the plane into a winter wonderland.
Today, more than two decades on, Malini not only stayed in Nova Scotia, she married a Cape Breton boy, Chris MacDonald, a technical analyst with the provincial government, and together they are raising a family in Hubley. Two years ago, following years of working as a professional designer, she began a new venture with Taste of Mauritius Catering where she offers pre-ordered takeaway meals as well as catering services.
The company began after Malini mounted a successful food-sharing fundraiser to help the victims of a deadly flash flood that hit the Mauritian capital in March 2013 and she was inspired to take the idea a step further.
"I wanted to share our beautiful exotic cuisine and culture with people here, but I also started this with my kids in mind. I've always felt very strongly about keeping them connected to their roots and having them understand and appreciate the other side of the world where their mother comes from," says Malini.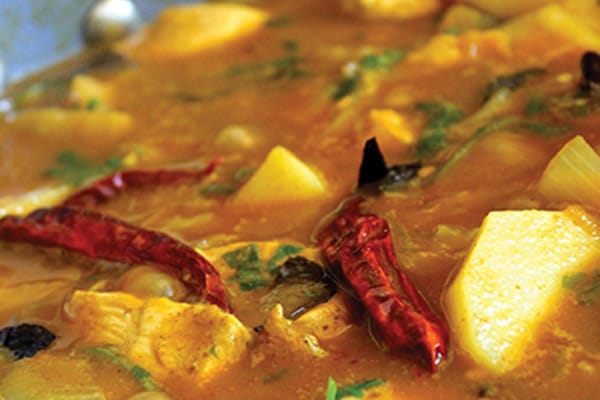 An East-Indian of Tamil origin, Malini has East Coast connections that go further back than her arrival in Nova Scotia back in 1993. She was born in St. John's, NL. Her father—a doctor—worked at a cottage hospital in Bonavista before homesickness took the family back to Mauritius, when Malini was about five years old.
During the holiday season and throughout the year, Malini and her husband Chris "try to make sure there is a fair balance and merging of traditions, especially for the kids."
For instance, they celebrate Diwali, a five-day celebration of light and one of the most important festivals in Indian culture. "We light diyas (lights and candles) in the house and do a small blessing. I'll make sweets and bring them to a handful of friends and my sister's family, who lives here. It's a beautiful celebration," Malini says.
Back home in Mauritius, Malini says New Year's Eve and New Year's Day are a festive time as well. "I think because of the sheer diversity (in religions) on the island that was one common celebration we could all relate to and connect to, regardless of faith."
Gathering at her Atté's house (her aunt Indranee, her father's eldest sister) for New Year's Eve, family and friends would enjoy snacks—Mauritian and Indian-based foods such as gateaux piments, bhajia, samosas and risolle with different types of chutneys and chilies—and lots of music and dancing. The following day, "there would be a spread that could feed an entire village," Malini recalls, with dishes such as prawn curry, gratin de palmist (unique to the island), roti de cerf and lots of exotic salads. "It was a true feast and we would all eat until we were stuffed. With the whole family, there would be easily 40 to 50 of us there every year."
Now when Malini and her family have people over during the holidays she serves those same finger foods and other Mauritian dishes. Delicious.
Recipes