Our old friend J. Wellington Wimpy, buddy to Popeye and Olive Oyl, probably did more to popularize hamburgers than any other person, real or fictional. Even pre-dating McDonald's-with its multi-billions of burgers sold-was a chain of hamburger joints in England called Wimpy Bars, helping to popularize the food, which could be prepared quickly.
Sources credit 18th century seafarers from Hamburg, Germany, with bringing the idea of grinding beef to make steak tartare back from Russia. Tartare is eaten raw. So, who was first to cook the meat and serve it as a "hamburger steak"? Delmonico's Steak House in New York may have been the originator-some sources place it on the menu of that famous restaurant in 1834, when it sold for 10 cents.

But the burger as a sandwich? That may have made an appearance as a menu item in the late 1800s, when Fletcher Davis opened a lunch counter in Athens, Texas, and started selling a ground-beef patty between two slices of homemade bread. Fame came in 1904, when Davis took his "hamburger" to the World's Fair in St. Louis.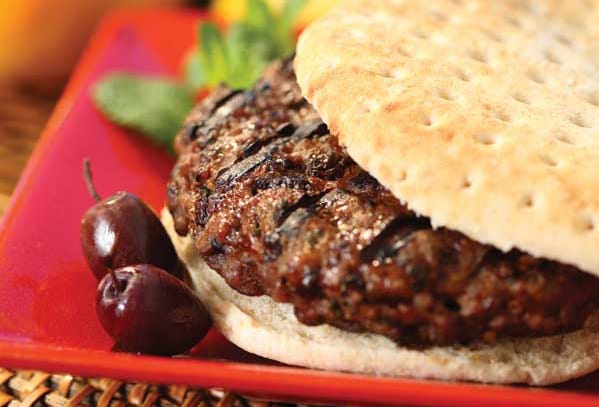 Today, everyone wants a piece of the patty. Although beef remains the most popular meat to be ground, innovative cooks, chefs and backyard barbecuers create their own twists. Veal, pork, lamb, chicken, turkey, fish, bacon, nuts, mushrooms, onion and every kind of vegetable imaginable have all come to rest on a bun and be given their own names. And that's only the beginning, considering the myriad toppings, including cheese, which may-or may not-enhance the burger.

Apply a few basic rules and maybe, like Wimpy, you'd say "I'd gladly pay you Tuesday for a hamburger today." Except, the following recipes are free.
No-fail burger basics
Whatever meat you choose, handle it gently, mixing with your hands. Over-mixing and shaping can toughen the burgers.
Make all burgers the same size for even cooking. A thickness of 1/2 to 3/4 inch (1 to 2 cm) is recommended.
Patties hold together better if first chilled for an hour.
Don't keep pressing down or poking at the burgers as they cook-the meat will lose valuable juices that keep it moist.
Cook burgers until no pink remains. An instant-read thermometer inserted into the thickest part of the meat should read 160°F (70°C).

Life of the patty - Here are a few burger toppers to spice things up.
Mushrooms
Sauté 8 ounces (250 g) sliced mushrooms in 3 tablespoons (45 mL) melted butter until all liquid has evaporated and mushrooms are tender. Stir in 2 teaspoons (10 mL) Dijon mustard, mixing well. Makes about 3/4 cup (175 mL).
Corn, red pepper and zucchini
Sauté 1 chopped onion and 2 minced garlic cloves in 1 tablespoon (15 mL) canola oil until limp. Add 1 chopped red pepper, 1 sliced zucchini and 1/2 cup (125 mL) corn kernels. Cook 4 minutes more. Season to taste with salt, pepper and chopped parsley. Makes about 1 cup (250 mL).
Italian caramelized onions
Slice 11/2 pounds (750 g) Spanish onions; cook uncovered in a large skillet with 2 tablespoons (30 mL) butter and 1/4 cup (50 mL) water for about 20 minutes, stirring occasionally. Add 1/3 cup (75 mL) bottled Italian dressing and continue cooking 5 minutes longer, or until golden brown. Makes 2 cups.
Fresh tomato salsa
Seed and chop 4 large tomatoes. Add 3 sliced green onions, 1/4 cup (50 mL) chopped parsley, 3 minced garlic cloves, 2 tablespoons (30 mL) each of canola oil and freshly squeezed lemon juice, and salt and pepper to taste. Let stand 1 hour. Makes 4 cups (1 L).


Recipes featured in this article: