Shared land and a shared vision
It's all because of the hat," says Kevin Arsenault, grinning. "That's how I met Rébeka."
We're sitting at the kitchen table in an old farmhouse in Rogersville, NB. Kevin smiles at his partner, Rébeka Frazer-Chiasson, and taps the brim of his cap and begins to tell the story of La Ferme Terre Partagée.
Kevin was attending a beginner farmer conference where Rébeka was volunteering at the stand for the National Farmers Union (NFU). Rébeka was too busy to spend much time with Kevin but she did give him an NFU hat.
"She told me," Kevin takes off his hat and looks at it, " 'When you wear this, you can't walk with your head down.' That struck me. Later, when I was president of the students union at l'Université de Moncton and being interviewed on TV, I wore the hat."
Jean-Eudes Chiasson, Rébeka's father, saw the interview and noticed the hat. Jean-Eudes was President of the NFU-NB at the time. He and Rébeka wanted to start a co-operative farming enterprise and he wrote to Kevin and invited him to visit.
Kevin had planned to buy land near Bathurst. He asked Jean-Eudes to speak at a conference he was organizing about the future of farming in Acadia. Also, Kevin wanted to visit to see how Jean-Eudes grew hay.
"When it came to meeting Rébeka, there were many factors. Everything was bringing me towards her," says Kevin.
Kevin was active in the Green Party and was asked to recruit Acadian candidates, including Rébeka, who had been considering running. (It worked—she ran for the Greens in 2014).
"We started talking on the Internet and then I came to the farm. I remember getting out of the car. She came out of the house wearing suspenders and this big hat…," Kevin grins.
"He's making this up," interrupts Rébeka, laughing.
"No, no… It's all true," protests Kevin. "We had an awkward hug, we talked and I never left."
It's a romantic story that belies the struggles behind La Ferme Terre Partagée, which means "Shared Land Farm."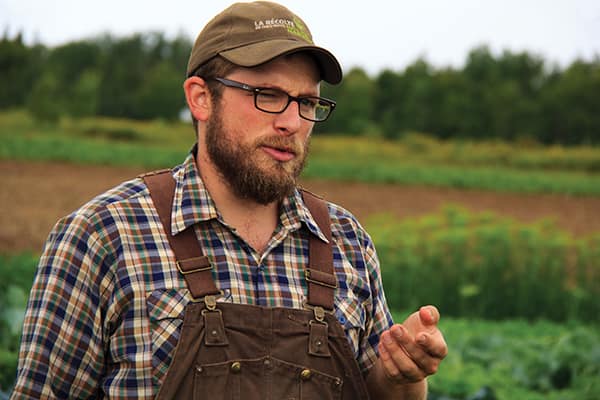 "My father has struggled and scraped by all his life," says Rébeka, the sixth generation of her family to work the land. In the 1960s, Jean-Eudes and his father grew Brussels sprouts, as did many neighbouring farmers. Jean-Eudes started working at age 13, often until midnight and before school. By 17, he was a supervisor and had saved enough money to buy a house with land.
Overall, farmers grew Brussels sprouts on more than 600 acres and sold these to a co-operative, which then processed and sold them to McCain Foods. When McCain stopped buying the crop in the late 1980s, the co-op collapsed and many farms went out of business. Rogersville does continue to hold a Brussels sprout festival each July. Jean-Eudes, however, didn't give up. Instead, he got into hogs, as did many NB farmers. Then the hog industry collapsed.
After witnessing this, "Farming didn't seem like a viable option," says Rébeka. "But we can now farm because my father struggled so much and he didn't give up."
Rébeka, Kevin and Jean-Eudes are the principal forces behind the farm. Jean-Eudes raises hogs and is converting the conventional system (where each pig is penned) to open housing and raises grass-fed cattle, along with 240 acres of grain and hay. Rébeka and Kevin focus on the certified organic U-pick strawberries and vegetables sold at farmers markets and through a CSA (weekly box program). The farm also raises turkeys and chickens.
Rébeka and Kevin balance family time with farm work. Their son, Hugo, was born in January of 2016. As part of their CSA, they give out free CSAs in exchange for work. Two women babysit Hugo on the farm to free up Rébeka and Kevin, and another woman cooks for the family. Each week, along with her own CSA box, she gets a box of misshapen vegetables deemed too "unattractive" for customers. The woman cooks the produce and gives the couple containers of prepared meals.
La Ferme Terre Partagée sells at farmers markets in Rogersville and Miramichi on their own, and cooperatively at Dieppe and Moncton. Five farms make up the "Organic Corner" at these two large markets. The farms take turns staffing the stall. As a result, each farm can sell at more markets and customers are offered a greater diversity of vegetables.
For Rébeka, Kevin and Jean-Eudes, farming is inseparable from politics and community. They volunteer with the National Farmers Union to help meet its goal, "to achieve agricultural policies which will ensure dignity and security of income for farm families while enhancing the land for future generations."
In their own community, they try to make it easier for people, particularly young Acadians, to start farms.
Rêvons La Ridge or "Let's Dream the Ridge," named after Pleasant Ridge Road where the farm lies, was a visioning exercise which led to a land bank. In 2016, Kevin and Rébeka organized a public viewing of a documentary made in the 1980s about the Rogersville Brussels sprouts boom. During the following discussion, they created a list of land available for new farmers to rent, borrow or buy.
At their own farm, the couple take on short-term apprentices. Their new business incubator program is a longer-term project which allows people to take on more responsibility. For example, Philippe Gervais helps with farm chores but also runs two of his own initiatives, managing laying hens and making kombucha, a fermented drink.
Both Rébeka and Kevin look at farming through an academic lens, while also getting their hands in the soil. In university, Rébeka learned about food sovereignty, food justice, labour rights, feminism and environmental issues; and she remains active in all these fields through farming.
Kevin studied geography and rural development along with Acadian history. He wants to address the issue that "32 per cent of the New Brunswick population is Acadian but only 18 per cent of New Brunswick farmers are Acadian."
He cites many reasons for the low percentage of Acadian farmers, starting with the loss of the best farmland in the Acadian Expulsion of 1755.
"After the expulsion, we were pushed to northern, rocky land, and ended up fishing, not farming," he says. Acadians also lost agricultural skills because they had to move frequently to avoid being caught up and deported along with those who had gone."Now, all the agricultural education in Atlantic Canada is in English. You have to go to Quebec to learn how to farm in French. And francophones don't have the same support network as English-speaking farmers have."
Kevin and Rébeka address this problem by offering occasional workshops and farm tours in French.
They celebrate Acadian culture and farming through communal meals, dances and farm tours in the Festival Folk Fraise (Strawberry Folk Fest). The third annual festival, held in July 2017, involved a weekend-long "rural university" with talks on food sovereignty and rural feminism along with workshops on practical skills such as bike repair, composting and gathering medicinal herbs.
The mix of great food, passionate politics and a sense of fun is shared by visitors to the farm and the festival, leading to, if all goes well, a stronger Acadian farm community in New Brunswick.
U-Pick etiquette
Kevin and Rébeka both stress that most people who visit their U-pick are great, "But," they both laugh, "There are the others…"
To be a great U-pick customer, they encourage the following.
Respect the posted opening times. "We open at 10 in the morning," says Kevin, "so the berries are dry and because we have other work to do before then." Having people come earlier disrupts their work and can harm the plants.
Pick at the designated spots. They tell people where to pick. Instead, some people pick berries on their way to the designated post. The result is that berries at the ends of rows are never picked and end up rotting.
Pick all the ripe berries. Don't just pick the largest berries. If you do that, the small berries will end up being unpicked and will rot.
Don't mention the weeds. "It's an organic U-pick," says Kevin. "We have weeds. We know we have weeds. People don't need to keep telling us that we should be pulling the weeds."
Understand the seasonal cycle. At the beginning of the season, there are some unripe berries. At the end of the season, some berries may be rotting. That's the way it goes. To avoid much of this, Kevin and Rébeka plant five varieties: two early, two late and one mid-season. At the beginning and end of the season, the U-pick is closed and they just pick berries for markets or orders.
Appreciate the work. At times, they pick berries for custom orders but this is a huge favour. "We can't," explains Kevin, "guarantee that we can give people the variety they want when they want it."
Stick to the U-pick. Vegetables grow in the field next to the strawberries but that doesn't mean the farmers can easily pick custom orders of vegetables. It's not efficient, for example, to leave the U-pick to go to the garden and harvest one bunch of carrots. The farmers have developed an efficient harvesting system that doesn't include single orders.
As for eating berries, Rébeka says, "People think eating berries is a faux pas but that's the thing I care about the least. We have no problem with people eating berries as they pick."