Like other Atlantic Canadians, Newfoundlanders enjoy jams and jellies made of strawberries, raspberries, blueberries, cranberries and red currants. But they go a step further with other berries they know and claim as their own.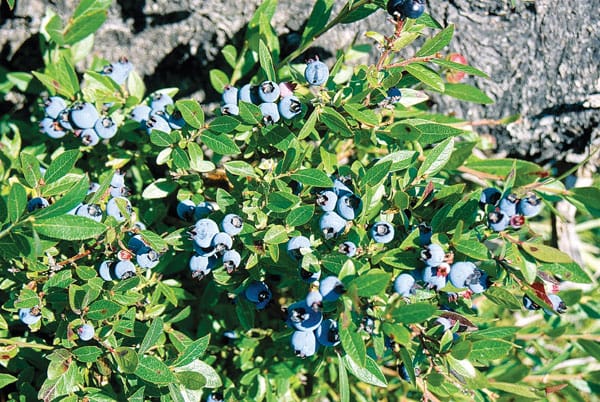 Partridgeberries, bakeapples, squashberries and marshberries are as unique to Newfoundland and Labrador as is a "scoff" of seal flipper pie and figgy duff with molasses coady. But don't expect even the friendliest of Newfoundlanders to tell you where you can find a stash of these berries in their habitat. If they're lucky enough to know where the elusive fruit is hiding, they'll offer you a bottle of jam from their own supply, but will conveniently forget the source of the main ingredient.
This is especially true of the native bakeapple or cloudberry. With its vibrant amber colour and looking all the world like a jaundiced blackberry, it tastes a little like a peach, but maybe more like an apricot with a little tartness added. Since it grows in bogs, picking is tedious work. And yet, some who find themselves up to their knees in water consider the delicious taste of bakeapple jam to be well worth any discomfort. "Even if you're willing to pay the high price of bakeapples (about $40 a gallon), you practically have to have a letter from God to get them," says Janet Kelly, proprietor of Auntie Crae's Food Shop, in St. John's, NF. In this popular store on Water Street, you'll find a wide selection of homemade jams and jellies, all made on the premises and bearing Auntie Crae's label. "We have friends who pick for us, and if someone has a crabapple tree, we'll pick the apples, too, and make the jam as needed, about 15 to 20 cases of each kind, until the supply runs out," she says.
The partridgeberry is another of Newfoundland's treasures. Called red berries in Labrador and lingonberries elsewhere, it's been compared with the low-bush cranberry and, since it grows on the ground, is easy to harvest. In fact, partridgeberry jam is Auntie Crae's most popular, selling four to one of any other kind. Although she has reliable staff to help her, Janet still likes to get into the jam pot. "I learn how to do something very well, then pass it along to someone else, but I like jam-making and I get drawn back to it," she says. She uses a generic recipe for all of the jams, including, but not limited to, raspberries, strawberries, black and red currants, partridgeberries, Saskatoon berries, cranberries, blackberries, blueberries and bakeapples. She has found that pectin ensures consistency in both the jell and the yield. "When making jam for home use, variations in taste and thickness may not be important, but for commercial use it is very important to have the same standard each and every time." She finds a German product, Dr. Oether Gelfix, gives her the taste and consistency she prefers. Otherwise, experiment with products until you reach satisfactory and predictable results, she says.
At least 10 minutes before she starts cooking the jam, she washes and rinses 12 Mason-type jars in hot soapy water, lays them on their side directly on the rack in a 250ºF (120ºC) oven until the jam is ready for bottling. Then, while the jam is cooking, she places the lids in a small pot of water and boils them for 5 minutes to soften the sealing compound.
Click here to view Janet Kelly's Auntie Crae's Berry Jam recipe.
For more information on Auntie Crae's
see the Web site: www.auntiecraes.com
or call toll-free 1-800-563-8508.