When Tanya Barnett wanted to learn to make her own bread, she undertook it with a passion, researching her subject thoroughly, and trying out different ingredients and techniques as she followed the ancient craft of kneading flour, water, yeast and salt into a soul-satisfying loaf. While admitting some of her early efforts fell short of the mark, she continued to practice her skills until her bread was not only perfected, but in demand by everyone she knew.
That's when she took her loaves to market. Every Saturday, you would find her at the Wolfville Farmers Market, selling her bread to a widening circle of loyal customers.

But her customers wanted more. They longed to learn how to make the good, honest, homemade bread that Tanya makes. Pushed by passion and a desire to please, she accommodated them, opening a bakery and giving hands-on classes in her Greenwich, NS home. She even opened a little tearoom where friends could come and enjoy tea and conversation, along with some of the delightful sweets that she turned out in her tiny kitchen.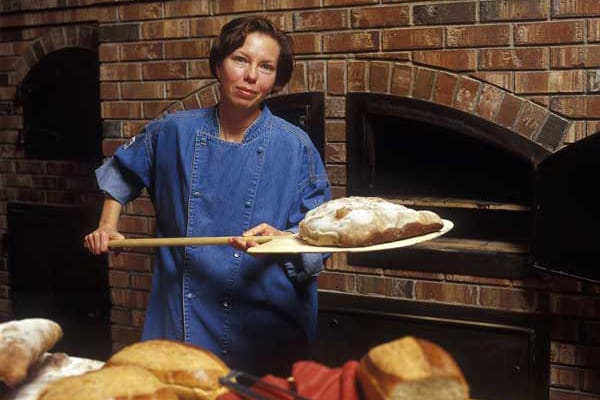 Passion and ambition aside, it wasn't long before Tanya found that she does not live by bread alone, and trying to strike a balance of keeping all aspects of her life going in an organized way became too much for the married mother of three.

"I was a burned-out baker," she admitted, as she faced the inevitable. Not able to keep up the pace of going to bed before her children, in order to get up and light the ovens at 1 am, then back to bed for a couple of hours before starting her 14-hour work day all over again, she tossed in the tea towel.

Although she has shut down the European brick ovens in her bakery, friends and former customers keep hoping she'll turn them on again some day and get back to providing the bread of life to those who have grown accustomed to the taste.

In the meantime, Tanya offers one of her favourite recipes, with detailed instructions on making it.

First and foremost, she recommends using a starter to provide a wonderful, robust flavour.

"It may seem daunting, calculating the time and all, but once you've tried using a starter you'll feel more comfortable and realize that wonderful bread doesn't have to be complicated," she says.

Just follow the instructions given in her recipe, counting back eight hours from the time you actually want to knead the dough, then make the starter.

"It's easier to knead the dough early in the morning so you need to make the starter in the early evening of the day before, refrigerate it, then pull it out just before you head to bed, setting it on the counter in a cool spot until morning," she says.
Tanya's Country Hearth Loaf (Recipe makes two large loaves)
Starter ingredients:
(Make eight hours before you bake)
1/3 cup (75 mL) room temperature water
1/2 teaspoon (2 mL) dry active yeast
2/3 - 1 cup (150 to 250 mL) stone-ground whole wheat flour

Place water and yeast in a medium-size container and stir for a few seconds. Add two-thirds cup (150 mL) whole wheat flour; stir, giving about 20 strokes. Dough should be fairly stiff. If needed, add more flour, a couple of tablespoons (30 mL) at a time. Cover and place on the counter at room temperature for eight hours.
Bread ingredients:
2 cups (500 mL) room temperature water
1/2 teaspoon (2 mL) dry active yeast
1 1/4 cups (300 mL) whole wheat flour
1/4 cup (50 mL) gluten flour (available at health food stores)
3 - 4 cups (750 mL to 1 L) unbleached white flour
2 1/4 teaspoons (11 mL) fine sea salt

Place water and yeast in a mixing bowl and stir a few seconds to somewhat dissolve the yeast. Add all of the starter, breaking it up into small pieces with the side of a rubber spatula. Add remaining ingredients in order listed, using the smaller amount of flour, and placing salt on top of flour.

If mixing with a stand mixer: With the dough hook, mix dough on low speed for about seven minutes. If at any time the dough is too wet, add a couple of tablespoons (30 mL) of flour; if the dough is too dry, add a couple of tablespoons (30 mL) of water at a time until the desired consistency is achieved. The dough should be satiny smooth, should bounce back when touched, and clear the sides of the mixing bowl.

If mixing by hand: After all ingredients have been added in listed order, and the salt is placed on top of the flour, as explained above, use a wooden spoon or spatula to mix the dough until it becomes too hard to stir. Dump dough out onto counter and begin to knead. With a lot of elbow grease, continue to knead for about seven minutes, adding a couple of tablespoons of flour at a time if dough is too wet or a couple of tablespoons of water at a time if dough is too dry. Do this until desired consistency is achieved. The dough should be satiny smooth and bounce back when touched (see Tanya's tips below).
First rise (for both mixer and hand methods): Place dough into a greased bowl and place a damp tea towel on top to prevent dough from drying out. Set bowl in a warm, not hot, place to rise for about one to one-and-one-half hours, or until dough has risen to double its original size. (Dough will be ready when it is puffy and doesn't bounce back when poked with a finger.)

Punching down: With your hands "punch" dough down by bringing bottom of dough up over top of the dough, releasing the carbon dioxide gas that the yeast has created.

Dividing and resting the dough: Divide dough into two equal pieces; let rest under a damp tea towel for about five minutes to relax, making them easier to roll out. If you find dough easy enough to roll out now, proceed.

Shaping the dough: (While you work with one piece of dough, keep the other covered with tea towel so it doesn't dry out.) Flatten one lump of dough. With your hands, fold top down to the middle, turn dough a quarter turn and again fold top down. Go all around the dough, making four turns. You should now have a square that is the length of your loaf pan. Now, tightly roll the top down towards bottom of square, giving you a tightly rolled log. Place in an oiled 9x5-inch (23x13 cm) pan. Repeat with second piece of dough.

Last rise: Set shaped loaves aside in warm spot. Cover with damp tea towel, checking on occasion to see that it doesn't dry out. Tanya's tip: "A dry crust on the rising dough will restrict the rising process." Let the loaves rise about two to three hours, or until doubled in size. To enhance the crust colour and give it a shine, gently brush top with an egg wash, made by beating together one egg and a tablespoon (15 mL) of milk.

Baking the loaves: Place loaves on centre rack of a preheated 375°F (190°C) oven and bake for about 30 to 40 minutes, depending on your oven's temperature. The loaves are fully baked when they are a deep golden colour and sound hollow when bottoms are tapped.

Cooling the baked bread: Using oven mitts, turn loaves out onto cooling racks, allowing air to circulate around the loaves, discouraging sweating. Cool for about an hour. Tanya's tip: "The bread will be gummy and hard to cut if it is not cooled adequately."
Tanya's Tips
"The salt flavours the finished bread but also regulates the activity of the yeast so the dough has a controlled and sustained inflation. If the salt is placed on the yeast it may decrease the yeast's ability to do its job."
"In the summer, due to humidity, more flour will be required; in the winter, less flour will be needed."
"Always store bread at room temperature, never in the fridge as this promotes premature molding. Place cooled bread on the counter, covering with a clean tea towel to protect it, or cut-side down in a bread box. Bread may be double-wrapped and frozen for up to two months."