Research into aggressive prostate cancer treatment receives funding
Dalhousie University pathologist Dr. Dellaire is part of a Canada-wide team working on a five-year, $5-million project to find new ways to diagnose and treat aggressive prostate cancer.
Dr. Dellaire, an associate professor and director of research at Dalhousie's pathology department, will receive the funding in September to assist with his work on tumour resistance to radiation and chemotherapy. Dellaire is also keen to find biomarkers that will demonstrate, from the outset, whether a patient has an aggressive form of prostate cancer.
"It's important to know which cancers are aggressive as the side-effects of treatment can be worse than the cancer symptoms, especially with prostate cancer," said Dellaire, whose work is funded by Prostate Cancer Canada and the Movember Foundation.
Dr. Dellaire is keen to understand the importance of promyelocytic leukemia (PML) a tumour-suppressor protein found in cells. He has been working on the PML protein since 2002 and has found that, "in many forms of cancer, including prostate, there is a complete loss of PML protein in aggressive disease."
He and his team are trying to learn which cellular pathways are involved in PML loss. These pathways are composed of many individual proteins that work together within a cell and lead to changes in cell function. Dellaire believes that loss of PML indicates that a particular prostate cancer is aggressive and has defective pathways controlling cell division and cell death.
Dr. Dellaire is also working with Dr. John Thoms, another member of the Prostate Cancer Canada team and a radiation oncologist at Memorial University in Newfoundland, on developing a
centralized biobank of samples of prostate tumours and clinical records that will be available for researchers to access. They wish to identify other gene mutations that may alter cell pathways common to certain groups of patients. Identifying similarities would allow doctors to predict a patient's need for and response to treatment.
Qigong proven to relieve pain
Research conducted with the help of local fibromyalgia sufferers has allowed staff at Capital Health's Pain Management Unit to demonstrate the pain-relieving effects of the Chinese exercise method, qigong.
"The main thing we found was that qigong helps people with pain and sleep problems. It also has other positive effects, such as reducing depression, aiding with weight loss, and lessening chemical sensitivities," said Dr. Mary Lynch, the director of research at the pain unit and the primary investigator on the study. "Fibromyalgia is a common pain problem that can have a significant impact on quality of life and ability to function. There are treatments that can help and the earlier these are introduced, the better the outcome."
The unit's staff has long used alternative treatments in pain management; acupuncture has been used since 1974 and Dr. Lynch is herself a practitioner. Qigong is an alternative treatment that has been recently introduced. Qigong is similar to tai chi, but somewhat easier to learn. Both have their roots in traditional Chinese medicine and involve slow, repetitive movements. Fibromyalgia is common in the Atlantic region, Dr. Lynch said. A chronic disease, fibromyalgia's symptoms may include muscle pain, fatigue, headaches, sleep and abdominal problems, anxiety, depression and difficulties with concentration and memory.
Dr. Lynch said that soon the researchers will undertake similar work with the help of people suffering from osteoarthritis of the knee, another common health problem.
Capital Health warns of Halifax syphilis outbreak
Staff at Capital Health are behind a frank advertising campaign and website that highlight the current syphilis outbreak among men in Halifax and point out that although the disease is easy to acquire, it is also easy to cure.
The first batch of print adverts from Public Health workers appeared in pubs and restaurants in June. Adverts also went on websites and smartphone applications used to arrange sexual encounters. The second batch of ads will run in the fall to target students returning to university.
The bacteria that causes syphilis can be acquired through oral sex and the messaging uses explicit language in order to get this message across, said Carmen MacKenzie, a senior communications adviser with Capital Health.
"Community partners encouraged us to use common, everyday language used by the target audience," said MacKenzie, adding that the adverts have not been placed anywhere children may see them.
She said the campaign focus is on testing and treatment. The ads highlight a new microsite Capital Health has developed called thehardfacts.ca. Created in both PC and mobile versions, the microsite explains how syphilis is spread, what it looks like (sufferers may have a red body rash or a single painless genital ulcer) and how to get tested and treated.
The website allows organizers to pilot Capital Health's first ever online, downloadable blood requisition form. The printed form can be filled out and taken to any of Capital Health's blood collection sites without the need to speak to a health care provider.
"Syphilis has been treated with penicillin since the 1940s and has been largely eradicated. Many family physicians have never seen a case, making the online requisition especially useful," MacKenzie said.
Since 2008, 167 men and two women aged 18 to 72 have been infected in Halifax alone.
Losing the stigma of mental illness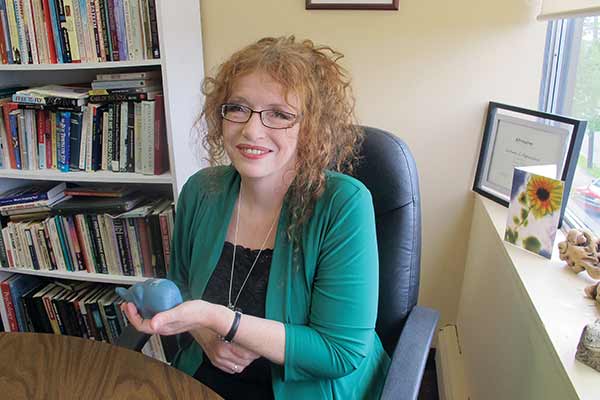 Today, Susan Kilbride Roper works as a recovery consultant and co-owner with her husband, of Empowerment Connection in Dartmouth—but her early years were more difficult.
Twenty years ago, she was diagnosed with bipolar disorder and an alcohol addiction, now referred to as a "concurrent disorder."
"Today, she is a passionate advocate for people living with mental health issues. She teaches mental health first aid, sits on Capital Health committees, co-ordinates Defeat Depression Halifax and co-chairs the Mental Health Coalition of Nova Scotia with Joan Jessome, head of the Nova Scotia Government and General Employees Union.
Getting the diagnosis was what she calls, "the first day of the rest of my life." She learned her addiction to alcohol was her way of coping with bipolar mood swings. It was only when she beat her alcohol addiction that the mood swings became obvious and could be treated. "Now mental health and addictions, including alcohol, substance and gambling, are combined in Capital Health's program," she says.
Kilbride Roper sees the stigma associated with mental illness as similar to the stigma associated with cancer and AIDS in years past. "The key (to removing the stigma) is education of self, of others, of the system," she says. The stigma can be societal, systemic (as in the workplace) or self stigma.
She says, "Self stigma causes the most harm." Seventy per cent of people working and living with depression are not getting the help they need, often because of the stigma. They don't want others to know. Mental illness can also affect the entire body, often worsening existing health problems. Mental illness results in a loss of $51 billion each year for the Canadian economy. Even more disturbing is the human cost.
"We have a responsibility to other human beings to reduce suffering in their lives," says Kilbride Roper.
Some upcoming enlightening events:
Oct. 6-12 is Mental Illness Awareness Week.
Monday, Oct. 7, from 10:30 a.m. to 3:30 p.m. at the Halifax Forum, a forum hosted by the Mental Health Coalition of Nova Scotia "Putting together the pieces of mental health."
Thursday, Oct. 10 at Alderney Gate in Dartmouth NS, Mental Health Community Festival of Hope.
Donna D'Amour
IWK launches new and improved website
The IWK has launched a new website that offers more than 1,000 resources and 1,500 pages of content to help connect Maritime families with the health information they need.
"We took an approach that was focused on the end user. We have leveraged directories, included an enhanced search function, and expanded mental health and addictions content, just to name a few of the site's improvements," said Kathryn London-Penny, executive director of public relations at the IWK.
The site is designed to work across all platforms, from desktops to smart phones, and incorporates social media sharing to allow visitors to share content with ease. Another new feature is an events calendar that visitors can use to view and submit health-related community events.
The IWK worked with Halifax-based web design company Norex to create the new site. London-Penny said the process, from the first steps of design development to migrating existing content and adding new content, took more than a year. As it is a living communications tool, the site will continue to be updated and thus never be complete.
"We are quite excited about the opportunities to build on this new foundation to become even better at sharing health information with those visiting our site," London-Penny said. "The site feedback form is crucial for this as visitors can use this form to submit ideas and tell us about any issues they find."
The new site can be found at www.iwk.nshealth.ca.
Breast Health Centre update
Nova Scotians seeking specialized care for breast health are one step closer to receiving it all under one roof. This past summer, diagnostic breast imaging services were moved to the Breast Health Centre, located at the IWK Health Centre, from the Dickson Building of the QEII Health Sciences Centre, Capital Health. Made possible by construction of a breast imaging unit, the move brings together breast health services previously available at the two hospitals.
"With the addition of breast imaging, we are closer to our vision of creating an integrated, world-class Breast Health Centre with co-ordinated care and resources to support patients and families," says Michelle LeDrew, director of the IWK Women's and Newborn Health Program. "The next phase will include working with partners to enhance access to reconstructive surgery and creating an interdisciplinary team that will incorporate genetics and oncology at the Breast Health Centre."
A number of years in development, the Breast Health Centre aims to make many aspects of breast health simpler and more comforting for patients who need specialized care in this area. Future plans include creating more holistic care options such as psycho-social supports, physical activity, sexuality and spiritual care. The centre also hopes to provide access to services such as specialized clothing, makeup and prosthesis support.
The Breast Health Centre is a partnership between the IWK Health Centre and Capital Health made possible by the support of the QEII Foundation and the IWK Foundation. The new unit of the Breast Health Centre is on the sixth floor of the IWK's Women's Building. Visit www.iwk.nshealth.ca for more details.