"I couldn't get her on the school bus," says Sharon MacSween of her seven-year-old daughter Glenna. The little girl has ADHD, was having two meltdowns a day and had to be driven to school by her mother for most of last year. That was before the school psychologist referred MacSween, from Sydney, NS, to Strongest Families, a distance mental health parenting program.
According to clinical psychologist and Strongest Families co-founder, Dr. Patrick McGrath, school teachers can usually identify at an early age which children will have mental health problems as teenagers and adults.
"Studies done by others that followed kids with disruptive behaviour into adulthood, and especially for boys, found that disruptive behaviour predicted things like suicide, criminality, the kids that ended up in jail," says McGrath, who's also a Canada Research Chair, integrated vice president of research at the IWK and Capital District Health Authority, and professor of psychology, pediatrics and psychiatry at Dalhousie University.
Providing support to these children and their families early on is the key to helping them lead healthy lives.
Dr. McGrath says parents want to do the best for their children, but getting help for an aggressive, hostile child who's four or five years old and is biting other kids in daycare, if he's not an immediate danger to himself or to others, is going to take a long time. That's where Strongest Families comes in.
First offered in 2012, Strongest Families is eliminating barriers to treatment and making a difference in the lives of many Canadian families.
"Mental health problems begin at a very early age, so getting to a child with mental health problems early in life can change their life's trajectory," says Dr. McGrath.

How Strongest Families helps
According to Strongest Families, approximately 15 to 18 per cent of children have mental health problems, but fewer than a third of them receive the treatment they need, when they need it. Some reasons for this gap include a shortage of professionals, long wait times, the cost of treatment (which range from psychologist's fees to taking time off work) and the stigma related to mental health treatment. Of those families who do get treatment, between 40 and 60 per cent drop out before completion.
To curb this trend, Dr. McGrath and Dr. Patricia Lingley-Pottie—president and chief operating officer of the Strongest Families Institute, with positions at the IWK and Dalhousie University as well—started researching ways to help parents who have children with mental health issues like ADHD, anxiety disorder and nighttime bedwetting.
Dr. McGrath's team knew they had proven techniques for treating disruptive behaviour and anxiety, the challenge was finding a way to deliver those techniques to families in time. As a solution to this, Dr. Lingley-Pottie and Dr. McGrath developed the Strongest Families Institute and curriculum. Their research was funded by the Canadian Institutes of Health Research and carried out through the IWK's Centre for Research in Family Health.
The not-for-profit Strongest Families organization, which helped approximately 2,000 families in 2013, is so successful that it earned Dr. McGrath and Dr. Lingley-Pottie the 2013 Ernest C. Manning  Encana Principal Award for social innovation.
So how exactly does the program work? Strongest Families offers a coaching service designed for parents of children from three to 12 years of age with mild to moderate mental health issues. Coaches, who are highly trained but are not psychologists (often undergrads), do a screening survey by phone to determine the needs of each family. They set up a plan and begin weekly phone sessions, running between 12 and 14 weeks.
Strongest Families services are free to parents and children referred to the program by a family doctor, psychologist or psychiatrist in Nova Scotia, Ontario, Alberta and British Columbia. The program is supported by contracts from governments and other family or child-focused organizations across the country. The organization even launched a Military Family Services pilot in St. John's and in Kingston, Ont, in August. That program is designed to help children overcome some of the anxieties related to separation.

Healthy families are strong families
In Sydney, MacSween and Glenna are doing well, thanks to the program. "Grading day for Grade 2 this year was emotional," says MacSween. "Glenna had a good year. She loves school now. She might have had to get a drive to school twice all this year. She might have had five meltdowns the whole year."
MacSween says the coaching taught her to understand why her daughter acted the way she did. Glenna doesn't always understand or remember what she's being told. She needs reminders. She needs to be brought into the decision-making process sometimes.
More than 85 per cent of families in the Strongest Families program have been successful in overcoming problem behaviour. Parents have seen improvement in family functioning, strengthened family relationships, positive impacts on parental mood issues and improved academic success for the children. Parents are highly satisfied with the program and the dropout rate is less than 10 per cent.
Glenna is the middle child in a blended family, and MacSween used the techniques she learned with her other children as well. And the call centre was open late, which meant MacSween could fit sessions into her schedule even when she went back to work after a maternity leave.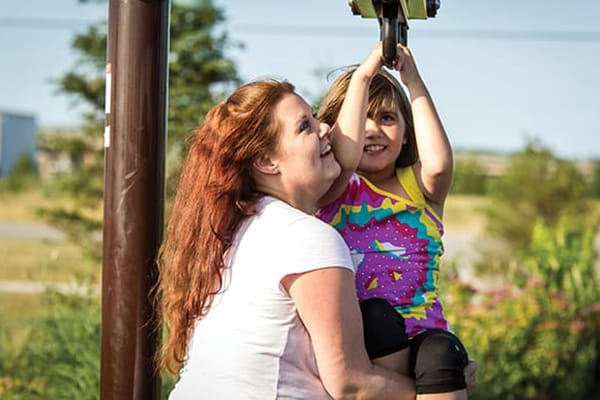 And the program was flexible enough that she could adapt techniques like the reward chart to suit Glenna's needs. Instead of stickers, which didn't appeal to her artistic and hands-on child, MacSween used gems or brightly coloured stones to reward her good behaviour. When Glenna accumulated enough, she would make crafts to give to family members or her teddy.
Glenna does have a full-time teacher's aid and some other supports, but MacSween says Strongest Families made an enormous impact on their lives.
Strongest Families works closely with psychologists and psychiatrists who handle the more complex cases. The program bridges the gap in mental health services with early interventions that are already changing lives. For more information about Strongest Families, visit strongestfamilies.com or call 1-866-470-7111.