After his brother died of an undiagnosed heart condition, Greg Dobson was screened and received life-saving surgery. Now he wants people to talk about heart health
Greg Dobson was on a quick lunch break at Boston Pizza in Antigonish when he got the news. His younger brother Jordan was on his first day at hockey training camp for Acadie-Bathurst Titan and Greg assumed his father was calling with an update. It was August 12, 2013 and Greg, 19, was getting ready to enter his final year of a commerce degree at Saint Mary's University in Halifax.
"Dad sounded strange. He told me that Jordan had collapsed on the ice… that he hadn't made it."
Before long, news of Jordan Boyd's death hit social media and news outlets, resulting in shock and disbelief felt far beyond Jordan's immediate family and friends. A likeable and talented hockey player, 16-year-old Jordan was known for his strength, having trained himself to peak physical fitness to get to the Quebec Major Junior Hockey League.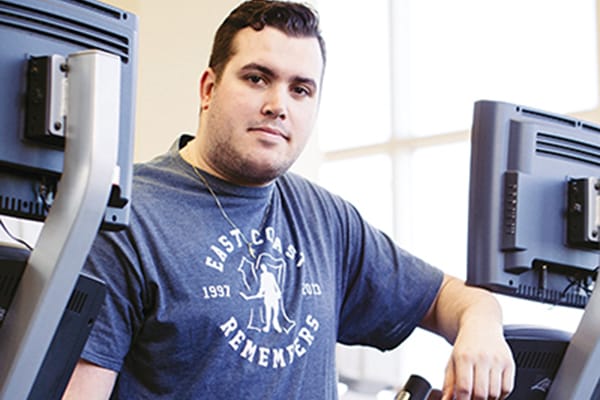 "It was a tough day for all of us. It was devastating."
Searching for answers
Jordan had an undiagnosed genetic heart condition known as arrythmogenic right ventricular cardiomyopathy (ARVC). "As soon as we learned that, we knew we would all have to be tested," Greg says. "I was worried. I was worried they would find something."
The doctors did find something. After undergoing a series of screening tests, Greg was told he has Wolff-Parkinson-White syndrome, a congenital heart condition that creates an extra electrical current and causes the heart to beat abnormally fast at times. While the condition can go undetected for a long time, it can also be fatal in some cases.
Charting a new course
In his fourth year as a full-time business student and still grieving his brother's loss, Greg tried his best to stay positive after getting the news, putting his mind to keeping up with his courses and focusing on the future. It's an attitude he says he gets directly from his mother. "She's fiercely independent and strong. She taught me that if I want something in life, I have to go get it. I just wanted to do well and get through school."
But just a couple of months later, in February, Greg ended up going to Cobequid Health Centre's emergency department; his resting heart rate was 200 beats per minute. "I was immediately transferred by ambulance to the QEII (Queen Elizabeth II Health Sciences Centre in Halifax) and admitted to intensive care," Greg recalls.
After another series of tests, it was clear Greg needed an operation to repair his heart. "I ended up having two surgeries—the first surgery of its kind in Canada, the second in the world," he says. "The first was about seven and a half hours long, the second one was just before Valentine's Day. I remember that because I was joking with the doctors and the nurses about losing my chest hair—that one, it was eight hours long. I had to miss an entire week of school after that."
It was difficult for Greg to reconcile that his life-saving surgery was as a result of being tested after what happened to his brother. "I've had to do a lot of growing up over the past few years," he says.
Despite everything he was going through, Greg managed to keep a full course load, graduating in spring 2014 with a bachelor of commerce degree in marketing, and with a full-time job at ISL Digital Marketing in Halifax as an account manager already in hand.
Shortly after he began working at ISL, Greg got more test results; he has the gene for ARVC but not the actual condition. That means Greg could develop ARVC so he has to be closely monitored. "It's in a sleeper state, is the best way to describe it. There are a lot of unknowns about this condition but the best thing I can do right now is to stay healthy," Greg says. "I think I knew it was coming. After what had happened with the Wolff-Parkinson-White syndrome, I sort of knew. There was always such a strong bond between Jordan and me, it just felt like this was part of that."
Staying strong
Today, nearly two years later, Greg is doing well and continues to remain positive. He's still working at ISL—"I'm a born marketer, I love it," he says. He stays healthy and keeps his weight in check by eating well and going to the gym as often as he can. "I do 30 to 40 minutes of cardio and then 35 to 40 minutes of weights. I monitor my heart rate too. I just try to stay relaxed about it," he shrugs.
Relaxing is not something that always comes easy to Greg, however. Less than a year after Jordan died and not long after his own surgery, Greg began organizing a hockey tournament in his brother's memory. Held in early August, around the anniversary of his brother's death, that inaugural tournament raised $108,000. Last year Greg and his family—and many others—mounted the second annual Jordan Boyd Celebrity Hockey Challenge, with six teams competing as well as current and former NHL players, such as Nathan MacKinnon and Brad Marchand. They raised nearly $150,000. This year they want to top that number again. Monies raised are split between the Heart and Stroke Foundation and the QEII Foundation.
"It's a difficult time for our family so we wanted to do something to remember Jordan and celebrate what he loved. It feels good to tell Jordan's story as a way of getting people to talk about heart health and to advance heart health research in Nova Scotia," Greg says. "It's amazing what people can do when they pull together."
Talking about heart health
Any family with a history of heart disease or any other major health issue, should take the time to talk—both within the family and with the family doctor—about their family's medical history, to determine if they would benefit from screening, Greg says. "Often people shy away from talking about big health issues but it's so important. Even if you think you know, it's amazing what you can start to figure out once you look under the hood."
Getting people talking is a large part of Greg's motivation in life. "I like to think that maybe our story can give people some insight into how important this is," he says. "People telling stories about their lives can make such a difference. It's made a huge difference in my life. I've spent a lot of time through all of this, learning how to be a better person. I just want to keep giving back."