Post-partum depression affects 10-15 per cent of women
Young mother Jennifer Sarault remembers what happened like it was yesterday. "I stood there holding my newborn little girl I had dreamed about and wanted for so long," she says. "Wondering what was wrong with me. Where was that overwhelming joy and happiness other mothers had, in pictures of themselves with their newborns? Why did I feel like I couldn't do this—like maybe I'd made a mistake?" She adds that it was embarrassing and terrifying at the same time, and she wanted to hide how she was feeling.
Jennifer didn't know it, but she was suffering from post-partum depression, often referred to as PPD. It's a frightening condition that affects many expectant and new mothers. Rather than being excited about the upcoming birth of her child, a mother is swamped with irritability and feelings of sadness most of the time, and finds little joy in the things that usually make her happy.
One in seven women will develop a mental health condition during pregnancy, and half of all cases of PPD start during pregnancy. Expectant or post-partum mothers can feel like they are bad mothers, even though they are doing things well, says Dr. Tanya Tulipan, psychiatrist and physician co-lead at the IWK Reproductive Mental Health Service (RMHS) in Halifax. "They may feel very anxious with the newborn, and PPD can interfere with a mother's bond with her baby, and that has serious implications for the baby's development," she says. Frighteningly, sometimes mothers may feel like the baby would be better off without them: "That is a very concerning sign of serious PPD and in some cases can lead to a mom dying by suicide," she adds.
The good news is that PPD is a very treatable condition, says Dr. Tulipan. "Some women, especially if they are breastfeeding, prefer non-medication treatment like psychotherapy or talk therapy," she says. "Psychotherapy can be a very effective and safe treatment for PPD, [however] for some women, it is safer for them to take a medication like an antidepressant." She adds that a woman's doctor can help her find a medication that she can safely take while breastfeeding her baby, and that "as always, it is helpful to pay attention to self-care, sleep, good nutrition, lots of social supports, and exercise."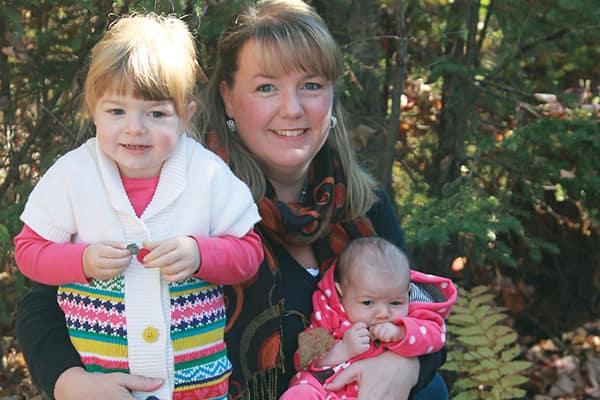 The IWK Reproductive Mental Health Service (RMHS) sees women who are pregnant or postpartum for moderate to severe mental illness. The professionals assess, diagnose and treat many different mental illnesses including depression, anxiety and bipolar. Dr. Tulipan stresses that the clinic is a short-term service, and typically the staff will see women for a few months until they are stable. She says the clinic works closely with family doctors, midwives, obstetricians, and other mental health professionals to provide appropriate care for women and their families.
Jennifer Sarault says, "Luckily for me, my husband and parents could see what was wrong and helped me seek help." She saw her family doctor who set her up with the IWK program, and was at first reluctant to go. "I was scared and hesitant to talk about it. I felt like a failure, and I was embarrassed." That feeling didn't last long. "Going to that first appointment was the best thing I could have done for myself and my new little family," she says. "The comfort I felt knowing I wasn't alone in this was huge—it happens to so many women and it was normal and could be solved."
The Canadian Mental Health Association, Nova Scotia Division, in collaboration with the IWK's RMHS, developed a resource website, caringtogether.ca, to help direct mothers and families to the best medical supports in the province.
Only one in three women get the mental health treatment they need during pregnancy and postpartum, as they are often afraid of asking for help because they think they will be judged as bad mothers. The women who come to the IWK Reproductive Mental Health Service asking for help "are doing it because they love their children and want to be healthy, happy and connected with them," says Dr. Tulipan. "Treatment and support helps them to be their best selves with their children." She also stresses that women should realize they are not alone, and that they can safely reach out to someone they trust to aid them in getting the help and solutions they need.
Of her experiences with the Reproductive Mental Health Service, Jennifer Sarault says, "The help and support I received changed my life. They followed me through my second pregnancy as well, and it made all the difference. I had a safe place to go and receive the support and help I might need.
"I want all women to know post-partum depression is real and you don't have to try to cope alone."