Mornings are busy at the new blood collection centre on Bayers Road in Halifax.
When I walk in at 9 a.m., practically every seat is filled and people are standing inside the door. Anita Muise, district manager for the shared services group, says the centre sees about 400 patients a day and, when fully staffed, can handle 600 daily. The new 4,600 sq. ft. facility at 7071 Bayers Road has eight registration desks and 12 blood collection chairs (twice as many as the former location), plus one chair for training.
The new facility has a non-clinical atmosphere that patients seem to appreciate. With summer green and soft blue accent walls in the reception area, the waiting room has a bright, airy feel. In the 48-seat waiting area, a curved wall is made from etched glass, allowing a generous stream of light, and there is a child-sized table and chairs as well as a TV/DVD player set low for children's viewing.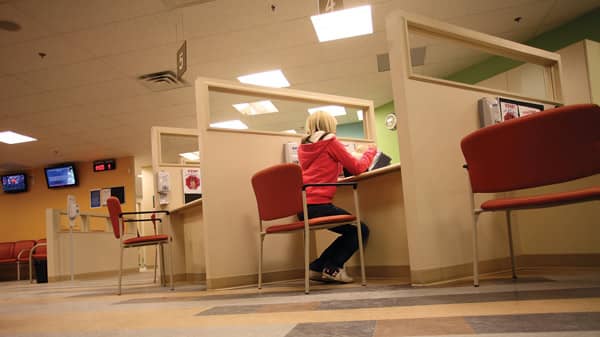 The facility also features a children's play area, a small glassed-in enclosure with a child-sized table and chairs and a bookcase, some toys and drawing supplies. On either side there's a blood collection chair so two people can have their blood taken and keep an eye on the children at the same time. "I think it's really good that people can bring their children," says patient Rosemary Boisvert. "You know if you take your children, they are scared. It wasn't really convenient for children at the hospital."
The new centre takes over from the blood collection facility in the Dickson Building on University Avenue, which is being repurposed as a radiation treatment unit. The Cancer Care Clinic, also in the Dickson Building, recently acquired a brachytherapy machine-a large piece of equipment requiring a large space. "It helps us treat cancer in accessible areas to high doses of radiation and spares the nearby tissue," says Dr. Tetteh Ago, division chief and head, department of oncology, Capital District Health Authority and Dalhousie University. "We had a brachytherapy machine but it was old and was not reliable. With this new machine, we will be able to treat cancer in a number of locations (on the body), so we are going to have an expanded form of treatment." The machine was scheduled to be operational this winter.
The Bayers Road space was being developed as an extension of Capital Health services, says Muise. Mental health services are already located there, as is Northwood adult daycare. "Soon diabetes management will join them," she says. Parking issues at the new location have been resolved for the most part. Parking at the Dickson Building was limited and could be costly. The centre has free mall parking on Bayers Road and many of the parking spaces have been labelled one-hour parking to allow better access for patients. Once in the door, a clearly marked elevator takes patients down one level. The stairs are also close to the elevator. Buses stop at the door of the lower level on Desmond Street. and limited parking is also available there.
Muise says patient flow and staffing requirements are still being worked out. Feedback from patients has been positive but, like any operation, staff absenteeism due to sickness can pose challenges. It took 50 minutes for me to have blood drawn: others give the wait times mixed reviews. Jada Moshett-Crawford from Timberlea, NS, says it's more convenient for her, although when she was there a week earlier, she waited an hour and a half. Rosemary Boisvert finds it faster here, though, and says, "If you come in the afternoon, there is hardly anyone waiting." The facility opens at 7 am and closes at 4:45 pm.