Self-reliance and self worth trump profit margin for these special entrepreneurs.
On sunlit Main Street in Canning, NS, there's a bustle of activity centered around a storefront office. A young woman hauls a basket of clean laundry out to a vehicle, while another returns from the post office with a bundle of mail she's delivering to businesses along the street. Two young men are walking to the respective shops they operate; another arrives on his bike with his latest folk art painting clutched under his arm.
This may sound unremarkable, until you realize that each of these individuals has significant intellectual or physical limitations. Each of them also owns and operates a small business, under the umbrella of CAPRE, or Canning Area Parents for Real Employment.
CAPRE has operated from this rural village in Nova Scotia's Annapolis Valley for more than 20 years, focusing on creating meaningful employment for individuals with physical and intellectual challenges. There are many enterprises throughout North America that provide vocational support for people with disabilities - known as sheltered workshops - but CAPRE is different in that it provides one-to-one assistance with tasks, developing employment opportunities for individuals who could not work without such assistance.
Lee Van Amerongen is an affable 34-year-old who runs Lee's Creative Activities, assisted by his business manager/personal coach Sharon Dill. Lee's shop carries his cookie-painting kits - popular with children of all ages - and a host of consigned jewelry, knitwear, paintings and photography, as well as other work by local artisans. Lee has autism and epilepsy; he has seizures daily, and his short attention span, coupled with health challenges, could have made it next to impossible for him to attain work under normal circumstances.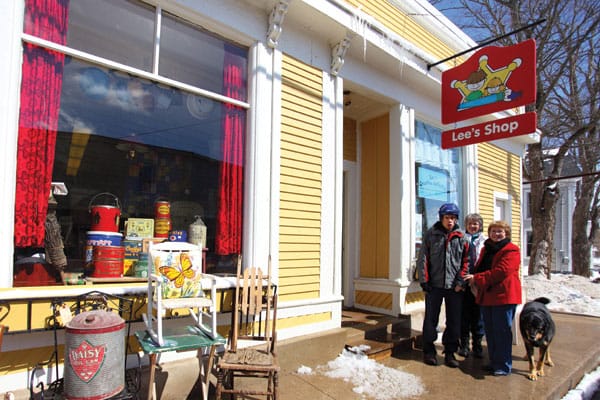 Judy Van Amerongen, Lee's mother, was determined from the time of her son's childhood that he and others with disabilities could do more than merely exist in cloistered workshop conditions.
"CAPRE grew out of very humble beginnings," Judy says. In 1978 a few parents got together and created a summer recreation program for their special-needs children. With the help of funding grants, the children enjoyed a variety of summer activities over the next few years, including camping, swimming and checking out the sailing vessel Bluenose II.
In 1987, the parents' group began to seek vocational skills and potential jobs for the oldest children, who would soon be completing high school. They formalized their organization, creating a mandate. They knew that their children could do certain jobs; the challenge was to match skills with the tasks they could do, along with supportive help.
"Like any parent, we wanted our children not only to be happy but to be contributing members of the community," Judy says. "We wanted people to see our children through our eyes - that they had something to offer."
As Judy talks, she watches her son assemble cookie-painting kits with the help of his assistant, who guides his hands through the tasks. Although Lee is non-verbal, he communicates with a specially made alphabet board, pointing to letters, objects or words to express his thoughts and wants. "Love cookies yes," he tells a visitor.
"Creating a business for Lee that would have him doing something with cookies seemed like a good fit," Judy says.
Krista Taylor, who has recently retired, was the first CAPRE entrepreneur to have her own business - KATS (Krista's Around the Town Service) started in 1994. Krista enjoyed meeting people and getting out around town, so the idea of a mail delivery service to businesses in the community was an ideal fit. "We looked at Krista's personality and strengths as well as her needs," says Judy, "and came up with a small business idea that would earn her some money and get her out into the community."
Sometimes instead of a job it's a labour of love that CAPRE supports. Jeff Halliday has Asperger's syndrome, a form of autism, lives in his own apartment just outside Canning and is frequently seen on his bicycle travelling to odd jobs on local farms. A very bright young man with a fascination for history and the fine details of storytelling, Jeff's real passion, as he will tell anyone who asks, is painting. Positive reception for his folk-art style has given him a new confidence.
CAPRE assisted with applying for a start-up grant so Jeff could buy artist materials, and also helped him find a professional artist to provide mentoring. Former executive director Shannon Read introduced him to Creative Spirit East, a Halifax-based co-operative for artists with mental health or physical challenges. It has been instrumental in involving Jeff in shows and exhibits, including a collection of paintings at the Lieutenant Governor's house in 2004, as part of the Acadian World Congress.
Although Jeff continues to work at farms throughout the Valley, he spends every free minute creating new paintings, looking forward to the day he can devote all his time to his art.
"I don't want to be dependent on other people," he says. "I want to make a living from painting."
Of course, CAPRE is about far more than the bottom line. "The profit margins and growth rates are modest," says treasurer Wayne Dykens. "It can be difficult to impress those who consider success to be determined strictly by sales and profits.
"Self-employment offers the opportunity for those who are 'differently able' to participate in community and social life," he says.
Wayne isn't the only one who thinks they have a good thing going. CAPRE attracts a steady stream of international enquiries and visitors to see for themselves how the organization works. Judy Van Amerongen travelled to New Zealand and Australia several years ago to speak about the CAPRE model.
Michael Kendrick, a Massachusetts-based consultant on disabilities, age and mental health, talks about CAPRE when speaking to community groups around the world. "Each client gets a different solution," he says. "Rather than make the individual fit an already-designed mould, CAPRE creates an individualized mould to suit the individual's abilities and challenges."
Across the street from Lee's shop is Fisher, Sheffield & Company, operated by Mike Fisher and Tracy Sheffield. The shop carries a variety of products - including organic plant fertilizer, neck pillows and other sewn items - made by Mike, Tracy and others.
The shops are open for a few hours each day from Monday to Friday; customers not only find unique gifts for themselves or others, they also take the time to get to know the shop owners as they would in any small-town business.
Shannon Read is pleased with how the visibility of these businesses has helped with their growth. "In a small village like Canning, commercial space can be hard to come by, so we struggled to find affordable, accessible space that can make a huge difference in how the enterprise and the individual is perceived.
"Visitors to our area find [the entrepreneurs] now, a combination of increased visibility and attractiveness, and reputation that you build over time."
The driving force behind CAPRE continues to be Judy Van Amerongen, whose passion for CAPRE and for encouraging Lee and others in their entrepreneurial ventures never falters. She isn't shy about speaking out about CAPRE and the challenges and successes they have experienced over the years, but doesn't see herself as any sort of a leader.
"I'm just a mom from back of Canning, and like other parents I want the best for my son," she says. "That doesn't mean shutting him away in an institution, or leaving him sitting home watching television, but getting him out into society where he can interact with others."