Whether you call it jannying, Santa Clausing or mummering, the tradition runs deep in our hearts. But will the tradition soon be lost?
Watching your father dress in your mother's clothes (and vice versa) might not fit in with everyone's idea of Christmas. But that's exactly what my parents did on the long nights of the holiday season when I was a child. They'd finish off their disguises by stuffing their clothes with cushions and wearing their underwear over the whole getup. They'd hide their faces behind masks, makeup or veils. They might even wear boots on their hands or mittens on their feet. Then they'd go out "sandying." That was Christmas for me, growing up on Nova Scotia's South Shore.
Most people would call what my parents did "mummering." Best known as a Newfoundland & Labrador custom, Nova Scotians had other names for it: "Santa-ing"; "Santa Clausing"; "Kris Krinkling" and "Belsnicking."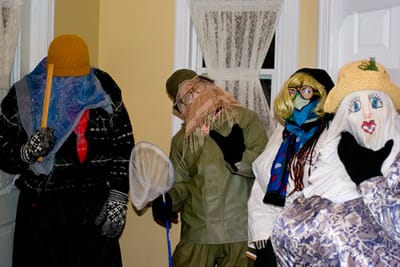 Many cultural groups in Atlantic Canada practiced Christmas and New Year customs brought from Europe generations before. On Prince Edward Island, the Acadians practiced "Twelfth Night Cake," gathering in a house in the community on January sixth for entertainment. For their part, the Gaelic Scots celebrated "The New Year Lads" by charging around with clubs and sheep skulls chanting verses in Gaelic to ward away evil spirits from the houses in the community. Both traditions shared many characteristics with mummering such as dressing in costume, getting together with friends and sharing food and drink. While such traditions seem less common among New Brunswickers, they certainly went mummering, especially the transplanted Newfoundlanders. In Cape Breton, PEI and the Magdalene Islands, people would tap on houses in a tradition called "Beat Out the Old Year."
Though each of these traditions has its roots in old European customs, the sandying my parents did has its roots in Medieval England. "It was part of the folk culture of the original English settlers in Newfoundland," says Martin Lovelace, head of the Department of Folklore at Memoral University of Newfoundland. "People talk about this as a surviving pagan custom, but it doesn't necessarily have any religious connections at all."
Mummering comes in a variety of forms. Newfoundland is famous for house visit mummering, which predates the other forms. Eliza House of Bellburns, on Newfoundland's Northern Peninsula, remembers carrying on this centuries-old tradition as a teenager.
"There was one time I remember I wore my father's clothes. He was a lumberjack and a fisherman. I'd wear his plaid coats and rubber boots. I'd sneak a pair of shoes into the boots to make me taller. Cover my head with a pillowcase and cut eye holes in it."
Once Eliza had her disguise together, she'd head out. "My sisters or brother or a crowd would get together. You'd meet up with more on the way." Then they would knock on doors and shout the only words they'd say all evening, "Any mummers allowed in?" Keeping mum make the ensuing guessing game more challenging.
"You'd never be turned away," she says. "Mostly you'd go to your relatives and friends. If they guessed who you were, you would show your face, and if they didn't, you wouldn't show. No one would know for sure who you were. If you played music, you'd probably bring a mouth organ and accordion, play a little music." In exchange for the guessing game, the music and the good cheer, the hosts would reward Eliza and her mummer friends with drink and Christmas cake.
Mummering was so popular, people planned ahead. "I met a man once who caught a huge cod the summer before and saved its head for a mummering mask," says Martin. "People might have looked outlandish, but you knew they were neighbours. People were used to coming in and sitting around in the kitchen. Mummering harkens back to a time of community closeness. And it gave you an enormous thrill of temporarily being other than who you normally are in a place where everyone knew you and everything about you."
The mummers' street parade, which is still big today in parts of the US, such as Philadelphia, tended to encourage intimidation and violence in Newfoundland.
"In the 1860s, St. John's outlawed the mummers' street parade, a massive event often resulting in property damage and other violence," says Martin. "People made hobby horses that had a head with a snapping jaw. A frightening figure that would chase people."
A third form, the mummers' play, dating from about 1680, featured St. George (St. Patrick, in Ireland) doing battle with some outsider such as a Turkish Knight.
In the play, there is a magical doctor that is almost a satire of quack doctors of the time, says Martin. "Whoever the hero killed is brought back to life. Then various collector figures come in and ask for money. House visitor mummers never ask for money."
In the resurrection of the fallen combatant in the mummering play lies the link to the Christmas season and the shortest days of the year, when we all look forward to spring and the miraculous renewal of life.
But in practice, all three forms of mummering have seriously declined since the 1960s. Martin attributes the general decline of house visit mummering in Newfoundland to changes in the way we live. "Nowadays, we have cars and roads, and its possible that people who are coming in are real strangers," he explains. "Even house design has changed. It used to be that the kitchen was the biggest room in the house and accessible, but now the family room may be down a carpeted hall. It just doesn't seem to work quite so well in a modern subdivision."
The same is true for Nova Scotia. No one I know goes sandying any more. Still, the custom hangs on in the Atlantic provinces. "Some places it's still not exactly dead yet," says Eliza. "Where they are more isolated and in smaller communities."
Martin says the younger generation hasn't forgotten about it completely.
"Now people put the cassette of the mummers' song in a boom box and play it as they go." As well, the mummers' play is performed every year at St. John's high schools, and there is a group that tours the play around Newfoundland.
Whatever the reasons for the near extinction of this previously long-lived custom, I miss sandying. I miss the revelry, the mystery and the celebratory edge. I'm nostalgic for such a strong expression of trust, hospitality and generosity in a community that seemed much closer when I was a child than it does now. I miss my parents acting like I'd never seen. I miss the relief sandying brought to the longest nights of the year and the levity of the season.
Above all, I miss the tomfoolery and the way sandying could turn Christmas inside out. But perhaps there is still hope that the tradition will be revived. There is, after all, a place for silliness during the holidays-it fits Christmas like a hand in a glove. Or is that a mitten on a foot?