Now that we've almost destroyed the oceans with plastic it's time to revisit recyclable glass containers
Bottles, bottles everywhere and not a drop to drink... in any of them. Bottles line bookshelves and fill cabinets. They range from large to tiny, from plain to decorative, from amber to blue to green to black, all precisely displayed in the Halifax apartment of Dr. John Gilhen, a passionate collector of antique glass bottles.
Some may know Gilhen as Nova Scotia Museum of Natural History curator emeritus, honorary doctor of science recipient from Acadia University and a naturalist who has published 90 papers, technical reports and two books, primarily on the fishes, amphibians and reptiles of Nova Scotia.
Although now retired, he drops into the museum seven mornings a week to help answer public enquiries and offer assistance, then comes home to a space brimming with more than 700 antique bottles. Collecting is a hobby that started five decades ago.
"I started in 1965 so I've had lots of time to collect," he says, adding that he and others at the museum formed a club. They would go digging on Saturdays, and found treasure troves at abandoned farm dumps. Before the days of municipal garbage collection, every farm had its own garbage pile. These were a source of many great bottle finds, but club members were not digging to line their pockets.
No one gets rich off old glass bottles. Small bottles can be bought for less than $10 and even bigger bottles that are quite rare will fetch no more than $200 to $300. It all depends on age, condition, colour, how the bottle was made and whether it's embossed with a product name or has a label. Many bottle collectors, including Gilhen, have little interest in the monetary value; it's the clues to the past that fascinate them.
"I got hooked because I found there was a history behind each bottle," says Gilhen.
Old bottles connect us to the past, a past before everything was made of plastic; when soda pop, mineral water, medicine, ink, liquor, and even poison came in glass bottles.
It's believed that glass making goes back 4,000 years to Mesopotamia; glass bottles were first brought to North America by the English and French. The oldest bottle found in Nova Scotia is a liquor bottle found near Louisbourg and estimated to be from 1740.
Canadian glass history began in Ontario in 1825. The early Canadian bottles were "free blown" by a glass artisan forcing air through a blowpipe into a ball of molten glass. Free-blown bottles have pontil or punty scars—a rough mark on the bottom. This mark was left in the process of finishing off the bottle when it was broken off from an iron rod used to handle the hot glass.
Free-blown bottles were made until about 1860, according to Azor Vienneau's book, The Bottle Collector (1969). An artist and illustrator who now lives in Lewis Lake, NS, Vienneau was a musuem staff member and part of the bottle collecting club.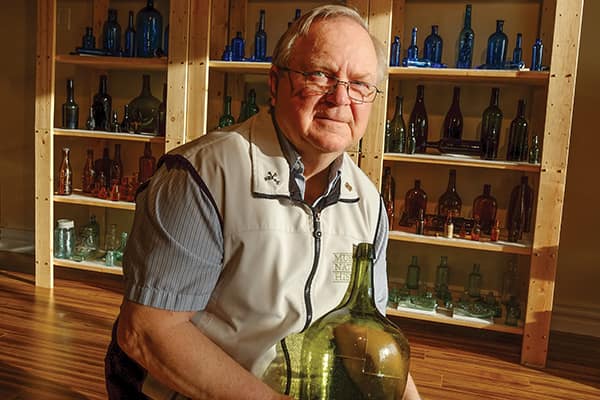 Vienneau's book details how free-blown bottles were replaced with bottles made in moulds. Gilhen has examples of free-blown and some early bottles formed in moulds, which can be recognized by their seams. Mould bottles were replaced by automation, and the first bottle machine was invented in the United States in 1903.
While the majority of Canadian glass companies were in Ontario and Quebec, glass was made in Atlantic Canada at Trenton, NS. There were three glass houses from 1881 to 1917, the Nova Scotia Glass Company, the Lamont Glass Company and the Humphreys Glass Works. Lamont and Humphreys made glass bottles. Trenton still has a Glass Street. Companies set up there because of an abundance of cheap coal to fire the furnaces and its location on the railway for shipping.
According to Vienneau's book, Lamont produced green and flint glass bottles. The Humphreys Glass Works turned out as many as 1,500 bottles a day: soda water, fruit jars, milk bottles, patent medicine, ink and mucilage bottles.
Like so many ventures to follow, both companies could not compete with competition from central Canada and the United States. Lamont was leased to the Diamond Glass Company of Montreal and moved there in 1902. Humphreys was moved to Moncton, NB, in 1917, but closed a few years later.
The short life span of glass making in Nova Scotia makes the bottles produced at Lamont and Humphreys valuable in historical worth rather than monterary. Gilhen donated his collection of Nova Scotia-made bottles to the Nova Scotia Museum. Like other collectors, he still has an abundance of bottles made in Europe, Canada and the United States.
There are bottle clubs all over North America and an active one in Stellarton, the Pictou County Historical Bottle Club. People collect for different reasons. Some collect only one type of bottle, but each collector has favourites.
"I'm really attracted to blue and amber bottles," says Gilhen. His favourite is a yellowish amber bottle because of its unusual colour and imperfections like air bubbles in the glass and a crooked neck. It once contained cherry cognac and was found at an abandoned farm near Bridgewater. Other favourites are liquor bottles made in 19th century England and etched with a depiction of Eclipse, an 18th-century race horse.
Gilhen also has the famous Mason jar, used by generations of women to preserve fruits and vegetables and invented in 1858 by John L. Mason of New Jersey. He also has a large number of Codd-stoppers, bottles used for carbonated drinks with a unique closing. Invented by Hiram Codd in 1872, the bottle was filled under gas pressure which pushed a marble against a rubber washer in the neck. This created the seal.
There are also many torpedo bottles that were designed to rest on their sides so they could not stand vertically. They contained carbonated soda, and the design kept the soda, often ginger ale, in contact with the cork so it would not shrink. First used in England, they date from the 1870s to 1910.
The bottles are a fascinating record of the past: how they were made, the changes in capping and sealing methods and the different glass colours. Alas, Gilhen believes the heyday of old bottle collecting may have passed. Old abandoned farms are a rarity now and bottle hunters have combed through many of the farm dumps, antique stores and flea markets over the years.
However, the glass bottle might just be on the comeback trail. Recent surveys indicate that consumers want sustainable packaging solutions and are willing to pay more for them. Glass is a sustainable product that does not biodegrade and is 100 per cent recyclable.
What is old may become new again and a whole cycle of glass collecting may begin in decades to come.
A worthy namesake
Gus, the Museum of Natural History's popular gopher tortoise, doesn't collect bottles, but he and John Gilhen have a strong connection. Gus, now 95, was brought to the museum from Florida in the 1940s. The tortoise took a liking to a young Gilhen when he began volunteering at the museum in the '50s and would lumber over and firmly tap his shoe until a snack was produced. The museum's curators decided that the tortoise would be named Gus, in honour of John Augustus Gilhen, his hours of volunteer work and his friendship with Gus.