The unlikely story of how a craft distillery in northern New Brunswick started making some of the best gin in North America
LAST YEAR, Sébastien Roy became an award-winning distiller. But his journey—how one of his first bottles of gin went from the tiny Acadian town of Petit-Paquetville, NB, to winning a double gold medal at the prestigious San Francisco World Spirits Competition—isn't your average Cinderella story.
In 2011, when he first started his distilling business, Roy wasn't interested in gin at all; he was on a quest to produce traditional French absinthe. It was in the Czech Republic that Roy was first entranced by absinthe, known historically as "la fée verte," or green fairy, for its hallucinogenic properties. His passion was so great he eventually sold his share in Acadie-Broue, a microbrewery he started years earlier with a friend. He tracked down an 1854 recipe from Paris, started growing his own wormwood, and Fils du Roy distillery was born.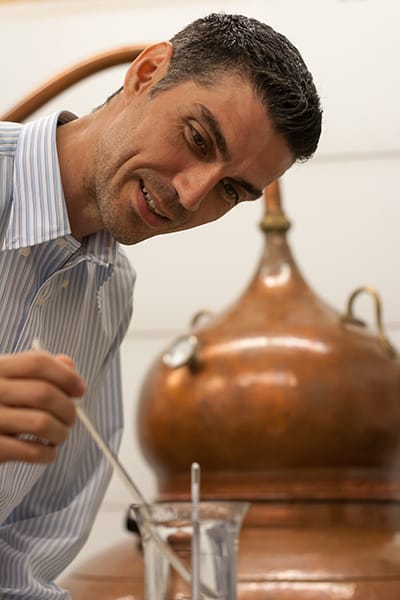 Roy went into partnership with his mother, Dianne, buying a rural property 15 minutes outside Caraquet, on the Acadian peninsula. He ordered spices for making absinthe he couldn't grow or source locally and—on a whim—added two bags of juniper berries, the primary aromatic in gin, to the purchase. When he finished making a year's supply of absinthe and his stills sat empty, Roy distilled a batch of gin. When mailing a box of spirits to San Francisco in December 2012, Roy decided—again, on a whim—to include a bottle of his Gin Thuya. "It came back with double gold medals," says Roy. "So I knew I had to really improve my absinthe."
The past two years have been a blur for the mother-and-son team and their families. In 2013, Roy bought an industrial filling, capping and labelling machine that can process 800 bottles a day, compared to the 60 bottles they could finish by hand. Also last year their Monarch Rouge cranberry liqueur, made with berries grown 20 kilometres from the distillery, won a bronze medal at the New York International Spirits Competition; another bottle was just mailed to Hong Kong for an upcoming spirits festival there. Fils du Roy remains the only producer of traditional green absinthe in the country, and has started experimentally aging its blueberry and cranberry liqueurs. For those unable to make the trek to northern New Brunswick, its vodka, absinthe, gin and anise spirit, which won silver in San Francisco alongside the absinthe, are sold in select New Brunswick liquor stores.
"I love all their stuff. It's amazing," says Paul McAllister, a longtime bartender and event producer who works at Fredericton's Capital Complex, who was "floored" when he first tried the gin. He drinks his over ice, served with a slice of cucumber and a grind of cracked pepper overtop. "You really get that full bouquet. It's got that juniper taste, but there's also these floral notes. It's really complex and full-bodied."
Fils du Roy's success is all the more remarkable because it isn't actually Roy's job. It's a side-project, something he does on the weekend, driving nearly three hours every Saturday morning from his family home in Moncton, where he lives with his wife and two children: Alexandre, 1, and Angela, 4. "It's a hobby. All of us have hobbies," says Roy, who works as a government administrator. "In northern New Brunswick, the economy isn't very good, so we were trying to create some work for my family. That's why I need to travel to come here."
Roy's passion with making his own alcohol started when he was 15 and working at the Caraquet Save-Easy. "I was able to buy sugar, yeast, a lot of ingredients like that and no one asked any questions. In my room, secretly, I was mixing those and producing alcohol. It was hidden in my closet, so when my mother, when she came into my room, would say, 'Clean your room, it smells weird.'"
But Roy never actually tasted his own product. "I thought I would become blind. For me, it was just to see the reaction, the dance of those bubbles. I liked really to see that transformation."
In his quest for distinctive flavours, Roy uses ancient techniques long abandoned by mainstream commercial companies. He distills using gleaming hand-hammered copper pots, called alembics, ordered from Portugal, sealing the cracks with a paste of flour and water. "It's a very basic technology, probably the same that was used 200 years ago," he says, pulling out a small yellow bag of Red Robin flour. "These days most people use silicone but I just wanted to use what they used before."
Roy's operation is a work in progress, and isn't without hazards: like the time he set himself on fire. He was experimenting in his garage, and carrying a bucket of alcohol when he tripped. The liquid caught fire and immediately his hands were surrounded by a blue halo of flame. "I was in my underwear in about two seconds," says Roy with a grin. He has since bought industry-standard overalls, which are easier to shed.
Since selling their first bottle in 2012, the Fils du Roy headquarters are slowly growing, as new structures and poured concrete foundations are built onto and around their tiny garage-cum-brewing space. Every day is an adventure, says Roy.
"We bought a little forklift, but there's no one who wants to turn the key on. The other day we were here, my brother, my father and my mother, and we were looking at it, saying that someone, sometime is going to dare to start it. We're all very afraid."
The distillery also just got a licence to keep bees, which they will keep in partnership with their blueberry producer. "I will do mead very soon. My mother wants to have that because she thinks all the wedding celebrations around they'll want to drink that on the first night," he says. "That's another adventure just by itself, and we're all scared of bees."
He's also planning to start brewing a specialty beer, a rare German-style Eis Boch brewed under a thick layer of ice, along with a new kind of whiskey he wants to call Acadian Whiskey. He wants to make the Acadian peninsula renowned for its spirits, and says he'd welcome some local competition to help with the region's economic revival.
In reaction to demand for his gin and vodka—Fils du Roy sold more than 5,000 bottles of the latter last year—Roy has ordered two more alembics, which will double his distilling capacity to 400 litres. "Costco in Europe wanted to carry our gin, but they would need three transports. I said, 'If you had seen my little shed, you would not even ask me for that.' I can't produce that."
Given his success, Roy says he's still not tempted to distill full-time—yet. "I need to be very busy. Where I work, the position I have, I'm responsible for problems, and there are always problems," says Roy. "To work here [full-time] would be very relaxing. Maybe too relaxing. No crisis, no fires. I would need to have something to challenge me... like bees. Maybe that forklift."