This pungent, peppery root veggie can take dishes from zero to zesty
RADISHES TYPICALLY fall into the "love them or leave them" category. Their distinct peppery flavour—shared with foods like horseradish and wasabi—can be an acquired taste. In fact, it was after trying to eat a radish that Gone With the Wind's Scarlett O'Hara declared, "As God is my witness, I'll never be hungry again!"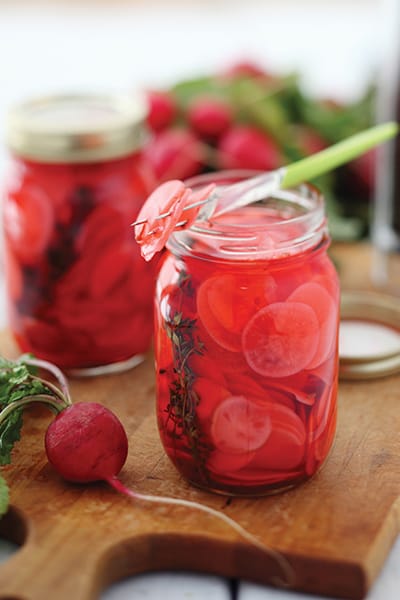 In ancient times the Chinese prized radishes for their health benefits, and they were right to do so: they are high in ascorbic and folic acids; they contain potassium and vitamin B6, and are a source of calcium. Radishes also make a great low-calorie snack; 1 cup (250 mL) of sliced radishes has only about 20 calories.
Radishes can be planted continually throughout spring and summer, starting as soon as the ground is relatively dry, and they are fast-maturing: most go from seed to table in 22 to 30 days, making them fun for kids to grow.
Andy Vermeulen, of Vermeulen Farms in Canning, NS, grows rotations of radishes for almost eight months. The first crop goes in the ground at the end of March, and subsequent crops (up to 40, utilizing 3 million seeds) may be harvested as late as mid-November.
Andy says his radish crop requires "minimal, yet constant, care." He is careful to prevent plants from becoming overgrown with weeds.
"If weeds are too large, they will ruin the shape of the bulb," he says. "And weeds really slow down harvesting."
Regular watering is also important, even before plants sprout. "We typically irrigate every second or third day, if we don't get rain. They don't need a lot of water, but the top three to four inches of soil has to be kept moist to have properly shaped bulbs, and to keep a mild flavour."
He notes that radishes tend to be "hotter" if the soil fertility is not quite right, or if growth has been stunted because plants have dried out. The peppery flavour is concentrated in the skin, so if you have a particularly hot radish, removing a thin layer of skin will help cool it down a bit.
The leaves are often discarded, but they are actually quite tasty when chopped up and added to a salad.
Recipes