Delta Beauséjour, Moncton, NB
Chef Stefan Mueller has had a long and illustrious career working in high-end restaurants and competing in culinary events. Since 2002, he has been executive chef at the Delta Beauséjour in Moncton.
Born in Riedstadt, a small town in central Germany, Stefan's father was a butcher and sausage maker, and young Stefan grew up amidst many small farms where his family would get fresh milk and eggs daily.
Stefan's early appreciation of food led him into a three-year apprenticeship program with Lufthansa Service GmbH, now LSG Sky Chefs, an airline catering company. He stayed on with Lufthansa for an additional three years.
After a season at Canadian Pacific's Lodge at Kananaskis in the Rockies, Stefan spent four summers at the Algonquin Hotel in St. Andrews-by-the-Sea. In the winter of 1993, he went back to Germany to pursue his Kuchenmeister (master chef) designation. Upon completion, he returned to New Brunswick to work at the Beauséjour. He has happily called New Brunswick home ever since.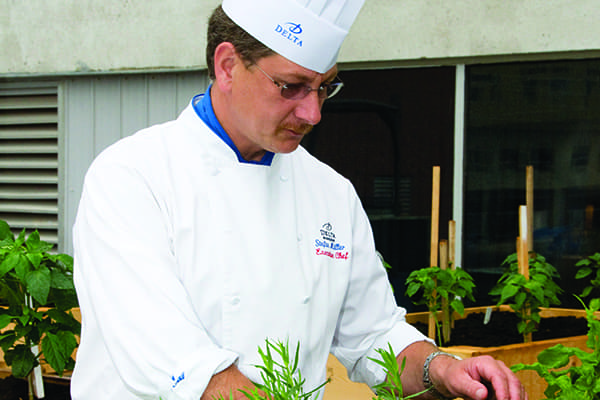 Q Who do you look up to?
A My parents, they taught me good work ethics and honesty.
Q What are you most proud of?
A To be living in Canada. As a child growing up back in Germany I never dreamed I would one day be living on the East Coast of Canada, one of the best places in the world to be.
Q What is your favourite ingredient to work with?
A No one ingredient sticks out; it all depends on my mood; sometimes it is a great steak, other times a nice vegetable or a beautiful fresh scallop, even chocolate at times. I love it all.
Q What kitchen tools can you not live without?
A There are so many different tools that are important, from knives to pots and pans. How about being creative with what we have? We have all been in a situation in which we did not have one or the other thing that we needed, and that made us be creative.
Q What do you see as the upcoming trends in food?
A Trends come and go. I believe it is important to create and serve good quality fresh food that people can enjoy.
Q Do you have any cooking tips you could share with us?
A My biggest tip is to have a sharp, high quality knife in your kitchen drawer. To not cut yourself, make sure your knives are sharp.
Q Do you have a favourite cookbook?
A From my apprenticeship in Germany it is called Lexikon der Kuche by Richard Hering. It is like a bible that has a quick description of just about anything you need to know.
Q What foods do you eat "in secret"?
A It is kind of a childhood thing: gummy bears. I am crazy for a certain brand of gummy bears that every time I see them, I have to get them. I also have to hide them from my two children.
Q What do you like to do when not in the kitchen?
A Spend time with my lovely wife Teri who for some crazy reason has stuck with me now for a bit more than 20 years.
Q If you could cook for any three people who would they be and why?
A That would have to be four people: both sets of grandparents. I would love to show them what I have learned.
Q What is the most embarrassing thing that as ever happened to you in the kitchen?
A About six years ago I was explaining to a group of about 350 guests a meal that they were about to experience but the menu that the guests had in front of them was different than what we were preparing in the kitchen. It is pretty bad when you are telling your guests you are having fillet of salmon but their menus state fillet of beef.
Q What do you not like food wise?
A When food is "over manipulated" and you cannot see what it used to be.
Q What do you refuse to cook?
A I have not come across an ingredient yet that I do not like to cook.... But I do not like bologna.