If there's one good thing about snow other than its use for winter sports, it's the candy on it. "Candy on Snow" was one of the sweetest treats for children, indeed, people of all ages, who looked forward to the early spring thaws and nighttime temperature drops that start the sap running in maple trees.
It's sometimes also called "Indian Candy," though this name is as passé as the preparation itself. Assuming that you've already tapped a rock (sugar) maple tree for sap and boiled it to the soft-ball stage-240°F (115°C) on a candy thermometer-you need to have a large, flat plastic container or wooden frame ready with tightly packed snow, so it won't melt the instant the hot syrup is poured on it. We're talking pristine, preferably new-fallen snow, free from anything other than what Mother Nature has provided.

But rather than prepare it themselves, people these days are more likely to head off to a maple sugar camp, where proprietors take the time to prepare it
for them.

One such place is Sugar Moon Farm in Earltown, NS, owned and operated since 1996 by the husband and wife team of Scott Whitelaw and Quita Gray.

Here, they do things the old-fashioned way, using draft horsepower not only for the logging process, but for seasonal sleigh and wagon rides that are part of the entertainment for the thousands of people drawn to this rural revelry year-round. A pancake house offers an all-day brunch on weekends (9 a.m. to 5 p.m.) and seven days a week (9 a.m. to 5 p.m.) in July and August. But this isn't a job for the faint of heart. Although the maple season lasts only from early March to mid April, the work is intensive when the sap runs. Then there's the uncertainty of nature throwing a curve of unaccommodating weather.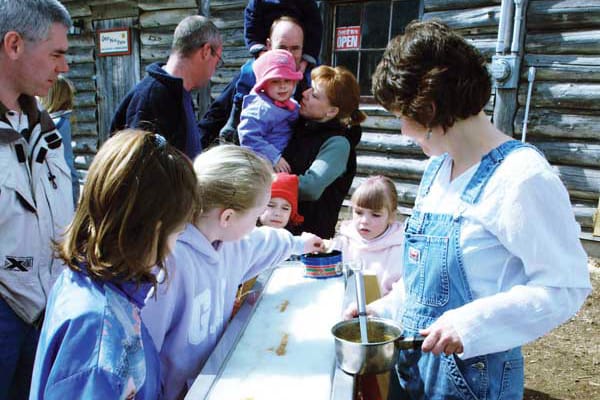 Like in 1998, when on a Monday in March, tremendous flooding washed out the road, isolating Scott and Quita from any help should it be needed. The weather, however, was perfect for a huge sap run. They kept watch all day, but not a drop flowed through the thousands of feet of plastic tubing that carries the sap to the holding tanks. They checked again around 9:30 p.m. "Sure enough," says Quita, "the sap was just gushing! We had to get on it right away."

Since it takes four hours to fire up the evaporator before the boiling can start, the sap had already started to overflow the tanks. "We boiled for hours and hours, spelling each other off, keeping the fire roaring and drawing off syrup. We couldn't afford to miss any of this run," she says.

All through the night they kept going by drinking sap to replenish the water they sweated off in the heat of the sugar house. In the morning, Quita ran to the house to feed the animals and bring down some oatmeal porridge.

Finally, around 3 p.m. on Tuesday, help arrived in the persons of Bob Williams, the previous owner of the operation (then called Boondock Maple Products), and Glenda MacKinnon. They took over, allowing Scott and Quita to grab a couple of hours rest. Having left their car at the bottom of the road, the concerned friends had leapt across the washout and hiked up to the camp to lend a hand.

"We ended up boiling until 1:30 a.m. on Wednesday-28 hours, non-stop," Quita says, "and only stopped then because the sap slowed down enough that we had a bit of breathing room. We could collect sap without boiling. Later that day, we finished the rest of the run."

Usually, Scott is the farmer/sugarmaker, while Quita runs the 50-plus seat pancake house and organizes the popular group tours, as well as the chef's nights when guest chefs create maple-inspired menus.

The menu at this award-winning year-round maple farm and restaurant is based on none other than maple syrup, with "all-u-can-eat" classic buttermilk pancakes being the most popular pick. Beans and Austrian Smokehaus sausages are served with the pancakes as Sugar Moon's special. Other choices include blueberry or regular waffles served with maple whipped cream or yogurt, and shirred eggs with maple cured ham and local gouda cheese (see recipe, page 73). Top it all off with a bottomless cup of organic coffee. Or better still, enjoy an Irish coffee with a Sugar Moon twist: coffee and Irish whiskey topped with maple whipped cream and maple sugar.

Where else but at a maple sugar camp?

Now, another maple season is upon Sugar Moon Farm. And it's not without its challenges. Scott and Quita are expecting a new little "sugar baby," Quita's first and their first child together. (Scott has two daughters from a previous marriage. Eriel, 21, and Kalina, 19, both work in the restaurant and will be a great help when the sap runs and the baby arrives.)

"We looked at the Farmer's Almanac and right around the full moon on March 25 (the Sugar Moon) the weather is supposed to be rainy, foggy-you know the type-and we figure that is when the baby will come," Quita says. "It will be one memorable sugar season!"
Recipes featured in this article: