Marie's Menu is departing from its usual format this issue in order to share with you a few seasonal treats enjoyed by Saltscapes' staff members and contributors throughout the years. Given there are more people and traditions than space allows, we made our choices based on the earliest contributions. Some time, I promise, you'll have the opportunity of making-or at least reading-the recipe for receptionist Cyndy Donkin's meat pie, made with wild rabbit. Here, at least, is Cyndy's cherished memory.
"The tradition of French Acadian Rabbit Meat Pie after Midnight Mass on Christmas Eve was introduced to our family by my new brother-in-law when I was in my early teens. My mother, an excellent baker and cook, was so impressed by the dish that she became determined to master it, and she did. We continued the tradition until her health failed, and sadly, I did not have enough interest in baking to learn the technique before she died.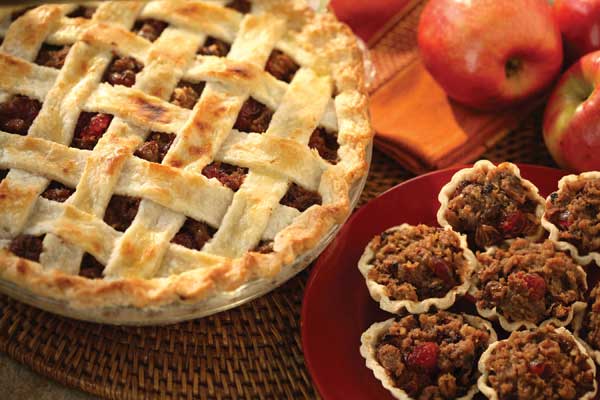 "A few years later, I was re-introduced to Rabbit Meat Pie when I fell in love with a Cape Bretoner from L'Ardoise. With the help of his sister, a sister-in-law and a family friend, and with a steady supply of rabbits from his father, I too became determined to master the technique. We now enjoy Meat Pie on Christmas Eve again… I feel my mother would approve."
Sylvia Ernst has been with Saltscapes since its beginning, in 2000, as receptionist and Jill of all trades; although now "retired" we know who to call when extra assistance is needed. Sylvia's special Christmas treat is the mincemeat that her husband Aubrey's brother-in-law gives them every year. Edgar Russell of New Germany, NS, was for many years a cook at Bowater Mersey Paper Co. He and his wife, Pearl, also operated Russell's Quik Mart in New Germany, and every Christmas they made mincemeat to sell to their customers.
Could Sylvia get the recipe? Indeed! Enough to make 35 large pies. We've reduced the recipe to make seven pies, and it will keep for at least a year stored in the freezer.
Saltscapes' gardening editor, Jodi DeLong, claims her pastry can punch holes in plastered walls when frustration causes it to be thrown in that direction. But since she loves tourtière pies, both for her December birthday and for Christmas Eve, her LSS (Long-Suffering Spouse), Lowell, has taken over making the pastry while a docile Jodi prepares the filling.
"My best friend in high school is of Acadian origin, and every Christmas Eve I'd go to midnight mass with her and the rest of the clan, then we'd have this post-midnight-mass feast, including tourtière."
Jodi says she hunted for years to find a recipe she liked, then adapted it, adding apples and a few more spices to the fresh pork that a local butcher grinds for her. "It's the meat pie that makes Christmas for me," she says.
Diane MacDougall, a sales executive at Saltscapes, had an immediate response to our question about what Christmas tradition means the most in her family: "Mom's doughnuts."
From Diane's earliest memories, her mother, Louise Higginbotham, of Rollo Bay, PEI, would make doughnuts on Christmas Eve, a sure sign that Santa was on his way. "My mother made Christmas in our home the best time of year," Diane says. "She loves it and I appreciate the work she did to make the magic for us… I anticipated her doughnuts as a child, and I still do."
Louise has continued the tradition, either delivering them close to Christmas or mailing them to wherever the family has settled.
"I received them in Ontario and in Alberta, my youngest brother gets them in New York. They melt in your mouth when eaten warm and a pleasure at room temperature, too."
Heather White, the editor of Saltscapes, has fond memories of the steamed carrot pudding with lemon sauce that was traditionally served at Christmas at her Grandmother Mattinson's home in Oxford, NS.
"Nana grew her own vegetables in a little plot behind her home, and at summer's end, after making preserves and giving away as much of the fresh produce as she could, she put the root vegetables in the root cellar," Heather recalls. "On a practical level she didn't want the carrots to go to waste, and thought the pudding-a precursor to carrot cake-was a good way to make sure we ate our veggies."
Two versions of the carrot pudding were taste-tested at a family gathering of about 15 in Mahone Bay, NS, this past summer. One was made the traditional way using beef suet; the other substituted margarine. "While both were good, people generally preferred the traditional suet pudding," says Heather, who describes the old-fashioned dessert as a cross between carrot cake and fruitcake.
"In the holiday hustle and bustle we had forgotten about it but after trying it in July-it was good and reminded us of a simpler time-we may continue with the tradition."
Recipes featured in this article: