The sweet by-product of productive pollination
MARGARET Cornect, of Cornect Family Farm in Denver, NS, is passionate about bees.
She and her family have been in the beekeeping business for 20 years—although they came to beekeeping tangentially. Their first two hives were purchased to help pollinate the farm's blueberry fields; the end result was successful pollination and the happy by-product: honey.
Those first two hives produced 30 pounds of honey. Unsure of what to do with it all, Margaret decided to create and sell value-added products.
Her Honey Butter launched a line that now includes more than 30 products—from artisanal food to health care items.
Using honey at home
For home cooks, honey can sometimes be incorporated into baking as a sugar substitute, but Margaret notes that not all recipes are suitable for such a substitution. For the very best results when baking, a recipe has to include baking soda (½ tsp/2 mL for every 1 cup/250 mL honey), because honey adds acid to foods and the baking soda acts as a neutralizer.
She also points out that honey causes baked goods to brown faster, so oven temperatures should be set 25°F lower than the recipe suggests.
Honey can be substituted for sugar cup for cup, but the amount of liquid in the recipe must be reduced by 1/4 cup (50 mL) for each cup (250 mL) of honey; alternatively, 1 cup (250 mL) sugar can be replaced with 2/3 cup (150 mL) honey and everything else can be left as is.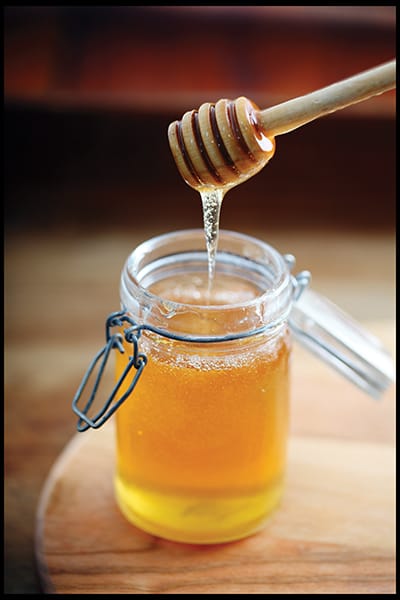 Always look for pure honey; avoid any that contains corn syrup or other additives. If you're storing it in a small container, you may eventually notice crystals form on the top. This is natural; it happens with all honey. Crystallized honey can easily be returned to its liquid state by allowing it to sit in a warm water bath.
You can also freeze honey to prevent crystallization; freezing will not affect its taste or nutritional content. Make sure you freeze it in a reasonable portion size—you don't want to thaw and refreeze honey because that will also cause it to crystallize. Glass containers work well, because honey doesn't expand when frozen. Frozen honey will keep indefinitely, but after a year there is a chance that some crystallization will take place.
Honey should not be fed to infants as some may contain low counts of naturally occurring Clostridium botulinum spores (which bees collect together with the nectar); babies' immature digestive systems cannot move the spores through the body and those infants may become ill. However, for children who are at least one year of age or older, honey is perfectly safe, and a wonderful sugar alternative.
Try adding honey to natural peanut butter or to a bit of mustard to make a dip that goes well with fruit and vegetables.
Adults will love honey over any type of cheese; it's especially tasty drizzled over brie, with some toasted walnuts sprinkled on top.
And, just to add to your appreciation of this unique food, consider this: It will take more than 500 worker bees an entire season to produce just one pound (500 g) of honey; during that time they will have visited about 2 million flowers!
Recipes